Vollrath Induction Rethermalizers & Food Warmers Buyers' Guide

Backed by more than 140 years of experience, the engineers at Vollrath understand busy commercial kitchens need reliable, high-performing equipment. Vollrath offers induction rethermalizers and food warmers that combine stylish and practical designs with innovative technology to help your kitchen reheat and hold key dishes at the right serving temperatures for several hours.
Mirage Induction Food Warmers & Rethermalizers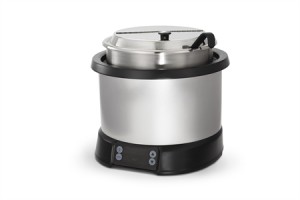 Although food warmers and rethermalizers are similar, there is a key difference in how each is used. While rethermalizers are designed to heat up chilled food and then hold it at serving temperature, food warmers are meant to be used with food that has been heated before being added. Induction food warmers and rethermalizers from Vollrath are equipped with dry technology, which means they don't require a water bath to distribute even heat. This design saves the time usually spent filling and refilling the unit or cleaning up spilled water on countertops, which makes for a more productive kitchen and can help lower utility bills. The improved energy efficiency compared to traditional electric equipment adds up to further savings on the cost of operating these warmers.
Induction units must be used with induction-ready insets. One inset and cover come standard with these models, but those are also available separately.
Mirage rethermalizers are available in 7- and 11-quart countertop and drop-in models. These units can heat food from 40 to 165 degrees Fahrenheit in less than 90 minutes and hold it at 150 degrees Fahrenheit indefinitely.
Vollrath induction food warmers are only available as drop-in models. They also come with a 7- or 11-quart capacity and are designed to hold product at 150 degrees Fahrenheit. These temperatures are best maintained when inset covers are used and the product is stirred regularly.
Each Vollrath induction warmer includes three temperature sensors that make direct contact with the inset, preventing food from burning and minimizing food waste. These sensors also activate the LED stir indicator, which lets the operator know when the product needs to be stirred for optimal quality. Food temperatures can be displayed in degrees Fahrenheit or Celsius, and four presets for broth and cream soups, chili, and mac and cheese are included. A locking function prevents changes to the selected settings, which can avoid tampering and maintain product quality in a busy kitchen.
The bright LED display and easy-to-use controls on these models make them a great addition to any commercial kitchen, whether the operators are seasoned veterans or cooking novices. Countertop models, which are available in red and stainless steel, also add visual appeal. This innovative induction equipment also meets NSF-4 performance requirements and is cULus listed.
Size and Clearance Requirements
All countertop models are only 131⁄2 inches tall. The 7-quart models are 117⁄8 inches wide and the 11-quart models are 137⁄8 inches wide. Drop-in models are 125⁄16 inches tall. These slim designs mean they should be able to easily fit into your kitchen workflow.
When placing these models, plan for their required clearances. All countertop models require a 4-inch clearance at the rear and 1-inch clearance at the bottom, while drop-in models require a 3-inch clearance on all sides and 12-inch clearance at the bottom. For best performance, the intake and exhaust air ventilation on all models should be unrestricted.
Induction Buffet Warmers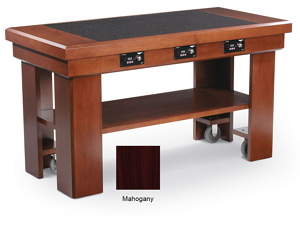 Buffet tables can be used in restaurants, catered events, and cafeteria settings. With Vollrath's induction buffet warmers, you can easily incorporate soup, chili, pasta, and other popular items in an attractive display. Induction warmers, like the 59502DW and 5950145, can be used with induction-ready equipment to keep food warm and ready to serve. These are available in countertop or drop-in versions, giving you the flexibility you need to create a custom buffet.
For proprietors seeking a complete setup, KaTom offers induction buffet tables from Vollrath. Models 7552381 and 7552384 include four Mirage drop-in warmers each, measure 76 inches long and 30 inches wide, and are finished in a walnut or dark red mahogany stain. The drop-in warmers are mounted under the ceramic counter, which is made to look like black granite, with the controls mounted on the front so employees can easily adjust between five temperature levels. Each model is cULus listed and NSF certified, includes 5-inch casters, and is equipped with a NEMA 5-20 plug and 6-foot cord.