Using & Maintaining Your Vitamix Commercial Blender

A Vitamix Commercial blender is often chosen for its reliability and high performance, but properly using and maintaining your equipment is an important step to ensuring its longevity. The following tips, provided by the manufacturer, should help avoid damage caused by improper operation.
Vitamix Commercial Blender Use
Because Vitamix Commercial blenders are designed to blend ingredients at a faster rate than other blenders, the company recommends keeping a close eye on new recipes to avoid overmixing. For best results, ingredients should be added in this order: liquids, soft foods, solid items, then ice. Consider thawing frozen ingredients like fruit and cutting large ingredients into smaller pieces before adding them.
Avoid starting the blender before the container has been properly seated and do not remove the container before the blender has completely stopped. To prevent personal injury, hands should never be placed in the container while the blender is in use and blades should always be handled carefully.
When dealing with mixtures that have become stuck to the container or are too thick to easily pour, do not shake the container during use or bang the container on a surface. Instead, remove the container from the base and use a rubber utensil to loosen the products or ingredients.
Each Vitamix Commercial blender is equipped with a Thermal Protector, which protects the motor from overheating by shutting it off when necessary. The most common causes of overheating are overfilling the container with too much product or too many ingredients and processing the mixture at an insufficient speed for too long. If this happens, your blender will need to be turned off, unplugged, and rested for as long as 45 minutes while the motor cools down.
Vitamix Commercial Blender Maintenance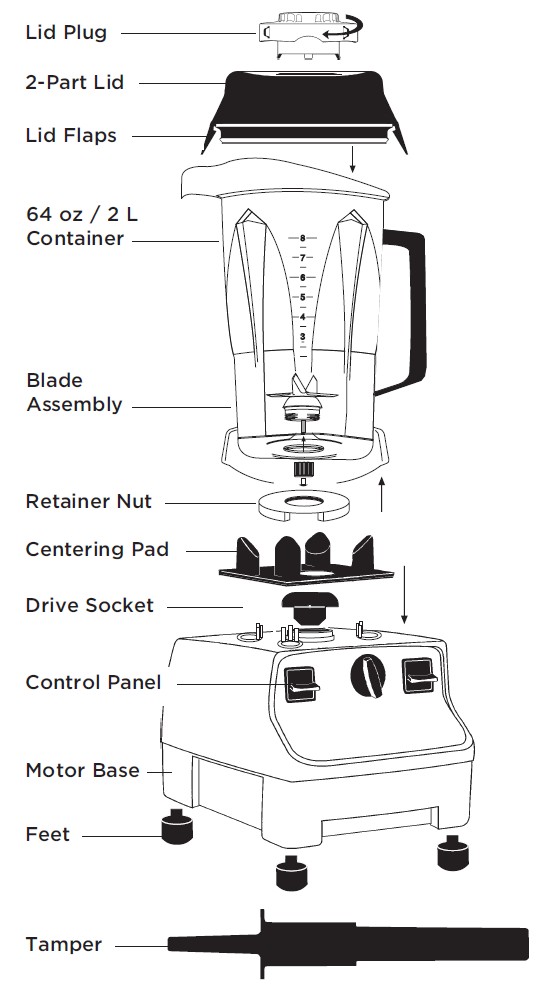 Becoming familiar with your Vitamix Commercial blender will help you identify any unusual sounds or performance issues that may signal that a part needs repair or replacement. Maintaining the following Vitamix blender parts is an essential part of preserving your equipment.
The blade agitator can be checked by rotating the blade assembly carefully by hand. If it turns smoothly with some resistance, it is functioning normally. Replace the blade assembly if you notice washer failure, oil leakage, or seal failure, or if the blades have been damaged.
Inspect the centering pad at least once every five months. If the pad lies flat against the base and no posts are cracked, it does not need any repair.
Every few months, check the drive socket for worn teeth or grooves, cracks, or other damage. If the drive socket is not in perfect condition, it should be replaced.
Exterior blender maintenance is also important. For the longest life, do not put your container through the dishwasher and do not submerge the motor base in water. The container should be hand-washed with warm water and a liquid dishwashing detergent and can be given a sanitizing solution if desired. The motor base, particularly the control panel switches, can be wiped down with a damp cloth that has been wrung of excess water, then dried with a soft cloth.
Most Vitamix Commercial blender parts can be ordered individually and replaced without having to place an official servicing request. However, you should consult a Vitamix representative to find out if your blender is under warranty before performing any maintenance, since that work may be covered by the maintenance and because doing it yourself may void the warranty.