Vitamix Commercial Blenders Buyers' Guide

Vitamix is a family-owned and operated company that dates back to 1921. It first began offering the blenders it's known for today in the 1930s and introduced commercial blenders in 1985. Now offering a vast catalog of premium blenders and accessories, Vitamix is a leading manufacturer of equipment that can streamline food and beverage prep in restaurants, bars, and other foodservice operations.
All Vitamix Commercial blenders are designed to keep up with the back-to-back blending demands of busy commercial foodservice operations. Whether you need to blend drinks, chop vegetables, or make frozen treats, this guide will help you determine which Vitamix to buy for your business.
Best Vitamix Blender for Drinks & Smoothies
Drink Machine Two-speed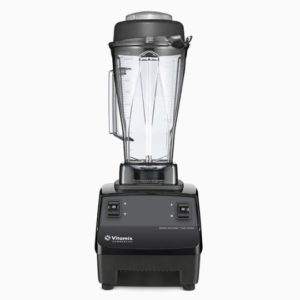 As its name might suggest, this blender uses two speeds, high and low, and a motor with a peak output of 2.3-horsepower to mix dense combinations of ice, fresh or frozen fruit, and juice. Business owners who use the Drink Machine Two-Speed won't have to spend much time training employees since the blender base has only two operating buttons – one to turn the equipment on or off and another to select a high or low blending speed. This blender includes a tamper that can be used to push ingredients down while blending is in progress.
Drink Machine Advance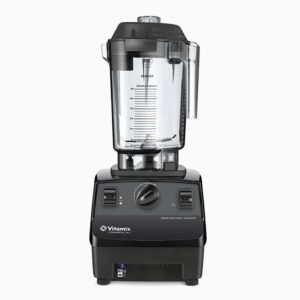 Like the Drink Machine Two-Speed, the Drink Machine Advance has a 2.3-horsepower motor, but this is a more complex model that offers six optimized programs and an automatic shutoff. Those features allow operators to add ingredients, select a program, and create a consistent product without having to monitor the blending process. It also has a pulse feature to provide additional blending flexibility. The Drink Machine Advance is available with a black or red base.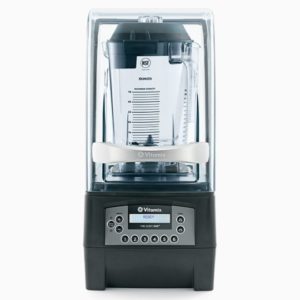 The Quiet One
Foodservice operations that blend drinks and other products in the bar or near a dining area can benefit from The Quiet One, Vitamix Commercial's quietest blender. To lessen the volume of noise it creates while processing ingredients, this blender is designed with award-winning vibration dampening technology, a magnetically secured sound enclosure, and a 3-horsepower motor. For consistent and customizable blending options, the Quiet One can learn 34 optimized programs that are selected by pressing one of the six program buttons located along the front of the base under the digital display. The blender is capable of operating at 93 variable speeds, and employees can customize blending with the pulse and speed buttons.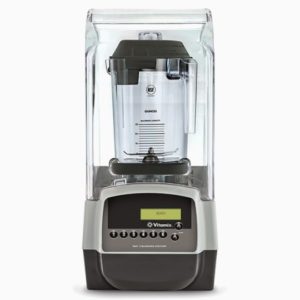 Touch & Go 2 Blending Station
Although it will not operate as quietly as The Quiet One, the Vitamix T&G 2 includes a sound-reducing cover that can be easily removed when the unit needs to be cleaned. To provide consistent results with minimum supervision, this blender includes six optimized programs with 34 possible settings and an automatic shutoff. The On-Off switch is on the side of the base, and the front of the base has a digital display, as well as six program buttons and two pulse control buttons. It has a slightly less-powerful 2-horsepower motor, but can be used to blend smoothies, ice cream-based drinks, and frozen cocktails.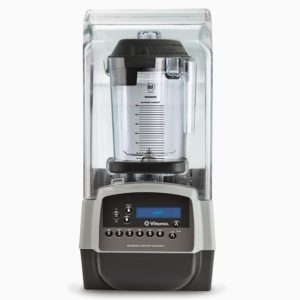 Blending Station Advance
The Blending Station Advance has a powerful 3-horsepower motor, so it can keep up with a busy restaurant's demand for back-to-back servings of smoothies and other frozen beverages, including coffee-based drinks. To ensure operators can blend a variety of recipes, this Vitamix blender offers six optimized programs, 34 setting options, and 93 variable speeds. The automatic shutoff allows employees to select the desired program and walk away, achieving consistent results without requiring constant monitoring. Like some other Vitamix Commercial blenders, it includes a cover that minimizes the equipment's noise level.
Best Vitamix Commercial Blender for Food Prep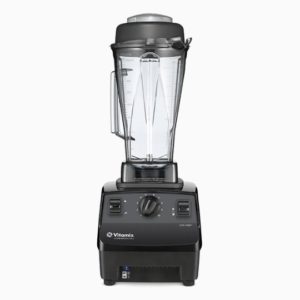 Vita-Prep
With a 2.3-horsepower motor that can handle multiple blends in a row, the Vita-Prep blender allows restaurants to create soups, sauces, and other mixtures. The included tamper can be used to push ingredients down and eliminate pockets of air without interrupting the blending process, allowing employees to process thick mixtures. To limit the required level of training, the controls located on the front of the base are designed to be intuitive. These include a Start/Stop switch that returns automatically to a neutral position, and a variable speed switch with a 1 to 10 speed dial that allows for customized blending settings.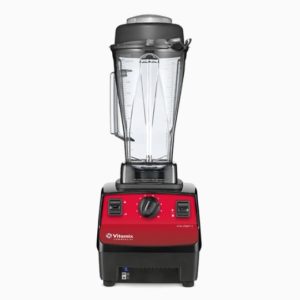 Vita-Prep 3
The Vita-Prep 3 has a more-powerful 3-horsepower motor and an advanced cooling fan, making it a good fit for high-volume operations that produce larger quantities of blended, chopped, and pureed menu items. It also includes a tamper, which pushes stubborn ingredients down to further ensure a thorough blend, and manual Start/Stop and variable speed controls for optimal blending. This Vitamix Commercial blender can be recognized by the black base with red face.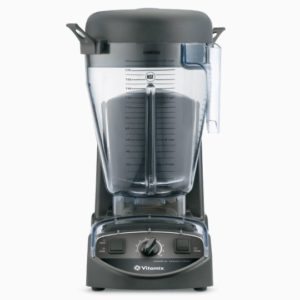 Vitamix XL
The Vitamix XL is the highest-capacity blender in the company's lineup, designed to increase efficiency and reduce the amount of time employees must devote to food prep. It has a 4.2-horsepower motor, making it the most powerful of Vitamix's commercial blenders, and includes a 1.5-gallon container, the largest container offered. That means it can process nearly 200 ounces of product at once. The controls on the front of the base allow operators to adjust the blending speed and select the optional pulse function for optimal results.
Best Vitamix Commercial Blender for Frozen Treats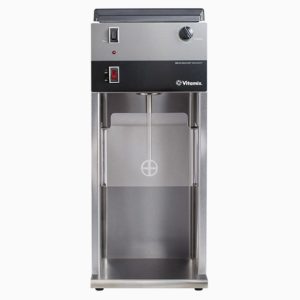 To easily mix popular toppings like candy and cookies into frozen yogurt or ice cream, you can rely on the first commercial blenders Vitamix introduced – the Mix'n Machine and Mix'n Machine Advance. They are used by foodservice operations to expand flavor offerings and increase the output of customized frozen treats while decreasing the amount of labor required to produce them. Both models are designed with an agitator that may be removable or permanent and designed for soft or hard ice cream, and both models include a removable splash guard to help prevent messes and maintain sanitation.
The Mix'n Machine Advance offers more complex controls than the standard model. These controls include a pulse switch and a dial to choose between six settings that have been pre-programmed to allow for consistent results throughout every location and any number of employees. To make the unit simple to use even during peak hours, it has an automatic shutoff, indicator light to signal the end of a cycle, and a dispensing lever that enables one-handed operation.
Choosing Your Vitamix Commercial Container
Vitamix Commercial offers several types of containers, so operators can invest in multiple containers to increase output or in different containers of varying sizes to improve menu flexibility. Vitamix containers have stainless steel blades and are constructed of polycarbonate or copolyester, durable materials that give the containers long service lives because they are resistant to shattering. Because blender containers are designed to be compatible with certain bases, you can learn more about purchasing the best Vitamix blender container for your needs and equipment below.
Standard Container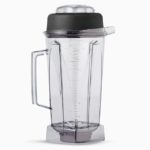 Used with: Drink Machine Two-Speed and Vita-Prep 3
Designed to bring ingredients back to the blades, the Standard container can create smoother blends and shorten prep time to speed up service. It is available in 32-, 48-, and 64-ounce capacity models for small- or large-volume applications, and with wet blades or ice blades to pair with a variety of menus. The lid plug is removable, allowing operators to add ingredients while a product is being blended and vented to allow for the blending of hot products, like soups.
Advance Container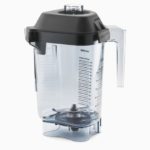 Used with: Advance series, The Quiet One, Touch & Go 2 Blending Station
The triangular shape of the Advance container provides a smoother blend, while the dripless spout reduces the risk of wasted product and labor. This container also includes a removable lid plug that allows ingredients to be added during the blending process. It is available in 32- and 48-ounce models.
Colored Advance containers are available in blue, orange, purple, and yellow, so operators can color-code containers for allergens and prevent cross contamination.
Aerating Container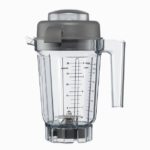 Used with: Blending Station Advance, The Quiet One, Vita-Prep, and Vita-Prep 3
Rather than a pronged blade, the Aerating container has a disc blade with a pattern of holes across it. In addition to aerating ingredients, this blade allows operators to use their Vitamix blenders to emulsify, foam, infuse, juice, and whip ingredients, creating fruit juices, specialty cocktails, whipped cream, and more. This container is only available in a 32-ounce capacity.
XL Container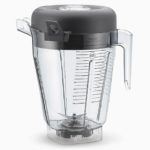 Used with: Vitamix XL only
The supersized XL container can blend multiple servings at once to keep up with busy peak service demands. It has a capacity of 1.5 gallons, making it the Vitamix Commercial container with the largest capacity. The lid plug is removable, so ingredients can be added without interrupting the blending process. The plug also allows the container to be vented, so it can be used to blend hot products like soups.
Vitamix Commercial Parts & Accessories
To ensure operators always have what they need to keep their businesses running smoothly, Vitamix parts and accessories – including blade assemblies, containers, lids, lid plugs, and Mix'n Machine agitators – can be purchased separately. This means you can keep extras on hand for versatility or backup, or can replace old parts as needed. However, the most valuable accessory any restaurant or specialty shop can invest in is the blender container rinser, a tool designed specifically to make cleaning Vitamix containers up to 64 ounces in capacity a simpler, faster, and more efficient process.