Renowned knife maker now offers cut resistant gloves to protect your hands from their sharp blades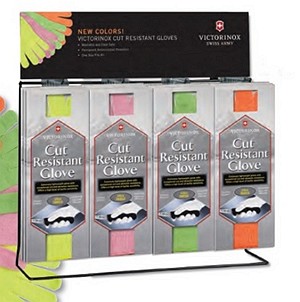 You likely already know that Victorinox makes quality knives, but did you know they also have a new and improved line of cut resistant gloves? The PerformanceFit Gloves are the newest high performance protective wear from Victorinox. Made from Dyneema (HPPE - High-Performance Polyethylene), the world's strongest fiber, these cut resistant gloves are 15 times stronger than steel in an even match-up! The Dyneema material is also waterproof, meaning it resists staining and invasion by harmful elements.




Safety is always a top priority. Using sharp utensils comes with risk, and it is always better to prevent an accident than to regret it later.
Protect your hands from serious injury by wearing cut resistant gloves.





The PerformanceFit Victorinox Cut Resistant Gloves are the perfect fit! These anti-microbial accessories are sized to fit any hand and provide Level 4 cut protection.
And you can find these gloves in vibrant colors, including green, orange, pink, or yellow.
To shop for more Victorinox cut resistant gloves, look at their wide selection on the KaTom website!
Do you have any questions about Victorinox products? Contact one of KaTom's knowledgeable customer service representatives!