Choosing or Configuring a T&S Faucet

T&S Brass manufactures a seemingly endless variety of commercial faucets, from handwashing sink faucets to compartment sink faucets. Each of the company's faucets is built with modular design, so most individual components can be swapped out for a different type of that same component; this lets operators customize faucets to their specific needs. This guide will help you understand the options available with each of those components so you can choose the best T&S Brass faucet for your facility.
Table of Contents
Questions to Ask Before You Start
Before you can choose the best T&S faucet for your facility and application, you must answer a few key questions to be sure you have the information you need to choose the faucet with the right features:
Is your facility regulated by any codes that limit the faucets you may choose from? For example, some local codes stipulate that any public restroom faucet must have a flow rate of no higher than 0.5 GPM. Certain public buildings must also have ADA-accessible faucets.
What surface will your sink be mounted to? T&S faucets come in wall- and deck-mounted designs. Knowing which one you need before you start shopping is critical.
Popular T&S Faucets
Here are four of our top-selling T&S faucets. One of these preconfigured units may be just the faucet you need.
T&S Brass Faucet Features
Here we'll explain in detail each of the components that go into a T&S Brass faucet. You can use this information to choose the best product from our selection of preconfigured faucets or to place a special order for a faucet with the exact combination of components you need.
Deck- or Wall-mounted Base Faucet
Deck-mounted faucets mount to the horizontal surface just behind a sink's bowl, which may mean part of the sink or a counter. Meanwhile, wall-mounted faucets mount to the vertical surface behind the sink, which could be a wall, part of the sink, or another fixture. The choice between the two is largely determined by the type of sink you have. If you're choosing faucets for a new construction project, keep in mind that deck-mounted faucets are often easier to install and service since components are accessible from underneath the sink rather than through a wall, although wall-mounted faucets are safer from vandalism since their components are protected.
No matter which of the two you choose, an important choice to make is between faucets' center dimensions. That measurement is the distance between the centers of the faucets' required mounting holes. Three stationary sizes are available: 31⁄2, 4, and 8 inches. There is also an available type of faucet body that includes inlets which can be adjusted for center dimensions between 21⁄4 inches and 81⁄4 inches.
If your faucet is being installed as a retrofit or to a sink with pre-drilled holes, you'll need to choose a faucet with center dimensions that match the existing setup. If holes must be drilled to match the faucet you choose, you are likely safe opting for one with any center dimensions, so long as the faucet itself will fit in the space you'll dedicate to it.
T&S Faucet Cartridges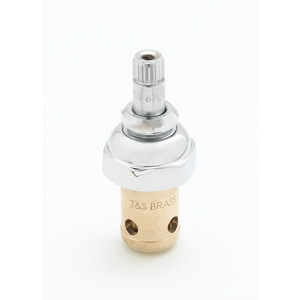 T&S makes two very popular faucet cartridges, in addition to several specialized units.
Eterna cartridge is T&S Brass's classic compression cartridge. An internal metal spindle travels up and down as the faucet handle is manipulated to control the flow of water. The Eterna spindle is an economical choice that's suitable for most applications.
Cerama ceramic cartridge is built with two ceramic discs that slide past each other to open a water path. This type has fewer moving parts than traditional cartridges, which means there are fewer parts that can wear, so component life should be longer. The ceramic core is resistant to the effects of chemicals in water that can attack traditional metal and rubber pieces. Cerama cartridges are appropriate for all applications except in areas with high concentrations of minerals or sand in the water supply.
Push-button metering cartridges are made for push-button, self-closing faucets. They can be adjusted to close between 10 and 30 seconds.
Pivoting metering cartridges let the user activate the faucet by tilting a single push button handle. These cartridges can also be adjusted to close between 10 and 30 seconds.
Wrist-action metering cartridges are designed interface with wrist-activated handles on self-closing faucets. These cartridges are often favored in healthcare and in public, ADA-compliant restrooms
T&S Faucet Inlets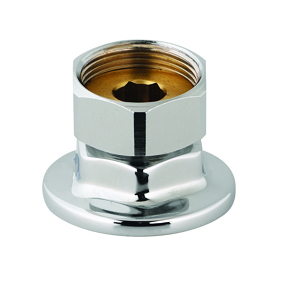 Once you've determined the base, center dimensions, and cartridges that will be best for your T&S faucet, you'll need to select the right inlets and supply connections. These are the components that connect the faucet to your building's water supply.
The AA eccentric inlet is standard on all wall-mounted T&S faucets and will work for the majority of applications. T&S also offers a few specialty inlets if you have certain considerations or installation requirements:
Adjustable inlets are available for installations where existing mounting holes are not on standard 31⁄2-, 4-, or 8-inch centers.
Service stop inlets are available for applications in which operators want the ability to shut off the water supply to the faucet at the inlet.
Elbow-style WW and YY are used to install wall-mounted faucets on a sink deck.
45-degree inlets are available for mounting faucets to 45-degree backsplashes.
EE and CC inlets allow wall-mounted faucets to be connected to water supply lines with female couplings.
T&S Faucet Supply Connections
Supply connections are the components that connect your faucet to incoming water supply lines. These components are different for deck- and wall-mounted faucets.
Deck-mounted faucets come standard with 1⁄2-inch supply nipples that match the connection threads on the bottom of the faucet body. When you order a custom faucet, you'll be able to choose the length of the supply nipple. The right length will depend on the thickness of the surface your faucet is mounted to. The nipple needs to be long enough to go through the surface with enough length remaining to attach securely to the supply line.
If yours is a wall-mounted faucet, the most efficient way to get all the supply pieces you need is to order an installation kit that includes the necessary connection and supply lines.
Nozzles, Goosenecks, & Spouts
The next step in configuring your perfect T&S faucet is choosing a nozzle. Nozzles impact how users interact with the faucet and how it can be used.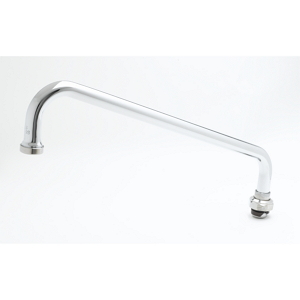 Swing spouts pivot from a mounting point on the faucet body so users can direct the flow of water where they need it. These spouts are necessary when you'll use a faucet to fill multiple bays of a compartment sink. They're also handy on sinks where staff will be washing bulky wares and equipment, as a swing faucet can be moved out of the way of those larger pieces.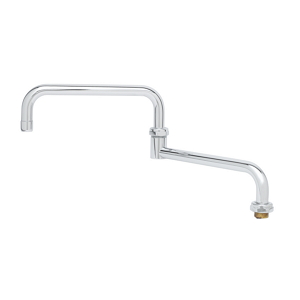 Double-joint spouts give the user fine-tuned control over the position of water above the sink. This type of nozzle can be used to reach each section in extra-large compartment sinks. It's also sometimes specified to reach beyond the edge of the sink when operators want the ability to fill large pots and other containers outside of the sink.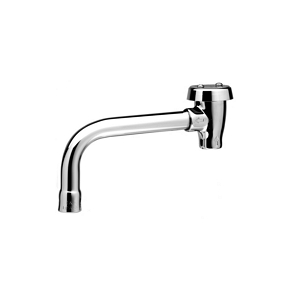 Vacuum breaker spouts are designed to prevent contaminated water from being siphoned back into the public water supply in the event of a drop in water supply pressure. This measure is required by law in some areas and is often specified as an extra precaution when the faucet will be connected to a hose or valve that may be left inside a sink or bucket of water.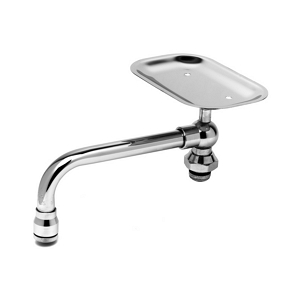 Soap dish spouts are often built into hand sink faucets to give users convenient access to soap with which to wash their hands.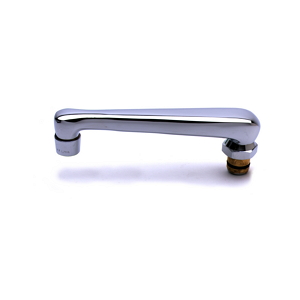 Rugged cast spouts are often preferred for their sleek aesthetic appeal and durable construction, especially when they're to be installed on public sink faucets.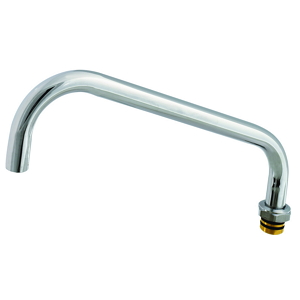 Big flow spouts feature larger diameters than T&S' standard spouts to outfit faucets that are primarily used to fill containers, such as those installed on compartment sinks and in utility closets.
Aerators & Outlets
One seemingly small detail that has a big impact in how your faucet is used is the type of outlet device on the nozzle or lack thereof. These components determine the volume and texture of water that comes out of the faucet, and different applications require different ones. There are three main types of outlets.
Aerators mix water with air to create a softer stream that doesn't splash as much as non-aerated water. This is ideal for most handwashing applications and also helps conserve water because it constricts the volume that leaves the nozzle. Aerated nozzles are preferred almost universally, with one exception being in certain medical facilities where aerators are banned as a measure to keep airborne bacteria and viruses out of water and off of people's hands.
Laminar flow outlets allow water to stream in one solid line. These are known sometimes as "solid water" outlets and may be preferred for outlets that are primarily used to fill large containers since they don't restrict the flow of water.
Non-aerated spray outlets create fan-type spray patterns that are ideal for rinsing lightly-soiled wares such as trays.
T&S Handles
A faucet's handles are the primary means by which users interact with the device, so it's important to choose the best ones for your application. T&S Brass offers eight types of handles: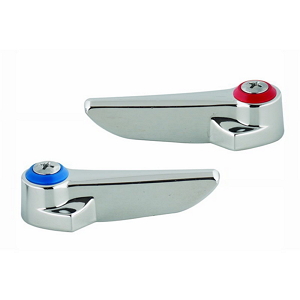 Lever handles are good general purpose components that are suitable for a number of faucet types, including staff handwashing sinks, bar sinks, and compartment sinks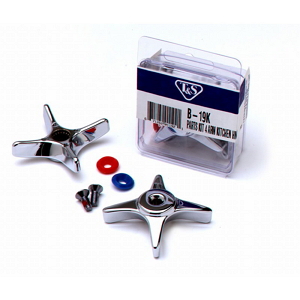 Four-arm handles require users to grasp the handles with their fingers to operate the faucet. For this reason, four-arm handles are not ADA-compliant because individuals with certain conditions may not be able to perform the required motion. These are often used on utility faucets with quick-closing cartridges to fill mop buckets and utility pails
Wrist-action handles are wide to allow users to activate the faucet with their wrists or palms, instead of their fingers. This type of handle is popular in medical facilities, schools, and other institutions where efforts are made to prevent the spread of disease. These handles are the most popular type used to meet ADA specifications, since they do not require users to grasp the handle in order to operate the faucet.
Alpine handles are made with clear polycarbonate plastic. These are modeled off of a popular residential faucet design and are often specified for public restroom and hospitality sinks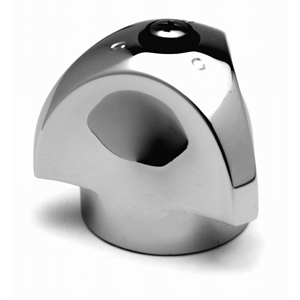 Dome handles are rounded and must be grasped and twisted to activate. Like four-arm handles, dome handles are not ADA compliant and are most often specified for self-closing faucets.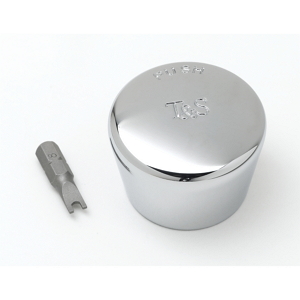 Push-button handles are most commonly attached to self-closing faucets in facilities where efforts are made to conserve water or where sinks are subject to vandalism.
Pivot-action handles are alternatives to push-button handles on self-closing faucets and are activated with a rocking motion.
Chrome-plated club handles are T&S' most decorative handle option. These are a popular choice in public restrooms, especially in upscale restaurants and hotels.