T&S Brass Cost of Ownership

Cost of ownership consists of a balance of two factors: initial cost and the costs of ongoing maintenance. The initial cost is simple – just add up the cost of the faucet, any accessories, and installation costs – but the cost of ongoing maintenance is a little harder to determine, but can include utility bills, part replacement, and more. T&S Brass offers quite a few features and options that keep the cost of ownership on its units incredibly low.
T&S Durability
T&S Brass, known for its durability, manufactures products with heavy-duty commercial grade castings and carefully designed parts that have been tested for longevity. With a combination of innovative design and reliable materials, the following products are especially sturdy:
Cerama cartridges are designed to have only one moving part instead of several smaller parts, meaning fewer repairs are required over time. These cartridges are tested for over 1 million cycles and have a lifetime warranty. Splines that help keep the cartridges in the correct position help prevent the handle from needing to be turned farther as it ages.
Modular waste valves are made of durable stainless steel with a guillotine-style design that breaks up any potential clogs. Rather than requiring the entire waste valve to be removed for repair, these valves are built with parts than can be individually maintained.
Pre-rinse units use flexible stainless steel hoses, compression cartridges, and adjustable centers for durability and versatility.
Standardized Parts
T&S Brass faucets of every kind, from handwashing to pre-rinse faucets, are made with modular parts that can be exchanged as needed. While T&S Brass parts are durable, with many parts having a lifetime warranty, there may come a time when your business's needs change and you need to alter part of your fittings.
For example, you might start out with a 2.2 gallons per minute (GPM) aerator, but later you want to put more of a focus on water conservation. In that case, you could simply unscrew the aerator and replace it with one that has a 1 GPM flow. Alternatively, if you purchase a pre-rinse unit alone and then decide later that an add-on faucet would be beneficial, it can easily be added after the unit is already installed. The ability to change individual parts instead of having to replace the entire assembly can save you money over time.
Water Conservation
Another way that T&S provides value and saves customers money is by restricting water usage to lower utility bills. These products are engineered to perform at the same level as those that use a higher flow of water while using less water in the process.
Metered Faucets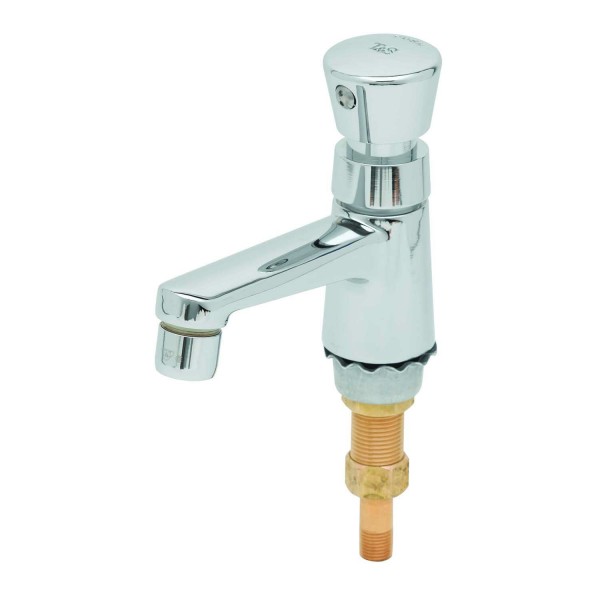 Metered faucets are activated manually, usually by pressing a button or turning a lever. Once activated, the faucet will allow water to flow for a set amount of time before shutting it off automatically. Some of these have buttons for both hot and cold water, while others have only one button with a pre-set temperature.
Sensor Faucets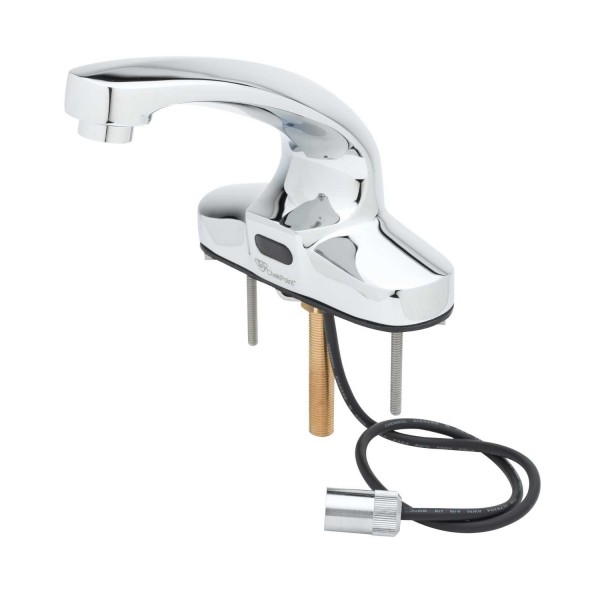 Sensor faucets eliminate water waste with a sensor that allows the faucet to operate when hands are detected under the faucet. Because the sensor requires power, these rely on either a battery or an AC/DC connection for operation.
Low-flow Fixtures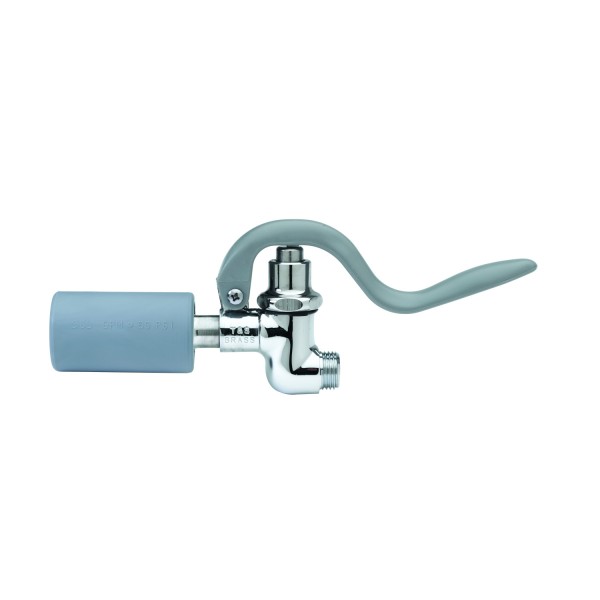 Low-flow faucets and spray valves restrict how much water is able to flow while maintaining water pressure. Aerators can turn any faucet into a low-flow faucet, cutting the flow to as little as 0.25 GPM. While some faucets, like those used to fill pots, benefit from a high flow rate, installing aerators on other sinks can save money on water utilities.