T&S Brass Hose Reel Buyers' Guide
For a variety of kitchen cleaning tasks, from rinsing out combi ovens to washing floors, a hose reel can save a good deal of time and labor compared to conventional methods like mops and buckets. They don't pose a tripping hazard the way traditional hoses do, and they're easier to use and more ergonomic – not to mention they have a much neater appearance than traditional hoses. Here we explain what sets T&S hose reels apart from similar equipment and help you choose the best one for your application.
Why Pick a T&S Hose Reel?
Here are a few standard T&S hose reel features that set them apart from competitors' offerings and make the equipment a long-lasting choice.
T&S hoses are made of nitrile tubing and reinforced with a steel wire braid to protect against jacket failures and kinking.
Protected hose outlets reduce the wear and tear on hoses to help them last longer.
Brass swivels eliminate a common hose reel failure point and protect hoses from breaking.
T&S reels are built with durable, 31⁄6-inch-thick drum supports, bases, and arms. These components are designed with no water trap points to lower the risk of rust.
Reel ratcheting assemblies are formed from quarter-inch steel for long service lives.
A T&S hose reel can be installed just about anywhere you need one. Each reel comes with a wall-mounting plate that allows the unit to be installed by a single individual. Additional accessories are also available to install them under tables, on tabletops, and on the ceiling. See the accessories section of this article to learn more about these products.
Configuring a T&S Hose Reel
Before you can set out to choose a T&S hose reel, you'll need to understand all the ways you'll put one to work. Will it be used primarily to clean your kitchen floor? Will you also use it to rinse out equipment? Do you run a processing or manufacturing facility where you'll need to clean heavily soiled surfaces? Pay close attention to all the possible features and accessories that are available on a T&S hose reel so you'll be sure to choose one that's optimized for your application.
Reel Design and Construction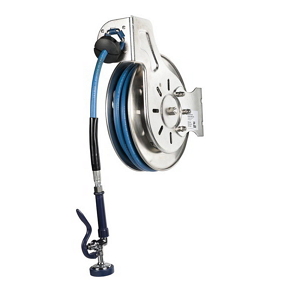 Open Hose Reel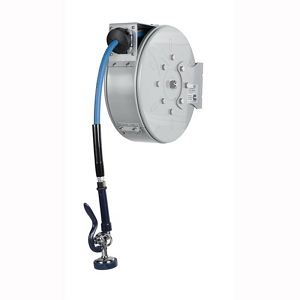 Closed Hose Reel
Reels are available in open and closed designs. Your choice is largely a matter of preference. Some folks prefer the neat appearance of a closed reel that conceals the unit's hose when it's reeled in. Others may prefer an open design so they can reach into the unit and clean it.
T&S hose reels are available in stainless steel and epoxy-coated steel versions. Stainless steel reels provide the longest-lasting, most-durable solutions. Stainless steel reels are best suited for particularly challenging environments where the unit is exposed to high humidity or salty air.
For light- and medium-duty applications, operators may prefer epoxy-coated reels, which are less expensive, but still provide a high degree of durability against rust and corrosion. Epoxy-coated reels should suit most restaurant kitchen applications just fine.
Hose Lengths and Diameters
T&S brass provides hoses in four lengths: 15, 30, 35, and 50 feet. Choose your length based on the maximum distance your hose will need to travel from the hose reel mounting point. Keep in mind that not all lengths are available with all reels.
Along with the outlet device you choose and the existing pressure of your building's water supply, hose diameter will pay a role in the pressure of the water as it comes from the hose. T&S provides three hose diameter options:
3⁄8-inch is the preferred standard diameter for most applications, including washdown and equipment cleaning procedures.
1⁄2-inch-diameter hoses provide a higher volume of water for heavy-duty commercial and industrial applications. These hoses are only available on stainless steel reels in 35- and 50-foot lengths.
3⁄4-inch hoses are available for heavy industrial cleaning applications where an extra-high volume of water is needed. This size hose is only available on an open, epoxy-coated steel reel in a 50-foot length.
Outlet Devices
T&S hose reels can be fitted with a number of outlet devices. To choose the right one, consider how the hose will be used and how employees may hold the device when they use it.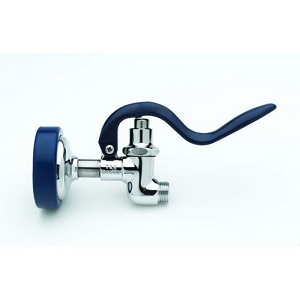 EB- and B-Series spray valves are modeled after T&S's traditional pre-rinse units but provide a higher flow rate. These valves can be used for general applications including rinsing out machines and kitchen washdowns, but are not suitable for pre-rinsing dishes since a pre-rinse valve must have a flow rate of 1.6 GPM or lower to comply with EPAct 2005.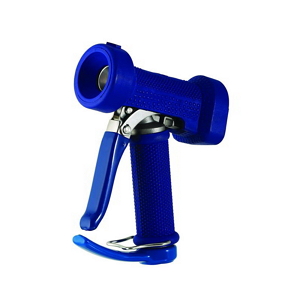 A front-trigger water gun is an ergonomic choice to equip staff to perform heavy cleaning tasks that require higher pressure water than general purpose spray valves. These are ideal for quickly cleaning large, heavily soiled surfaces.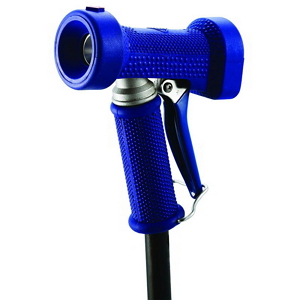 Rear-trigger water guns are suitable for washing heavy soil from floors and heavy-duty equipment.
Extended spray wands let employees clean inside tight corners. The precision nozzle lets the user target the specific area he or she wants to clean, including tile grout lines.
Specialty Applications
T&S Brass offers two specialized hose reels that deviate from its standard design for operators who need help addressing particular challenges.
The B-7161 compact, light-duty hose reel with a 6-foot hose is a good choice for operators who need to rinse combi ovens, yogurt machines, and similar equipment. With its small footprint and light weight, this reel mounts to the side of equipment or in small spaces.
The B-7102 is a compact, heavy-duty hose reel with a 12-foot hose designed to be mounted under a counter near its point of use. Use this reel to clean dish machines and spray down equipment. This unit's reinforced hose can handle water as hot as 200 degrees Fahrenheit.
Hose Reel Accessories and Necessities
You'll want to be sure and choose the right hose reel accessories so you can install and use the device to fit your needs.
Wall-mounting plates are included with each hose reel and can be used to attach it to the wall, but you may opt to choose an alternative mounting device to extend the reel's reach and versatility.
Swinging brackets: Swinging brackets allow the reel to be swung from left to right to control the direction of the hose and extend its reach. These brackets are available to fit any size reel and can be ordered in stainless steel or epoxy-coated construction.
Pivot brackets mount hose reels on ceilings and tabletops and allow users to pivot the unit 330 degrees. These accessories are epoxy coated and available for all reels with 3⁄8- and 1⁄2-inch-diameter hoses.
Table leg swing brackets allow hose reels to be installed under tables, and have the capability to rotate 210 degrees and lock in multiple positions. These enable users to mount hoses closer to their points of use, such as near the equipment they'll be used to rinse. These accessories are available to mount all reels with 3⁄8- and 1⁄2-inch-diameter hoses.
Depending on how you'll install and use your hose reel, you may need one or more of the following necessities:
A mixing valve to provide the correct balance of hot and cold water for the job.
A check valve to prevent water from flowing backwards through the unit (your mixing valve may come with one of these built in).
A control/shutoff valve to turn the water supply to the unit on and off.
A vacuum breaker that prevents water from flowing back into the public supply in the event of a pressure drop.
An installation hose that connects the reel to its water supply line.
Hose Reel Systems
T&S Brass provides hose reel systems that include all the components you need to install and use your hose reel. You may find one that provides just the solution you need.
The B-2339 hose reel assembly with a 30-foot hose and cabinet includes a mixing valve that's enclosed in a locking control cabinet. An emergency shutoff valve is mounted on the exterior of that cabinet. This assembly also includes a dial thermometer that makes it easy for staff members to verify they're using water that's at the correct temperature for the job. Dual check valves and a water hammer arrestor are also built in to this package. This product provides a great solution for general washdown procedures in commercial settings where controls should be kept safe from tampering.
If it's a general-purpose washdown and cleaning hose you need, consider the B-1430 and the B-1444-CV hose reel assemblies. Each of these units include a versatile EB-0107 spray valve. Either would be a good fit for a restaurant kitchen.