Find the Right Commercial Refrigerator from True

The True Story


In 1945, Robert Trulaske Sr. returned from serving the United States as a combat pilot during World War II to his native St. Louis and set about founding a company that would come to dominate the commercial refrigeration world. With help from his father Frank and his brother Art, Bob Trulaske built the world's first bottle cooler and started a manufacturer he called True, a play on his last name.
Since the company's founding, True Refrigeration has grown to claim more than 60 percent of the commercial refrigeration market. That bottle cooler proved so popular that True developed a long line of underbar refrigeration systems, along with reach-in commercial refrigerators, sandwich/salad prep tables, commercial refrigerators, refrigerated merchandisers, and a number of other lines that have helped keep True at the top.
The Trulaske family is still in charge at True and the company still makes all its reliable commercial refrigerators in the United States. From foamed-in-place insulation to super-efficient cooling systems to innovative milk coolers that circulate heat, True continues to lead the way when it comes to commercial refrigeration. That's why it is consistently ranked "Best in Class" among commercial refrigerator companies in Foodservice Equipment & Supplies magazine's annual survey or foodservice professionals.
The company offers a warranty for most every model that covers parts and labor for repair of malfunctions in the first 3 years of ownership. Additionally, every True Refrigeration compressor gets a 5-year parts warranty that offers you piece of mind for the heart of the machine.
Given all that, choosing to buy a commercial refrigerator from True may be easy, but choosing among the company's large selection of quality, dependable commercial refrigeration products may not be. The choices can be overwhelming, so this buying guide will attempt to make the decision a little easier.
The Types of Refrigerators and Freezers True Makes
There are several different types of True Refrigeration products available, all of which will be explained in this section.
Choose a True Refrigeration product to jump to:
True Reach-In Commercial Refrigerators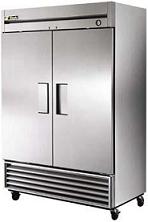 True reach-in commercial refrigerators are some of the most popular commercial refrigeration products sold. There are two types of reach-in commercial refrigerator to choose from, the T and TS Series. Each offers from one to three sections.
True T Series reach-in refrigerators also have a stainless steel front with anodized quality aluminum finished sides, backs, and tops. These units feature an NSF-approved white aluminum side wall and back with 300 series stainless steel floors. Heated varieties of these T series cabinets are also available, which come with a 3stainless steel interior. Three heavy duty, PVC coated wire shelves are included in each section. This category includes the most popular commercial refrigerator True makes, the two-section T-49.
True TS Series reach-in refrigerators are constructed with stainless steel fronts and sides, with a matching aluminum back. The interior of each unit features stainless steel walls, door liners, and floors. There are three heavy duty, PVC coated wire shelves per section.
All the commercial refrigerators in this category are available with solid metal doors, solid glass doors, or split doors that can be all metal, all glass, or a mix of the two. There is also an option for metal or glass sliding doors, which are a must in small kitchens because they don't require room for the door to swing out.
True Glass Door Merchandisers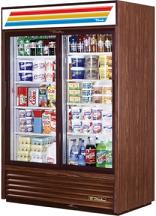 True Refrigeration goes the extra mile when it comes to commercial refrigerators built for helping you sell your goods. Not only do these units offer an attractive way to display what you have to offer, they're also remarkably energy efficient. From foamed-in-place insulation to an oversized refrigeration unit to Low-E glass that insulates the cabinet from ambient heat, True has taken every measure to protect your products and your bottom line.
The True glass door merchandisers section itself contains several categories. Those include glass door merchandisers to meet nearly any business' needs. The glass door design of these commercial refrigerators eliminates excess energy loss by allowing customers to view the contents of the refrigerator or freezer without actually opening it.
True glass door merchandisers come with a radius front, slide doors, or swing doors. All offer maximum visibility with various door opening options. You're likely familiar with these True Refrigeration offerings from having seen them in your local convenience or grocery store. True offers the ability to customize even small orders of these units with unique graphics and logos.
True convenience store coolers and ice merchandisers are also commonly seen in convenience stores and grocery stores. Convenience store coolers, known by some as space conscious coolers, are capable of holding numerous types of products, but offer a lower height that allows them to fit into tight spaces. These commercial refrigerators also offer increased visibility throughout the store area. True ice merchandisers are designed specifically to hold bagged ice at appropriate temperatures and display it in an attractive manner.
True countertop glass door merchandisers are a great way to increase impulse buys in your business. This compact type of commercial refrigeration can be placed on any countertop, creating an instant eye-catching display of prepackaged food and refrigerated items.
True glass door freezer merchandisers are a perfect way to store all of your frozen products while keeping them on display for customers. They are NSF approved for storing any type of food item.
True floral cases are an ideal way to store and display all of your beautiful floral arrangements. These units are seen frequently in grocery stores and florists' shops. They are equipped with special lights in the case that not only highlight your products, but also help promote healthy growth among the plants inside.
True glass end four sided merchandisers are designed to offer complete view and easy access to refrigerated food items. Thanks to the fact this type of commercial refrigerator has four glass walls, it can be placed virtually anywhere, including at the end of a counter or row of shelves. These commercial refrigerators hold items that you want to draw attention to and increase sales of. Since they allow a view from all sides, they offer the opportunity to increase impulse sales and are especially useful for storing desserts.
True wine merchandisers are the best way to hold all of your wine products at proper temperatures until they are ready to be served. Wine merchandisers hold multiple bottles of wine at an angle and temperature to create perfect storage conditions. True Refrigeration, with its in-house silkscreen operation, offers special color and graphics themes for both red and white wine coolers.
True Food Prep Tables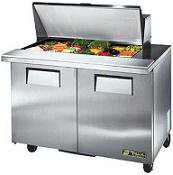 The True food prep tables section is also divided into several smaller categories. Each of them includes commercial refrigeration units that are distinctly different from any others in this section or any other, though these all share some similarities. For instance, they all offer prep areas with an NSF-approved cutting board that allows room to work and a safe surface for knife work.
True is unique among commercial refrigeration manufacturers in that it is the only one to offer food prep tables that are NSF approved for overnight food storage. These systems are so efficient that, with the included lid pulled down, they can maintain proper temperatures for food storage. That means you save the trouble of moving your ingredients back and forth every day, and you don't have to find room in your reach-in refrigerator to store those items.
True sandwich / salad prep tables are growing into some of the most popular commercial refrigerators True Refrigeration offers. These stainless steel units a refrigerated area on top that has the ability to hold products in pans at 33 to 41 degrees Fahrenheit. There is a workspace in front of the refrigerated area to allow room for the assembly of foods like salads and sandwiches. Using one of these commercial refrigeration units means your ingredients are easily accessible throughout the day and are held at safe temperatures. True sandwich / salad prep tables are available in lengths ranging from 27 inches to 72 inches, offer options with and without drawers below the prep area, and even include a dual-sided unit that allows two people to work at once. There are also low profile units that are ADA compliant.
Standard True Refrigeration sandwich / salad prep tables can accommodate two rows of pans, with an 11.75-inch cutting board or work area in front. True mega top sandwich / salad units can fit three rows of pans and offers a cutting board area just less than 9 inches.
True pizza prep tables offer room for one row of pans in elevated bins that help keep toppings easy to access and separated. They offer an extra-wide 19.5-inch prep area and has the refrigeration unit on the sides to allow for tray storage below the workspace. These commercial refrigeration units are available in lengths ranging from 44 inches to 119 inches, allowing ample space for even the largest topping selections.
True Undercounter Refrigerators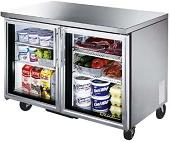 True undercounter refrigerators offer opportunities for cold storage that is both economical with your space and convenient for those working in your commercial kitchen. As the name implies, these commercial refrigerators fit conveniently under standard counters.
True Refrigeration under counter units offer the same cooling powers as True commercial refrigerators and commercial freezers, with oversized refrigeration systems and an automatic defrost cycle on freezer models. They are available with cabinets, drawers, and glass doors, with lengths ranging from 24 inches to 72 inches. All of these units are 36 inches high with the included casters or optional legs installed.
There are also ADA-compliant and low-profile undercounter refrigerators, with height measurements of 34 and 32 inches, respectively.
True also offers deep undercounter commercial refrigerators, which have the cooling unit in the side, rather than the back. That means they offer a deeper cabinet that allows for more storage, with room for an 18x26-inch sheet pan. They're typically priced 18-20 percent more than True's standard undercounter commercial refrigerators and commercial freezers, but for busy kitchens the extra space is well worth the additional upfront cost.
True Refrigerated Worktops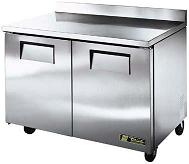 The True worktop refrigerators category includes units that bring both refrigerated storage and their own countertops. These stainless steel units offer a roughly 30-inch worktop, complete with a one-piece backsplash. Having that wall guard built as one unit with the worktop means there's nowhere for germs to hide, unlike on worktop units from some other commercial refrigeration companies that have a gap between the two that can be difficult to clean.
A worktop commercial refrigeration unit is a perfect fit for a kitchen with limited space, since it combines two thing essential for a foodservice operation: Counter space and refrigerated storage. These units offer similar convenience to True undercounter refrigeration, but take that one step further since it's not necessary to have an actual countertop to use one. Since these units come with casters, you have the option of relocating them if you find they're in the wrong place without having to build a new counter to cover it.
Like their kin above, worktop models from True Refrigeration are available in extra depth models, ADA / low profile models, and heavy-duty extra depth models, which offer thicker steel on the front and top to provide a stronger commercial refrigerator.
True Under Bar Refrigerators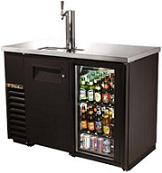 The True under bar refrigerator category includes both commercial refrigeration units that go under the bar area, as the name implies, and go behind the bar, with glass door units great for display of bottled beers, wines, and liquors. True Refrigeration under bar refrigerators also include direct draw beer dispensers, glass and plate chillers, and the horizontal bottle coolers Bob Trulaske founded the company on. Each unit in this category is available with either a black vinyl-laminated exterior or a stainless steel exterior that costs a bit more but offers more durability. They also all have heavy-gauge stainless counters on top.
The most popular offerings in this True commercial refrigeration category are the direct draw beer dispensers, which offer cooling space for one to nine kegs, or half barrels. To draw from those, True offers units with one to three taps, which the company has found an innovative way to keep cold all the way to the dispenser. That means a better product for your customers and money savings for you because there's no need to drain the tap of warm beer before the pour. These commercial refrigerator units are available in lengths ranging from 23.5 inches to 90-3/8 inches. There are also club top direct draw beer dispensers from True that include bottle or glass chillers.
True back of bar coolers are available with solid or glass doors, and can offer accessibility either through the front alone or from both sides in pass-thru units. They offer under counter cold storage that is convenient both because it doesn't take up too much space and provides easy access to the beverages your customers want. Glass door units have lighting that creates a beautiful presentation that helps you sell, and True Refrigeration offers optional wine racks and bottle organizers that further enhance your display. These units are also available in lengths ranging from 23.5 to just more than 90 inches. There are also True bar refrigeration units that combine both of those types, with back bar refrigerators that also have a keg cooler and a single tap.
For the ultimate in presentation, True Refrigeration offers commercial refrigerators that can chill or frost glasses and plates. Dry plates and glasses can be loaded into these and come out short time later with a complete chill perfect for serving cold drinks or foods. These True bar refrigeration units maintain a temperature of 0 degrees or less constantly. They're available with a black vinyl or stainless steel exterior, in sizes that can hold between 90 and 250 8-inch mugs.
Finally in the bar refrigeration category are the units that started it all - the bottle coolers. True Refrigeration offers units that can quickly bring the temperature of your products down to perfect serving levels, around 33-38 degrees. They achieve that with guided, forced-air cooling that does the chilling from the top down. These have a bottle cap remover and catcher, and come in sizes ranging from 24.75 inches to a tad more than 95 inches. Like the others in this category, they're available with a black vinyl or stainless steel exterior.
True Deli Cases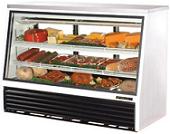 True deli cases are the perfect way to store and display all of your deli products, from meats to salads to cheeses. With Low-E glass, foamed-in-place Ecomate insulation, and low UV lighting, these units offer beautiful presentation that will protect both your product and your bottom line.
The category starts with True single duty deli cases, which offer cold storage in the display area. These are constructed with NSF-approved white aluminum on the interior sides and top, with a stainless steel bottom that is easy to clean. The exterior is white laminated vinyl that won't peel or chip, with a stainless steel top perfect for support equipment like registers and scales. Inside, True Refrigeration offers exclusive front and rear lighting to highlight your products on the included wire shelves. You can buy rear access models that are great for products that need to be in a controlled environment and pass-thru units that allow for self-service applications. Single duty deli cases are also available in low-height models that offer increased visibility and allow for easy transactions.
True Refrigeration double duty deli cases offer the same benefits as their single duty kin, but with the advantage of having cold storage below the display area. That gives you extra room for keeping products fresh without having to find room in a reach-in or another commercial refrigerator. They also offer stainless steel construction and a single stainless shelf. As an added plus for these double duty units, True equips them with a 115V receptacle on the exterior that's perfect for slicers or scales that help you run your deli.
True also offers curved deli cases, offering a presentation enhanced both by increased visibility and special lighting. They offer the same cool storage abilities as the rest of the category, but with some extra tempered glass real estate that can really help you sell your products. They also come with a 4-amp exterior scale receptacle that makes service a breeze. They're available in peel and chip resistant white laminated vinyl with a stainless steel top and trim.
True Horizontal Freezers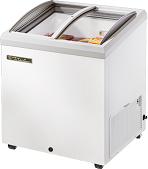 True Refrigeration horizontal freezers are uniquely designed to give you the perfect way to promote frozen products and novelties in retail areas. With Low E sliding glass doors on the top of each unit, they provide the opportunity to tempt customers into that impulse buy of frozen treats that yield high profits.
With an NSF-approved white aluminum interior that has a stainless steel bottom, these commercial refrigeration units provide the perfect cold storage for packaged or bottled products. They maintain -10 degrees, even in high-traffic areas. They have a manual defrost system with a convenient defrost drain that makes maintenance a breeze.
True Refrigeration makes horizontal or chest freezers with flat or angled lids. They range in length from just shy of 30 inches to a little less than 52 inches. They're all covered in durable white or black laminated vinyl, which is tested to ensure it won't peel or chip. They also have locks standard, to prevent theft and other product loss.
True Milk Coolers
True milk coolers are ideal for schools, hospitals, or any type of cafeteria use. They can go outside the serving line, too. For instance, a bar in a Wisconsin college town found it was having trouble keeping its beers stocked for servers fast enough on big game days. With help from True Refrigeration, they realized they could use a dual-sided milk cooler as a pass thru unit from the kitchen to the serving area, allowing for easy restocking and access from bar staff.
These commercial refrigerators can hold milk, juice, or other beverages in a cool environment, and can be opened in a way to allow for self-service. Unlike other commercial refrigeration manufacturers, True builds its milk coolers with forced air cooling, rather than side wall cooling. That means they cool your drinks more efficiently and thoroughly. The moving air inside the unit also helps to create something of an air curtain, keeping warm air out of the unit and cold air inside, which is crucial in a commercial refrigerator that is open during service.
True milk coolers can hold from 8 to 16 crates. They come with stainless steel and white vinyl exteriors, with an option for either single- or dual-sided access.
True Air Curtain Merchandisers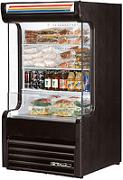 True air curtain merchandisers are designed without doors to allow for a large, open front for easy access to the products displayed. These units also attract attention because of their unique design. True Refrigeration air curtain merchandisers are available in vertical and horizontal models that offer the perfect fit for any grocery or convenience store.
Air curtain commercial refrigerators maintain the temperature of cold products with the help of an invisible curtain of air which flows constantly over the products to ensure proper temperature retention. It is forced over the top of the food in the display, keeping cold air in and warm air out. True's self-contained air curtain merchandisers have shielded lighting that provides the perfect illumination for your products. They also offer True's exclusive reversing condenser fan motor, which turns the fan backwards during defrost cycles to keep the condenser coils free of dirt, dust, and other debris. That helps the unit run more efficiently and maintain lower temperatures.
True Refrigeration vertical air curtain merchandisers come with either a black or white vinyl exterior. The interior is constructed of NSF-approved white aluminum with a stainless steel bottom, though a black interior is available. All stand about 80 inches high, except for the TAC-14GS (pictured), which measures just a bit more than 56 inches tall. They all offer a customizable, illuminated sign panel.
True's horizontal air curtain merchandisers offer the same easy access and attractive display in low-profile form. The interiors, all of NSF-approved white aluminum with a stainless steel floor, offer three tiered levels so nothing gets lost in the mix. The exteriors can be of white or black vinyl, or stainless steel. This category also includes the True Refrigeration THAC-36DG, which has a horizontal air curtain merchandiser for a base and a dry goods display area above.
True Curved Glass Display Cases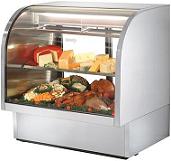 To add flair to your presentation, True Refrigeration offers display cases with curved glass. These commercial refrigerators, which are great for bakeries, maintain an interior temperature of 38 to 40 degrees, the ideal range for baked goods that need to be held cold.
The TCGR family of curved glass display cases offers tempered, double paned glass that is insulated to keep your utility bills down. Each commercial refrigerator in this class has adjustable heavy-duty wire shelves, with exclusive shelf-positioned interior lighting. Safety-shielded lamps offer the opportunity for lighting tubes to be replaced without the product having to be removed. The interior is of white aluminum, with a high-impact plastic floor, while the exterior features a durable stainless steel top perfect for support equipment like scales, which can be plugged into the provided 5-amp exterior receptacle (not available on TCGR-31, -36, or -77). The exterior comes standard with white laminated vinyl, though there are five additional color options available with no extra charge. True can also provide custom laminate coverings for these units and will even send templates if you want to create your own.
Next in the curved glass display case category are the TCGDZ models, which offer both dry and refrigerated storage in dual zones in one unit. The left side of each unit offers a commercial refrigerator that's perfect for items like cakes that need to be kept chilled, while the right offers unrefrigerated dry display space. These are the perfect piece for bakeries with lots of offerings and foodservice operations that are limited on space. They're also available in a total of six vinyl laminate exteriors, with the additional option of stainless at an upcharge. They can also be customized or sent with templates so you can create your own wrap.
For displays of pastries and other foods that don't require commercial refrigeration, True offers dry-only curved glass display cases with its TGCD models. They come with heavy-duty wire shelves, though glass is available, and special lighting that provides a balanced color spectrum to enhance the presentation of your foods. Single pane curved glass in the front tilts forward for easy cleaning.
True Dual Temperature Units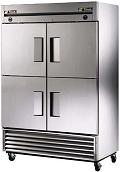 True dual temperature units offer the benefits of both a refrigerator and freezer in one convenient, space-efficient model. They're built with two self-contained and independent oversized refrigeration systems, both bottom mounted.
Like their stand-alone counterparts, the commercial refrigeration portion of a dual temperature unit holds a temperature of 33 to 38 degrees, while the commercial freezer section maintains -10 degrees. To enable you to monitor that temperature, these units have two digital exterior temperature displays.
They have 300 series stainless steel fronts and white aluminum interiors, with a stainless steel floor with coved corners to prevent bacteria growth. The ends, back, and top of the exterior are all made of anodized quality aluminum. These units come with adjustable, heavy-duty, PVC-coated wire shelves. The has a time-initiated defrost cycle that shuts off when it has run long enough in single-section models or when it has reached the right temperature, in two-section models.
True dual temperature units come in one- or two-section models, all with two compartments. They are available with solid doors, glass doors or half doors.
True Ice Cream Dipping Cabinets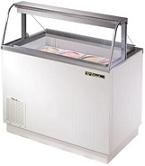 A True Refrigeration ice cream dipping cabinet not only provides a great way to store and serve ice cream and other frozen treats, it also offers attractive presentation for customers and touches that make it extremely convenient to use. That includes night covers that make these models safe for holding frozen product all night long and a trio of features included on every True ice cream dipping cabinet that other manufacturers charge extra for.
With a cold wall commercial refrigeration system, these units can maintain -10 to 8 degrees while offering a clear view for customers of all you have to offer thanks to the tempered glass window on top. These self-contained units require no plumbing, have a manual defrost system so you never lose product to forgotten cycles, and a convenient defrost drain. True Refrigeration also builds them with an exclusive reversing condenser fan motor that switches direction during defrost off cycles. That helps keep the coils cleaner longer, optimizing performance, enabling the unit to keep colder temperatures, and making it more energy efficient. Each unit has a durable steel exterior covered with a non-peel white laminated vinyl, and a high-quality, white powder-coated finish on galvanized steel.
Unlike many of its competitors, True makes can racks, can skirts, frost shields, and night covers standard. Can racks and skirts enable you to accommodate 9.5-inch diameter, 3-gallon ice cream cans and keep them in an orderly display. In all but the smallest model, there is also storage for additional gallon cans below the display set up. Frost shields are plastic sheets that cover the walls and can be removed for easy clearing of ice build up on cabinet walls, which allows the machine to operate more efficiently and extends the time between defrost cycles. With the included night cover, there is no need to remove the product at night to ensure it stays at the proper temperature and doesn't develop crystals that make the ice cream hard and unappealing.
Even though True ice cream dipping cabinets ship with so many things standard, there are still optional add-ons available, including dipper well and lid lock kits.
True Heated Cabinets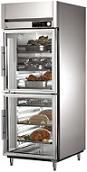 True Refrigeration isn't just about commercial refrigerators. It may seem like a paradox, but the company also produces heated cabinets in both the TH series of standard reach-ins and the STG line from the spec series. All are built using the same construction materials and methods that make their commercial refrigeration counterparts so reliable.
These units are ideal for buffets, catering companies, bakeries, pizzerias, delis, and other foodservice operations that prepare food that needs to be held warm for long or short periods of time. With Ecomate foamed-in-place insulation, stainless steel construction, Low E glass, and other touches that promote heat retention just like they promote cold retention, these units are ideal for that work. They have heating units that can achieve temperatures ranging from 80 to 180 degrees and low-velocity fans that help distribute the heat evenly throughout the heated cabinet.
True heated cabinets are available in the same configurations as True refrigeration units, from reach-in to roll-in to roll-thru to pass-thru. Reach-in units allow for easy storage of multiple trays of food at a time, while roll-in units allow the user to push an entire cart of food trays into the unit without having to unload them. Meanwhile, roll-thru and pass-thru units have doors on both sides that make them quick and easy to load or access. Those can be positioned so one side is accessed by the kitchen and can be loaded there, while the other side is available to front of house servers.
True offers heated cabinet models with solid doors, glass doors, and split doors that can be a mix of both.
True Chef Bases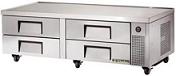 Chef bases from True Refrigeration are the perfect units for kitchens looking to make the most of their space. They offer the opportunity to put a cooking appliance on top of cold storage, which combines two of the most space-consuming elements of restaurant equipment into one convenient area. As an added bonus, if the cooking equipment you're using requires a hood, that same fan can capture any heat produced by the condenser on the commercial refrigeration unit, which could help lower your cooling bills.
These chef bases use forced air to maintain a temperature of 33-38 degrees in the drawers, which have interiors of NSF-approved white aluminum, with stainless steel floor with coved corners. The front, top, and sides of the unit are constructed of stainless steel, with 18-gauge stainless with a drip guard on top. Flat tops and ones with 16-gauge steel on top. All have insulation in the upper portion to eliminate heat transfer from cooking elements to the refrigerated drawers.
Each chef base has an exterior digital temperature display. They're so strong and durable that single-section cabinets can support up to 717 pounds of equipment, while two-section units can hold as much as 1,084 pounds. Three-section models can support an astounding 2,000 pounds, or the equivalent of more than 10 full-grown men.
True does recommend the use of a heat shield to completely eliminate any heat transfer between cooking elements and the commercial refrigerator. All countertop cooking equipment used on these units should be equipped with the manufacturer-provided legs. Leaving less than a 4-inch space between the top of the chef base and the bottom of the cooking equipment will void the warranty.
True chef bases are designed to be quality long term investments for your business. These units have all stainless steel fronts and cabinets ends and features an oversized, environmentally friendly forced-air refrigeration system. Chef bases provide an excellent work surface that has a "V" edge to protect against spills.
True Pass-Thru Units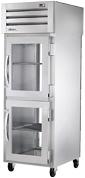 True pass-thru refrigerators are designed to serve as a link between the kitchen and servers or the serving line, in the case of buffets. Offering access from both the front and the back, these units, as their name implies, give the opportunity of loading trays of food on one side to be passed through to the other. That enables for proper cold or hot storage of foods, while making it easy for kitchen staff to get those out front and serving staff to quickly access them.
Each pass-thru unit offers the same benefits as their standard reach-in counterparts. Commercial refrigeration units provide an oversized condenser, while heated cabinets have a fan to circulate ensure even temperatures of 80-180 degrees throughout the unit.
These models are available with one or two sections, with solid or half doors, and with stainless steel or glass doors.
Since most of these units are part of True's specification series, which are all built to order, they may come with a lead time as long as four weeks. They offer four interior kit options, though all can fit at least three full-sized trays.
True Roll-In Units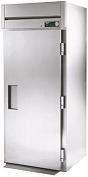 One of the most handy inventions ever put into a kitchen is the tray rack, which makes as many as a few dozen trays loaded with food mobile and easy to manage. The tray rack allowed for growth in food service and made the lives of those who work in busy food service operations easier. But they left one big problem: All those prepared foods sometimes needed to be placed in cold or warm storage, which meant finding space for them all and then unloading them one at a time into the commercial refrigerator or heated cabinet.
The next step in helping make life easier for those in those kitchens was the invention of commercial refrigerators and heated cabinets capable of receiving those fully-laden rolling racks. True roll-in units are grounded to the floor, with a small ramp to allow racks to coast easily up into the cabinet while still providing the elevation needed for insulation. Like other True products, they offer sturdy stainless steel and aluminum construction. The commercial refrigerators in this category have an oversized and highly efficient refrigeration system, while the heated cabinets can maintain temperatures of 80-180 degrees evenly throughout the cabinet thanks to a low-velocity fan.
With your tray rack easily accessible, service is no problem. Whether it's a hundred salads you've kept in a commercial refrigerator or several dozen entrees waiting to hit the convention hall, they're ready to go by the tray or by the rack.
True Roll-Thru Units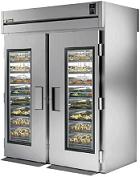 So, what could be handier than a commercial refrigerator or heated cabinet that you can park an entire rack of trays in? Well, one that you can actually drive that same rack through like a little heated or cooled tunnel, of course. That's just what True roll-thru units allow you to do.
With a door on either side, these units offer serious convenience that allows your food service operation to function at its maximum efficiency. They can be used in busy serving settings like events facilities, with one side in the kitchen and the other facing into the serving area. When the dishes are prepared, they can be loaded by the cook, then they can be easily accessed by server who don't have to wade into the bustle of the kitchen to get their plates. These also allow two people to be working on the same dishes at the same time on opposite sides of the roll-thru unit.
True roll-thru commercial refrigerators and heated cabinets combine all the convenience of the last two categories into one unit. Like the others, they offer oversized refrigeration systems in the commercial refrigerator models and low-velocity fans that spread heat evenly at 80-180 degrees in the heated cabinets.
True Specification Series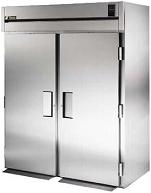 True also makes several heavy-duty versions of the commercial refrigeration types already covered that are part of the True specification series. These are great for high-volume institutions where equipment may take a beating, including schools, hospitals, hotels, convention centers, and similar venues. While a quality restaurant-duty commercial refrigerator may last 20-25 years, the True Refrigeration spec series will likely provide 40 or more years of faithful service thanks to its solid, stainless steel build. They'll cost you a bit more, but may well pay for themselves by saving you from having to buy two commercial refrigerators in that same time. Since they're built to order, they also have a longer lead time, which may be as long as four weeks.
True STA Series units feature a 300 series stainless steel door, front, and sides. On the interior of these commercial refrigeration units, you'll find aluminum on the side walls and back, and durable stainless steel on the floor and ceiling. The shelving is of heavy-duty, chrome-plated wire, with three per section.
True STG Series units have an exterior construction of 300-series stainless steel doors and fronts, with anodized quality aluminum finished sides, bottoms, and backs. Inside these commercial refrigerators, the walls and back are made of food-safe aluminum, while the floor and ceiling are of stainless steel Heated cabinet models have an anodized aluminum interior. These units have three heavy duty, PVC-coated wire shelves in each section.
True STR Series units have a 300-series stainless steel front, door, and sides. The interiors of these units are constructed from 300 series stainless steel throughout, including the side walls, backs, floors, and door liners. These units have one interior reach-in shelving kit option included per full section at no charge with four different interior kits available.
Need more guidance on choosing the right commercial refrigerator from True Refrigeration?
For assistance in choosing or buying the right commercial refrigeration unit for your kitchen, please contact one of our helpful customer service representatives by phone at 800.541.8683 or by e-mail at info@katom.com.