Star Manufacturing Ultra-Max Hot Plates are Superior Cooking Equipment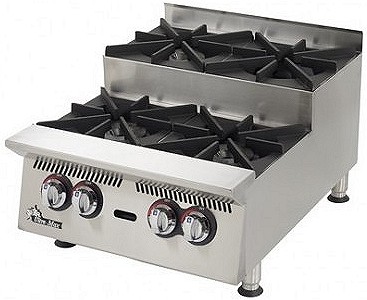 The commercial hot plate is an invaluable piece of restaurant cooking equipment, providing a cooking station that doesn't take up too much counter or floor space. Whether as primary burners or a supplement to a larger range, the Star Manufacturing Ulra-Max hot plate provide a heavy-duty solution that should last for years.
These units are available in standard and step-up models, and in widths of 12, 24, 36, and 48 inches, with 2, 4, 6, or 8 burners. Each of those is a two-piece unit that can produce 30,000 BTU, which provides high-performance cooking in a heavy-duty package.
Ultra-Max Hot Plates: Durable, Efficient, & Safe
To produce this dependable cooking equipment, Star built these gas hot plates with high-quality stainless steel bodies with a full weld to ensure strength. Each burner is covered by a sturdy cast iron grate, which can stand up to years of heavy-duty use while providing even heat distribution. Those grates are part of the Star Manufacturing no-tilt design, which keeps them from moving as you slide pots or pans across them.
The 12-in. x 12-in. burners each have a standing pilot that means you get immediate heat when you turn them on. They're built with an anti-clogging design that shields the pilot and cuts regular maintenance requirements. Temperature is controlled by a manual knob for each burner, with simple 1/4-turn adjustment. The knobs are constructed of durable steel and are mounted on a cool-to-the-touch bull nose front panel that won't burn the user like other designs can.
A built-in crumb tray captures spillage and makes cleaning easier. Adjustable 4-inch legs elevate the Ultra-Max hot plate, making it easy to clean underneath. The height and depth of these Star Manufacturing units matches other cooking equipment in the Ultra-Max line, which means they can team up seamlessly on your countertop.
Though it's built so you don't need it, every Ultra-Max hot plate is covered by a 3-year parts and labor warranty. Each model is shipped to burn natural gas, with an included adapter for liquid propane installable in the field. In addition to the included 4-inch legs, these can also be mounted on Ultra-Max equipment stands to make them stand-alone units.
For more information about Star Manufacturing Ultra-Max hot plates or assistance purchasing one, please contact a KaTom customer service representative at 1-800-541-8683 or info@katom.com.