The Heavy-Duty Ultra-Max Charbroiler

When they set out to develop the Ultra-Max line of gas charbroilers, the engineers at Star Manufacturing aimed at making an even-heating, tank of a machine that could stand up to high demands. What they produced is cooking equipment that provides more BTUs, standard cast iron burners, and 30 percent more cooking space than comparable models.
The Ultra-Max commercial charbroiler is available in radiant and lava rock models fired by natural gas, with a conversion kit for liquid propane shipped with units. In lava rock units, drippings fall through the standard cast iron grates onto the heat-distributing rocks and vaporize, providing a light smoke that enhances the flavors of your foods. Meanwhile, the steel radiants in equipped charbroilers provide heat transfer that beats the industry standard.
Every one of these stainless steel restaurant charbroilers is equipped with 20,000 BTU cast iron tubular burners spaced every six inches. Being made of cast iron not only makes the burners longer-lasting in high-demand kitchens, it also provides more even heat distribution, which ensures the entire cooking area maintains proper temperatures. Those levels are set by individual controls for each burner that not only allow for precision, they also make it possible to cook at more than one temperature on a single charbroiler.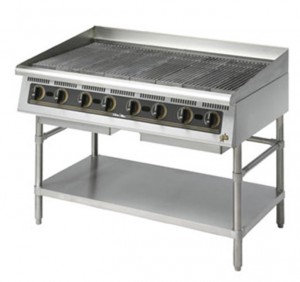 To further ease of operation, each burner has its own standing pilot light. The controls have also been made more user-friendly, with a cool-to-the-touch bullnose that prevents users from burning themselves if they stand too close to the unit or brush against the panel while adjusting the temperature. The knobs on each Ultra-Max charbroiler are made of heavy-duty steel that is both durable and remains cooler than those found on competitors' units.
These Star Manufacturing charbroilers are available with 24-, 36-, 48-, and 72-inch wide grilling surfaces that are all adjustable between flat and slanted positions. The 25-inch extra-deep grill allows for 30 percent more cooking space than is found on similar models.
As a step up between the Star Max and Ultra-Max lines, Star Manufacturing provides a 3-year parts and labor warranty for every Ultra-Max restaurant charbroiler. When you order one of these units, consider adding one of these Star Manufacturing stands to save counter space. You can also get an extended plate shelf that adds a 7-inch deep space for preparing dishes you've cooked on your charbroiler.
For more information about the Star Ultra-Max line, contact KaTom at 1-888-541-8683 or by email at info@katom.com.