Strong & Reliable Star Ultra-Max Griddles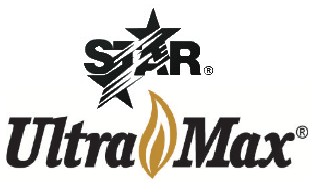 Nearly every detail of the Star Manufacturing Ultra-Max griddles illustrates how Star beefed up its cooking equipment in the Ultra-Max line. With super-efficient heating, heavy-duty stainless construction, available chrome plates, and bottom-welded splash guards, Star made these for the high-volume chef .
To show the confidence they have in this cooking equipment, Star stands behind it with an industry-leading 3-year parts and labor warranty. Though you're not likely to need it, that's peace of mind for a griddle that could become the star of your cooking line.
Heavy-Duty Quality Starts at the Top of Each Ultra-Max Griddle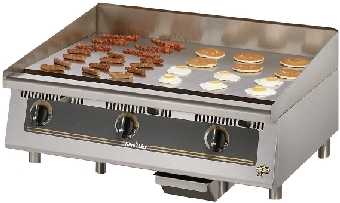 The cook top, that is. That's where you'll find an incredible 1-inch-thick smooth steel or chrome plate. That thickness ensures you get even heat distribution and retention, while still providing energy-efficient cooking consistency. Add the chrome plate and you've got a commercial griddle that can reduce energy costs by as much as 30 percent and significantly reduce the labor needed for cleaning. The chrome finish also protects your food products by preventing taste transfer.
To ensure you get complete control of the temperature, these Star Ultra-Max griddles are equipped with internal plate sensors that measure the temperature of the griddle surface. Built into a specially designed groove in the bottom of the griddle plate, these sensors react quickly to changes in surface temperatures, prompting an instantaneous response to any changes. Pair that with control options that include manual dials with a standing pilot, mechanical snap-action thermostatic controls with electronic flame monitoring, and an electric thermostatic control, and you've got the tools to provide consistent heating for every meal.
This cooking equipment provides the space to meet the needs of high-volume kitchens. Its high-capacity, 24-inch-deep cooking surface is available in 24-, 36-, 48-, 60-, and 72-inch widths, ensuring you have the room you need. It's available in natural gas and electric models.
Advances Make Star Ultra-Max Griddles Reliable
Star Manufacturing built these griddles with specially designed burners and elements that provide superior cooking performance, time after time. Gas models have new 30,000 BTU, U-shaped tubular steel burners positioned at 12-inch increments. Electric griddles have custom-designed 4350-watt elements that are also located every 12 inches. That allows for even heat distribution and fast temperature recovery.
The 5-inch stainless steel splash guard blocks splatter on three sides and is welded on the bottom, which prevents the weld cracking if it comes into contact with something cold when it's hot. All this cooking equipment also comes with an oversized, spatula-accommodating 3.5-inch front grease trough and chute that further assist you in keeping your kitchen clean. The 24-, 36-, and 48-inch units all have a single 6-quart stainless steel grease drawer, while 60- and 72-inch griddles feature two.
These Star Manufacturing Ultra-Max griddles offer a cool-to-the-touch control area thanks to vented stainless steel front panels and a large bull nose, which means no need for gloves to adjust the temperature and no worry about burns from accidental contact with the griddle.
Whether you're ready to buy or need more information, KaTom has the knowledge and selection to help you get the right Star Manufacturing griddle. Browse our online selection or contact us for more assistance at 1-800-545-8683 or info@katom.com.