Star Manufacturing Ultra-Max Cooking Equipment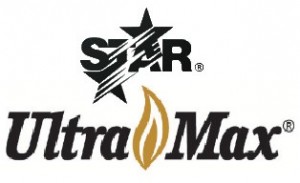 When the Star Manufacturing engineers set out to establish a new standard for cooking equipment, they deemed the resulting line Star Ultra-Max to reflect that it can outlast and outperform the competition. They're so confident they achieved their goal that they back each piece of this heavy-duty restaurant equipment with a 3-year parts and labor warranty.
All Ultra-Max cooking equipment is designed for high-volume restaurants, and repetitive heating and cooling. Crafted with features like a full weld placed to ensure strength and stainless steel bodies, these pieces can stand up to the toughest demands on their heavy-duty legs, which are oversized for stability.
All Star Ultra-Max units include front panels that are vented and have a large bull nose, which means they offer a cooler, safer operating area. Though they come as countertop units with 4-inch legs, they can also be fitted to the corresponding Ultra-Max equipment stand to make them floor models.
The Ultra-Max Griddle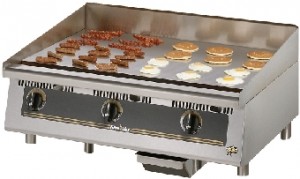 No matter what you're cooking, the Ultra-Max griddle is versatile, heavy-duty, and ready to take on your commercial kitchen's greatest challenges. Available in a range of sizes from 24 to 72 inches in length, all Ultra-Max griddles come standard with an extra-deep 24-inch cooking surface. Other features of these griddles include:
Natural gas and electric models available.
Control options include manual, throttling, and mechanical snap-action.
A unique temperature sensor system for extreme accuracy that allows the surface temperature of the grill to recover rapidly.
One-inch thick griddle plates are available in ultra-smooth steel or with a chromium surface.
New 40,000 BTU tubular "U" shaped steel burners or custom-designed 4350-watt elements for even heat distribution.
The Ultra-Max Char-Broiler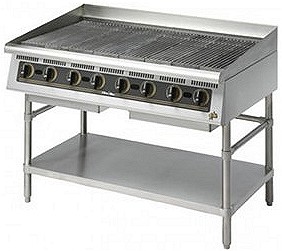 The Ultra-Max charbroiler is available in several sizes ranging from 24 to 72 inches long, each with an extra-deep 25-inch grilling surface. That means these commercial charbroilers offer 30 percent more cooking space than competitors' models. Other features include:
Available with lava rock or radiant heating mechanisms.
High-performance, 20,000 BTU tubular steel burners every 6 inches that provide even heating.
Standing pilot light and separate control for each burner.
Lava rock briquettes vaporize drippings for intensified flavor.
Steel radiant elements crafted to prevent bending and cracking due to thermal shock while delivering greater heat transfer and distribution than traditional cast iron or stainless steel radiants.
The Ultra-Max Hot Plate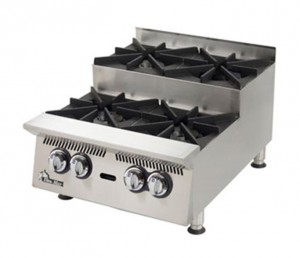 Star Ultra-Max hot plates are available in standard and step-up models from 12 to 48 inches wide, which means they can precisely meet the demands of your kitchen. They offer high-performance, two-piece burners capable of 30,000 BTU, with sectional control and an anti-clog burner design. It's all under the command of heavy-duty metal knobs that are constructed to be long-lasting. This cooking equipment also features:
Performance, cleanability, and reliability are essential in any commercial kitchen and that's exactly what you will get with the Ultra-Max hot plates. Built for continuous use, frequent heating and cooling, and with the new step up feature, the
Star Manufacturing Hot Plate
is the workhorse you need for your busy kitchen.
Widths including 12, 24, 36, and 48 inches with two to eight burners.
Cast iron grates that can stand up to constant use and a non-tilt top design that makes moving pots easier.
A standing pilot with an anti-clogging shield for each burner.
Manual controls with 1/4-turn operation for easy temperature management.
Natural gas models that are convertible to liquid propane in the field with a supplied conversion kit.
Large crumb tray that provides for easy cleaning.
Choose Ultra-Max Cooking Equipment from KaTom
There is nothing standard about the Star Manufacturing Ultra-Max line. From durability to productivity, these griddles, char-broilers, and hot plates have certainly set a high bar for heavy-dity restaurant equipment. In addition to the standard units, you can also pair each with a variety of accessories including shelves, round grates for the char-broilers, towel bars, casters, plate rails, and equipment stands that turn countertop units into floor models.
For more information about the Ultra-Max line, contact KaTom by phone at 1-888-541-8683 or by email at info@katom.com.