Scotsman Prodigy Advanced Sustainability Ice Machines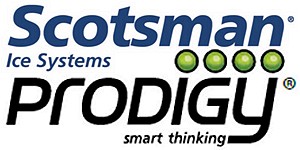 With over 60 years of focused dedication manufacturing ice machines and over 100,000 successful installations in more than just the foodservice and hospitality industries, Scotsman has perfected their technology. They have proven this with the customization options and energy efficient design they put into their Prodigy™ Advanced Sustainability ice machines, which are so intelligent they do practically everything but shake your cocktail for you.
Priding themselves on their continued commitment to sustainability, Scotsman's Prodigy ice machines produce 10% more ice than competitors' machines while saving you substantial costs on water and energy. Ice sensors in Scotsman's Prodigy ice machines allow you to program your business's exact ice requirements up to seven days in advance, so you're never left with a wasteful surplus. By using one of Scotsman's ENERGY STAR qualified Prodigy machines, you'll save 50% on your water usage and 15% on energy, which translates to approximately $170 in annual energy savings. And, depending on if you live in one of the qualifying states in the U.S., you may even be able to cash in on a rebate for even further savings up to $850.
Prodigy Saves You Money on Costly Repairs
At a glance, Scotsman's Auto Alert System alerts you of service issues in advance, with five simple LED symbols (along with an audible buzzing), so you'll never be left stranded without ice during your restaurant's busiest lunch hour. And, since Prodigy ice makers can also be remotely monitored from a computer anywhere, you will always stay informed of your machine's operating status, ensuring any service issues are immediately diagnosed and fixed correctly the first time.
Antimicrobial Protection for Consistently Pure, Fresh-tasting Ice
Besides the fact that you will always have a consistent supply and precise amount of ice to meet your business's demand whenever you need it, Scotsman's Prodigy ice machines also include AquaArmor™, which uses the antimicrobial compound, AgION to ensure you receive the purest ice possible –ice that is consistently crystal clear, crisp, and fresh tasting.
Which types of ice are available with Scotsman's new technology?
Scotsman's Prodigy technology is available on their cubers, flakers, and even their most popular nugget ice machines that produce the ever-growing-in-popularity nugget ice. The first manufacturer to produce this type of ice, Scotsman branded their nuggets "The Original Chewable Ice." Its nuggets are well-loved by many restaurant guests, as well as appreciated by patients in healthcare facilities, for their easy-to-chew quality.
Ice should add to your selection of delicious beverages –not detract from it—so why not make a smart investment in a machine that meets your business's high standards? When you invest in a Prodigy ice machine from Scotsman, you know you are getting a practical, reliable machine that produces high quality gourmet ice, along with self-monitoring technology that's so intelligent, it predicts costly repairs so you can prevent them from even occurring. And, with the substantial amount of money you'll save on energy costs… well, let's just say that the cost of ownership is practically eliminated.
KaTom Is Here to Help
For more detailed information regarding Scotsman's Prodigy Advanced Sustainability ice machines, please visit KaTom's extensive selection. And, as always, feel free to contact one of our friendly customer service representatives at 800.541.8683 or e-mail us at: info@katom.com for any questions regarding this equipment.