Scotsman Adds Three Undercounter Ice Makers in Essential Ice Series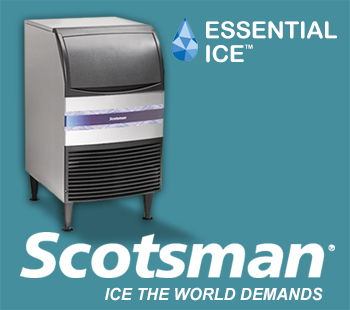 Many business owners find it difficult to decide which brand and size commercial ice machine will best suit their operation's demands. Nobody wants to waste water and electricity on excess ice that will go unused and just melt away, nor do they want to run out of ice for their customers' drinks during the busiest times of the week, but those are the dilemmas that restaurateurs and managers face when they have an undercounter ice maker that doesn't fit their needs.
Scotsman Ice has provided a solution to the problem by adding three new ice makers to their lineup with the CU0415, CU0715, and the CU0920. Collectively known as the Essential Ice Series, they are designed to provide ice-making solutions to businesses that have a relatively low demand for ice, but still need a dedicated ice maker with built-in storage capacities. They're great for snack bars, restaurants that are only open for a short time each day, and any low-volume commercial kitchen.
Think this type of undercounter ice maker may be right for your establishment? Read on to discover more about these compact workhorses.
Features and Benefits of Scotsman Essential Ice Machines
The CU0415, CU0715, and CU0920 Scotsman Essential Ice machines deliver 38, 80, and 100 pounds of ice a day, respectively.
The built-in bins on the CU415 and CU715 each hold 36 pounds of ice, while the CU0920's bin holds 57 pounds.
Essential Ice machines are designed to save space at just 38 inches tall and 24 inches deep. Floor mount kits are available to allow these small ice machines to be installed under 34–inch-high countertops.
The CU0415 and CU0715 are both 15 inches wide, and the CU0920 is 20 inches wide.
The doors on these units slide up and into the cabinet, which means they won't block the aisle in front of your undercounter ice maker.
The ice from a Scotsman Essential Ice machine is crystal clear thanks to a horizontal evaporator with spray jets that prevents water impurities from freezing into the ice. Clear ice improves the appearance of beverages and melts slower to preserve taste.
To give the operator more control over the formation of the ice, these Scotsman commercial ice machines include buttons that adjust harvest time and ice thickness, so the settings can be optimized to create perfect ice under any water and ambient air conditions.
Scotsman Essential Ice machines are manufactured and tested in Fairfax, S.C., to ensure quality workmanship and flawless operation.
All components are protected by a 3-year parts and labor warranty for added peace of mind.
Each Essential Ice undercounter ice maker meets U.S. federal energy efficiency requirements and U.S. Safe Drinking Water Act requirements.
This type of Scotsman commercial ice machine uses non-ozone-depleting R-134a refrigerant.
Contact KaTom for More Information on Scotsman Essential Ice Machines
If you want more details on this small ice machine line or if you'd like help making a purchase, please contact us at 1-800-541-8683 or info@katom.com.