Rubbermaid Ingredient Bins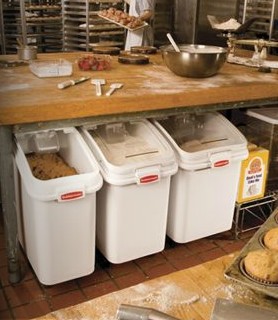 Rubbermaid ingredient bins may cost a little more than other brands but you'll soon see why making a Rubbermaid purchase will in the end save your money, time and effort.
Rubbermaid Makes Your Job Easier!
Rubbermaid ingredient bins are designed to take the hassle out of ingredient rotation and re-filling. The lids featured on Rubbermaid ingredient bins are clear for easy product viewing, taking the guess work out of when you need to re-fill. These bins are also designed for FIFO use. The FIFO barrier featured in these Rubbermaid bins make ingredient rotation as simple as adding the new product. This reduces the amount of effort your team uses to properly stock ingredients as well as food waste.
Get the Scoop on Better Health Inspections
Traditional ingredient bins feature snap on lids that tend to be harder to close when your business is busy. An open lid during a health inspection is certainly not good news; neither is a scoop that touches the product. Rubbermaid ingredient bins help to reduce bad marks with your health inspector with superb design. The lids featured on these ingredient bins slide instead of snapping on, making closing the lid as easy as a swipe of the hand. The scoop that comes with your ingredient bin was specially designed so the handle never touches the product, reducing the chances of cross contamination. You don't have to worry about losing your scoop either; these fine Rubbermaid ingredient bins feature a clip on the top of the bin for easy scoop storage.
Strong for the Long Haul
Rubbermaid ingredient bins make moving your ingredients from one prep area to another as easy as rolling them along. The larger Rubbermaid ingredient bin models (21, 26, and 31 gallon sizes) feature casters for simple mobility. This saves time and effort. These bins are also made to be tougher than your traditional bin and feature structural web construction. This provides a smooth surface for easy cleaning but also adds to the strength and durability of the unit.
Sizes for Every Use
These bins aren't just for flour! Other than being a perfect choice for busy bakeries and restaurants, Rubbermaid ingredient bins also easily find a home in smoothie or coffee shops. Check out the multiple sizes available on KaTom.com!