Polarware
Polarware is a top manufacturer of fine stainless steel products.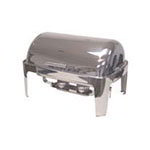 Whether you are setting up a foodbar or elegant serving line, Polar Ware buffet service has what you need.
Shop All
Set up sinks for convenient washing right where you need it with Polar Ware Yukon sinks.
Get superior performance in your foodservice operation with Polar Ware specialty pans.
Fixing food is as easy as pie with Polar Ware food prep and storage items.
Have all the right tools you need in the kitchen with Polar Ware kitchen tools.
Equip your foodbar and other steam tables with Polar Ware steam table pans and covers that will keep performing years to come.
Everything will look and taste better when you use Polar Ware cookware and bakeware.