Master-Bilt Offers Longer Warranty Period on Most Models

For years Master-Bilt has been known in the foodservice industry as the source for walk-in coolers and especially custom-built units. They've worked hard to stay at the top of the game, with offers like delivery of custom orders in a week and same- or next-day shipping of commercial refrigeration that fits standard dimensions. Now, the company is upping its position again with the introduction of up to three years' worth of warranty protection, plus a standard 5-year compressor parts warranty for every commercial refrigerator it makes.
Master-Bilt gives reach-in commercial refrigerators, glass door merchandisers, and school milk coolers three to five years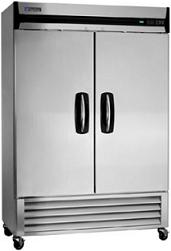 The Mississippi-based manufacturer has added that longer warranty to most of its stand-up commercial refrigerators, including the Fusion and Endura series. These reach-in commercial refrigerators are perfect for cold storage in any foodservice operation. They're especially great for back-of-house applications, like kitchens.

Master-Bilt is also providing three-year protection for its standard glass door merchandisers and school milk coolers. Many items in these lines (for the full list of which products get what amount of coverage, see the spreadsheet linked at the bottom of this post) will come with the new 5-year compressor parts warranty. That coverage protects one of the most vulnerable parts of any commercial refrigerator, with more moving parts and electrical systems than the rest of the unit. It also happens to be the most important part of any model, because without it the refrigerator isn't really one anymore. Think about it: If the door falls off, what you have is still a commercial refrigerator, though an extremely inefficient one. On the other hand, if the condenser goes out, then what you have is an insulated box full of wasted food.
The three-year warranty covers both parts and labor, meaning any manufacturing-related issue you have with a Master-Bilt commercial refrigerator in the first three years of ownership won't cost you a dime. The compressor is protected by that all-inclusive offer in the first three years, then gets an additional two years of parts coverage after that.
Other Master-Bilt commercial refrigerators get one- or two-year coverage
In addition to that extra warranty protection, Master-Bilt has also announced a two-year warranty will be standard with ice cream dipping units, open air merchandisers, heated cabinets, IM-23GB ice merchandisers, deli cases, and gelato units. The company's blast freezers, certain ice merchandisers (including IM38, IM60, and IM45G), and some display units will retain a one-year parts and labor warranty, though even these commercial refrigerators will get the 5-year compressor coverage.
For more information about this great new Master-Bilt warranty offer, please contact one of KaTom's helpful customer service representatives at 800.541.8683.