The Indigo Cube Ice Machine Buyers Guide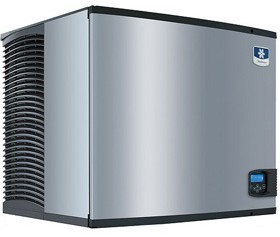 If you're in the market for a technologically advanced ice machine that makes your job easier, a Manitowoc Indigo ice maker is an ideal choice for your needs! What makes the Indigo Ice Machine so special? Consider the fact that Indigo cuber ice machines feature more cost reducing benefits than most other models on the market and you'll soon understand why this award winning ice machine is a great choice!
Manitowoc Indigo ice machines feature a front facing digital display and control board for employee viewing. This means there are no complicated codes or controls, simply easy to read instructions, statuses, warnings, and alerts.
Each Indigo Cuber ice machine by Manitowoc is so smart that it monitors just how well your ice machine is doing. This means that if there is ever a problem it will instantly be noticed by the machine.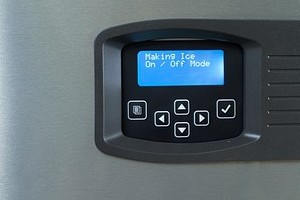 When a problem occurs, your Manitowoc Indigo Cuber ice machine will let you know in plain text on the easy to read Digital Display. You'll be amazed to know that Indigo Cuber ice machines gather information about the machine 24 hours a day so when a service person comes to fix the machine they will have everything they need to know about the diagnostics easily available to them via USB or RS485 ports. This reduces down time and saves your business money on service calls!
The Indigo Cuber Ice Machine by Manitowoc, unlike many other ice machines, is also programmable. Have the perfect amount of ice without fail by programming ice making on/off times. This feature will also shave energy usage off of your business's utility bill!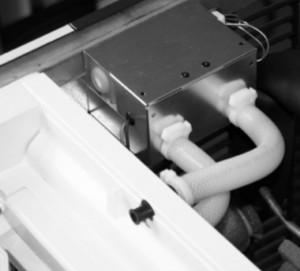 Tired of ice machines that make it difficult to them? The Indigo's cleaning cycle is started by simply pressing a button. Indigo Cuber ice machines are easily accessible from the front and require no parts to be removed, instead opting for a swing out door function. The food zone itself features soft edges and rounded corners for easy cleanup as well as an easy to remove water trough. Antimicrobial Alpha San that is molded into the food zone provides extra protection!
When you use a Manitowoc Indigo cube ice machine you may notice it is a little quieter than what you've been used to. This is because Manitowoc Indigo cube ice makers feature foamed components and front door panels that don't just reduce noise; these foamed parts also help to further insulate the unit.
With an Indigo Cuber ice maker, ice production comes swiftly. These Manitowoc Indigo cube ice machines speed up the ice making process by using Air Assist Harvest Technology. Air is forced between the ice sheet and evaporator. Like the programmable function, Air Assist Harvest helps to save energy.
Not sold on the Manitowoc Indigo ice cube maker? See the benefits for yourself: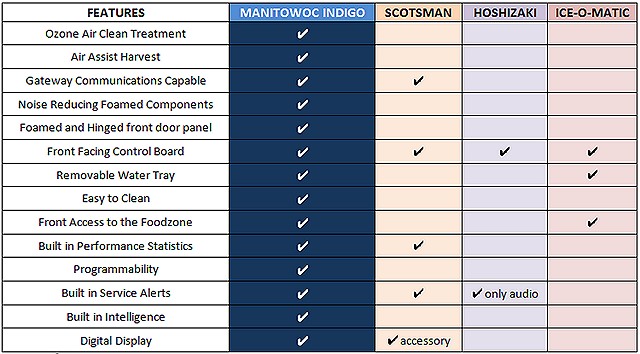 Introduced in 2011, the Indigo Series models replace similar S Series units. For those looking to replace an older machine or who just want to be able to reference the new to the old, we've created this handy chart.
| | | | | | | | |
| --- | --- | --- | --- | --- | --- | --- | --- |
| S SERIES MODEL # | CONDENSER | CUBE | ICE IN 24 HRS | INDIGO MODEL # | CONDENSER | CUBE | ICE IN 24 HRS |
| SD-0302A | Air | Full | 340 lbs. | ID-0302A | Air | Full | 310 lbs. |
| SD-0303W | Water | Full | 325 lbs. | ID-0303W | Water | Full | 300 lbs. |
| SY-0304A | Air | Half | 340 lbs. | IY-0304A | Air | Half | 310 lbs. |
| SY-0305W | Water | Half | 325 lbs. | IY-0305W | Water | Full | 300 lbs. |
| SD-0452A | Air | Full | 455 lbs. | ID-0452A | Air | Full | 420 lbs. |
| SD-0453W | Water | Full | 435 lbs. | ID-0453W | Water | Half | 430 lbs. |
| SY-0454A | Air | Half | 460 lbs. | IY-0454A | Air | Half | 450 lbs. |
| SY-0455W | Water | Half | 465 lbs. | IY-0455W | Water | Half | 450 lbs. |
| SD-0502A | Air | Full | 530 lbs. | ID-0502A | Air | Full | 530 lbs. |
| SD-0503W | Water | Full | 550 lbs. | ID-0503W | Water | Full | 550 lbs. |
| SY-0504A | Air | Half | 560 lbs. | IY-0504A | Air | Half | 560 lbs. |
| SY-0505W | Water | Half | 550 lbs. | IY-0505W | Water | Half | 550 lbs. |
| SD-0602A | Air | Full | 650 lbs. | ID-0606A | Air | Full | 632 lbs. |
| SD-0603W | Water | Full | 650 lbs. | ID-0606W | Water | Full | 661 lbs. |
| SY-0604A | Air | Half | 650 lbs. | IY-0606A | Air | Half | 635 lbs. |
| SY-0605W | Water | Half | 650 lbs. | IY-0606W | Water | Half | 700 lbs. |
| SD-0852A | Air | Full | 785 lbs. | ID-0906A | Air | Full | 874 lbs. |
| SD-0853W | Water | Full | 835 lbs. | ID-0906W | Water | Full | 839 lbs. |
| SY-0854A | Air | Half | 940 lbs. | IY-0906A | Air | Half | 901 lbs. |
| SY-0855W | Water | Half | 875 lbs. | IY-0906W | Water | Half | 879 lbs. |
| SD-1202A | Air | Full | 1100 lbs. | ID-1202A | Air | Full | 1100 lbs. |
| SD-1203W | Water | Full | 1165 lbs. | ID-1203W | Water | Full | 1165 lbs. |
| SY-1204A | Air | Half | 1205 lbs. | IY-1204A | Air | Half | 1205 lbs. |
| SY-1205W | Water | Half | 1170 lbs. | IY-1205W | Water | Half | 1170 lbs. |
| SD-0322A | Air | Full | 340 lbs. | ID-0322A | Air | Full | 335 lbs. |
| SY-0324A | Air | Half | 340 lbs. | IY-0324A | Air | Half | 350 lbs. |
| SY-0325W | Water | Half | 330 lbs. | IY-0325W | Water | Half | 350 lbs. |