Manitowoc Ice Koolaire Commercial Ice Makers Offer Affordable Reliability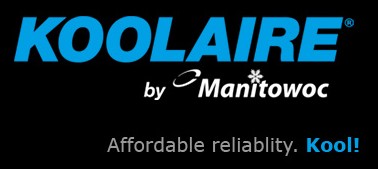 For the cost-conscious commercial ice maker shopper who still wants the quality of a well-made machine, Manitowoc Ice has added the Koolaire series of basic models that can still meet real-world demands. With a few minor tweaks, they've created a "kuber," as they're calling the new units, capable of producing enough ice to meet your needs while bringing a price tag considerably lower than comparable Neo or Indigo models.
Manitowoc Ice has achieved that cost reduction through cutting manufacturing costs and engineering a machine without some of the bells and whistles that can quickly drive the tab up. Though some customers may initially wonder if they'll miss those extra features, Manitowoc's test marketing of the units showed the result is a machine that is very simple to use. Without the need to program operation times or decipher warning signals, users get a commercial ice machine with three easy-to-understand settings: On, Off, and Clean.
Koolaire Commercial Ice Makers are Built to Last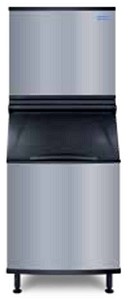 Every kube ice machine in the line is constructed to be durable, with coated steel fronts and painted steel sides that are corrosion resistant and won't show fingerprints or smudges. Perhaps the best part about this exterior is that cleaning takes only a mild detergent, not a special cleaner as traditional stainless steel requires.
On the topic of cleaning, keeping the inside of these commercial ice machines well-maintained is equally simple. All it takes to get behind the lift-off door that protects the evaporator plate is removing two screws. Behind the cover, you'll find the food zone is constructed largely of white plastics, which are both easy to clean and show areas of the worst soil that may need extra attention. The working parts that typically need attention - including the water shield, distribution tube, pump, floats, and trough - can all be removed by hand with no tools.
If you want to take further steps to protect the quality of your ice product, consider the optional CleanAir slime inhibitor packs. This patented cleaner releases sanitizing chlorine dioxide on a controlled basis, which inhibits the growth of bacteria and fungi that can create slime in a commercial ice maker, particularly one using filtered water. That build-up is one of the leading causes of ice machine breakdowns. To use CleanAir, all you'll have to do is place a new packet into the plastic holder in the ice machine every 30 days.
Manitowoc Koolaire commercial ice machines are available in 22-, 30-, and 48-inch models with daily production capacities ranging from 250 to 1,350 pounds. They produce either kubes, 7/8-inch squares, or half kubes, which measure 3/8-in. x 1-1/8-in. x 7/8-in.
Perhaps best of all, these commercial ice makers still carry the Manitowoc name, which is the most trusted one in the industry. If you want more information on Koolaire models or any other Manitowoc unit, please contact one of our customer service representatives at 1-800-541-8683 or info@katom.com.