Cleaning and Using Your Lodge Cast Iron Cookware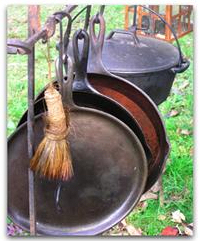 You may have a new Lodge cast iron pan, and although you are eager to try it out, you may not be quite sure how to use it. Maintaining your cast iron is essential, but if you have never owned cast iron cookware before, it can be perplexing. These suggestions for using, cleaning, and seasoning cast iron will keep your Lodge looking new. We've even thrown in a couple of recipes to get you started.
Using and Cleaning Cast Iron:
When you are finished cooking, clean with a stiff nylon brush.
Don't use soap or detergents for regular cleanings.
Do not put hot cast iron into cold water because it can crack.
Always towel dry to avoid rust.
Never wash cast iron in a dishwasher.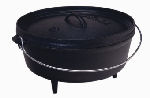 Seasoning Cast Iron:
Always use vegetable oils.
Coat the pan with oil and place in a 350-400 degree F oven for one hour. The oil will bond to the cast iron, creating a non-stick finish.
The more you cook, the more you are seasoning.
If your Lodge cast iron cookware begins to rust, clean it with a sliced raw potato until the rust is gone, wash it with soap and warm water, and reseason.
If you need help reseasoning, see our article on seasoning cast iron cookware.
Tips for Cooking with Cast Iron:
Rinse your cast iron with water before you cook.
Before you cook apply a thin layer of vegetable oil and pre-heat to desired temperature.
After cooking, do not store food in cast iron.
Be careful using acidic foods, as they may produce a metallic taste.
Lodge Cast Iron Cookware Recipes
Now that you are informed on cast iron, it's time to get to work. Here are a couple of delicious and easy to make recipes to try in your Lodge cast iron cookware.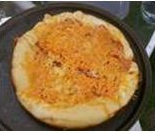 Campfire Dutch Oven Pizza Recipe
1 1/2 lbs. lean ground beef
2 tsp. Italian seasoning
1 tsp. garlic powder
Salt and black pepper to taste
2 tbs. olive oil
1 can crescent rolls
1 jar pizza sauce
1/2 medium red onion, diced
3 tbs. diced green bell pepper
3 tbs. diced red bell pepper
1 (8 oz.) can mushroom stems and pieces, drained
12 black olives, sliced
8 oz. shredded cheddar cheese
8 oz. shredded mozzarella cheese
Heat a 12-inch Dutch oven over 18-20 ashed-over charcoal briquets.
In a medium bowl add ground beef, Italian seasoning, garlic powder, salt and pepper; mix together with your hands. Drop ground beef by small pieces into the hot Dutch oven and fry until brown.
Remove browned beef from Dutch oven and wipe oven down with a paper towel. Pour olive oil into Dutch oven and spread evenly over bottom of oven.
Unroll the can of crescent rolls and line the bottom of the oven with a layer of flattened rolls. Spoon pizza sauce evenly over crescent rolls. Sprinkle evenly with seasoned ground beef, red onion, bell peppers, mushrooms, olives, and top with Cheddar and Mozzarella cheeses.
Cover and bake using 8-10 briquets below and 16-18 briquets on top for 20-30 minutes until crust is browned on edges and cheese is bubbly.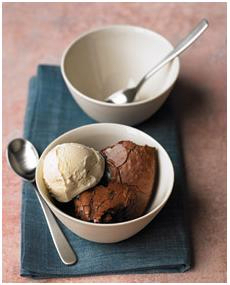 Fudgy Skillet Brownies Recipe
Enjoy a homemade treat in less than an hour with a recipe that uses the same Lodge cast iron skillet to melt the chocolate and bake the brownies.
1-1/4 cups sugar
3 large eggs
1 cup all-purpose flour, spooned and leveled
1/4 cup Dutch-process cocoa powder, spooned and leveled
1/2 teaspoon salt
4 tablespoons (1/2 stick) unsalted butter
1/4 cup heavy cream
8 ounces bittersweet chocolate, coarsely chopped
Preheat oven to 350 degrees.
In a large bowl, whisk together sugar and eggs. In another bowl, whisk together flour, cocoa, and salt.
In a medium ovenproof Lodge cast iron skillet, bring butter and cream to a simmer over medium heat. Add chocolate; reduce to medium-low. Cook, stirring constantly, until chocolate has melted; about 1 minute.
Remove from heat and let cool 5 minutes.
Add chocolate mixture to sugar mixture, whisking until blended. Fold in flour mixture. Pour batter into skillet, then bake until a toothpick inserted in center comes out clean - about 40 minutes. Serve from skillet, warm or at room temperature.
Do you have any questions about your Lodge Cast Iron cookware? Contact one of KaTom's knowledgeable customer service representatives at 1-800-541-8683 or info@katom.com.