Libbey Glass Home Collection Buyers' Guide

Founded in 1818 as the New England Glass Company, Libbey has become one of the largest suppliers of tabletop items in the world. Its reputation for providing quality glassware, dinnerware, and servingware should appeal to anyone in the foodservice industry, but restaurateurs and their patrons aren't the only ones who can enjoy the Libbey glass experience.
The Libbey Home collection features a variety of glassware, from drinking glasses to parfait sets, that will help you beautifully display and serve beverages, appetizers, and desserts. Whether you're making a Friday night margarita, serving appetizers at a party, or enjoying a beer during the game, adding Libbey glass products to your home kitchen will elevate your presentation. Any of these items would also make a great gift for the hostesses or newlyweds in your life.
Libbey Drinkware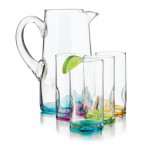 Every kitchen needs drinking glasses for water, tea, and other daily refreshments, but these necessary items can also be statement pieces. The Libbey Impressions Colors set includes four 16.7-ounce cooler glasses, each with a colored base that features a vibrant shade of lime, magenta, orange, or turquoise. This set also includes a large 80-ounce pitcher with a turquoise base. The 16-piece Kava glassware set includes eight tumblers and eight coolers with a modern, gently curved shape that provides a flared top. If you're a fan of Coca-Cola products, you can serve up your favorite soft drinks in Libbey Coke glasses, available with a classic logo or the Diet Coke logo, to add a hint of nostalgia.
Libbey wine glasses from the Vina collection feature a classic shape with stemmed or stemless versions to suit your personal preference. These glasses come in styles designed for red and white wines, but if you prefer a balloon wine glass for your reds, a set of Preston wine glasses is perfect for you. For a more delicate presentation, consider picking up a set of trumpet champagne flutes, which are also from the Vina collection.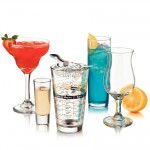 If you enjoy making and serving your own cocktails, Libbey glasses from the Bar in a Box set could be the perfect addition to your kitchen. This set includes four margarita, poco, zombie, and shot glasses, as well as a mixing glass with printed-on recipes, and a metal strainer. If you're a cocktail enthusiast looking for cocktail glasses that stand out, consider the Z-Colors martini set, which includes four glasses with z-shaped stems and brightly-colored bases in lime, magenta, orange, and turquoise. A Colors sundae set provides a fun glass for serving frozen drinks or ice cream. For smaller serving sizes, the Just Cocktails collection includes a mini margarita set and a mini martini set, each complete with six glasses and a pitcher. If punch is on the menu, the Selene punch bowl set includes a round 13.5-quart bowl, eight 11.75-ounce cups, and a plastic ladle for easy serving. The slightly larger Moderno punch bowl set includes a contemporary 14-quart bowl with twelve 11-ounce cups and a glass ladle.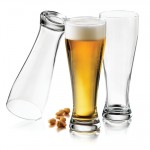 For many football fans, beer is a necessary refreshment during the big game, and picking up a set of 23-ounce football tumblers can easily add to the festive atmosphere. If you're enjoying beer in the off-season, Libbey beer glasses come in a variety of styles to complement any occasion or event. Libbey also offers a Heidelberg mug set with sculpted sides and a comfortable handle. Also available are two sets of pub glasses, in "giant" 22.5-ounce and traditional 19-ounce capacities, which are perfect for serving your favorite pint. If you're feeling adventurous, the Libbey Craft Brews set makes it easy to provide the right glass for a variety of brews. This set features six glasses, including a classic pilsner glass, English pub glass, craft pub glass, Belgian ale glass, porter or stout glass, and wheat beer glass, each meant to enhance the flavor of the brews it's designed for.
Libbey Servingware
Libbey Just Desserts products are designed to help you create a beautiful display and offer small portions of desserts or appetizers, making them perfect for wedding showers, holiday parties, and other events. If you're planning to serve fruit or desserts, Libbey offers Mini Flare sets with different items to suit your needs. One set includes a dozen 2.7-ounce footed flare bowls, while the other includes eight footed flare bowls and a 13-inch footed platter for displaying them. This collection also includes a Mini Parfait set, which includes twelve 2.5-ounce parfait glasses. Each of these sets include miniature spoons, but miniature spoons and forks are also sold separately if you need replacements or want to keep extras on hand.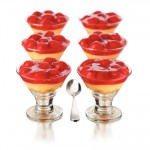 A mini trifle bowl, designed with a heavy stemmed base and wide bowl, will effortlessly show off the beauty and intricacy of any layered dessert; these are available in a four-piece set. To complement your miniature serving sets, consider adding the Just Tasting or Just Baking cookbooks to your collection of recipes.
The Libbey Home collection also offers more traditional servingware. If you're serving appetizers or desserts that would be best served on a plate, look no further than the Just Tasting plate set, which includes 12 white plates with a contemporary, 4-inch square design. For everyday use, consider picking up a 12-piece Libbey Tempo dinnerware set. This set includes glass dinner plates, salad plates, and bowls that will add a modern touch to your kitchen.