Libbey Glass Designs Premium Home Glassware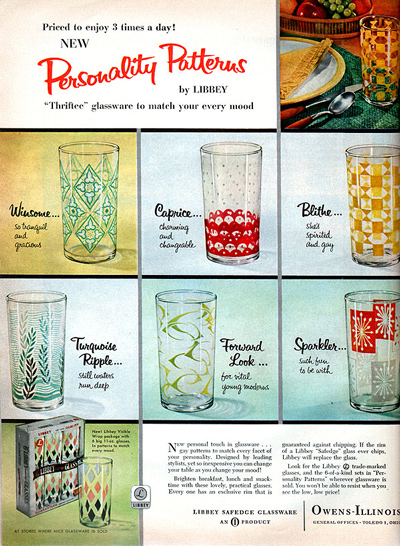 Quite possibly the most recognized name in American glassware, Libbey Glass originated in 1818 in Massachusetts under the name New England Glass Company. In 1888, the company moved to Toledo, Ohio, where in 1892 it officially became The Libbey Glass Company, and quickly became one of the largest glass manufacturers in the world, giving Toledo the unofficial title of "glass capital of the world."
To this day, Libbey has continued its commitment to manufacturing high quality glassware for the foodservice industry and has continued to craft tableware that has graced the dinner tables of countless American homes ever since. Whether you're a minimalist who gravitates toward the streamlined sophistication of modern styling or you prefer pieces that make a bold statement on your table, Libbey's extensive selection of high quality and unique glassware can serve you from Wednesday night dinners to a posh wedding reception.
Libbey Glass Residential: Cowboy Boot Mugs to Stemware
From highball glasses and Heidelberg beer mugs, to punch bowls and mini parfait dishes, Libbey Glass home beverageware and tableware sets will take you from everyday meals to your special event's table top. Crafted to be passed from generation to generation, Libbey's extensive selection of glassware includes both classic and non-conventional designs to suit any taste or occasion.
Just Cocktails Mini Entertainment Sets
Libbey Glassware's Just Cocktail line includes a margarita, martini, beer, and coffee glasses. Mini glasses are fun for parties and tastings. Libbey's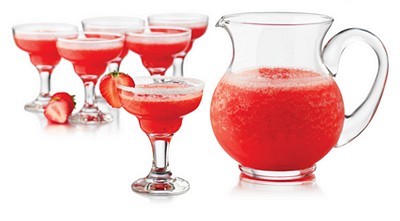 Just Cocktails line of martini, margarita, pilsner, and coffee glasses, in adorable 2- to 3-3/4-ounce sizes make it fun for your guests to sample a variety of flavors. Not only are these miniature lovelies easier to serve by the trayful, these petite size glasses and small included pitcher (e.g. the margarita pitcher is 6 x 5.7-inches) allow for every chilled sip to be enjoyed. They are all dishwasher safe, which makes this mini barware especially handy.
Libbey Swerve Glass
The Libbey Glass Swerve set of tumblers and coolers may make you think someone spiked your mojito with a little more mojo than necessary, but it's just an illusion. While there's a dramatic angled design to this set of cooler and rocks glasses, there's still a simplicity that's sure to bring an interesting flair to poolside iced teas as much as your next soiree's signature cocktail.
Libbey Classic Grape Tumblers and Tempo Dinnerware
Libbey's Classic Grape glassware makes even a simple glass of water seem more refreshing. Libbey's simple, heavy-weighted tumblers, tinted in a subtle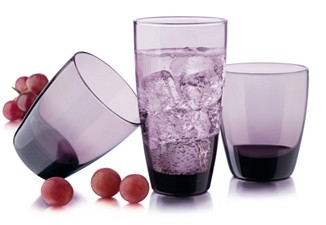 shade of grape, are a great way to add a splash of color to summer parties and outside events. These glass tumblers come as a set of eight 18-ounce glasses and eight 13-ounce glasses. And, to set the tempo at your next dinner party, the Libbey Tempo Dinnerware set clearly makes a beautiful presentation of your entrees, appetizers, and more. This set has four 10-inch dinner plates, four 8-inch side plates, and four 5-1/2 inch glass bowls that bring a geometric composition and a clear glass construction to all of your culinary creations.
Libbey Stemless Wine Sets
Though Libbey was the first company to make stemware, it eliminated the stems on these wine glass sets, for glasses with superior stability and a modern appearance. Whether you prefer your wine in red, white, or even rose, Libbey has stemless wine glasses to suit your preference. Libbey's Vina balloon wine glasses take the pretension out of wine drinking with these tumbler-style glasses for serious wine drinkers. Libbey's balloon wine glasses come as a set of four 20-oz. glasses, and their airy, billowy design makes it easy to see how they got their name. For a set that will please everyone at your next get-together, check out Libbey's 12-piece set of stemless wine glasses, which includes six 16-3/4 ounce red wine and six 17-ounce white wine glasses.
Libbey Heidelberg Mugs and Football Tumblers
While a bierhaus girl may not be around to personally deliver a frosty mug of your favorite German beer to you, you can at least pretend you're at Oktoberfest with a four-piece Heidelberg mug set. These Libbey glass beer mugs have a nice, hefty weight, and their thick, faceted construction make them perfect for placing in your freezer until ready for serving a 16-ounce frosty root beer or your favorite brew. And, with Libbey Glass football tumblers, which come in a set of four 23-ounce glasses shaped like footballs, you'll be ready to rumble at your next football party.
Trust KaTom for Libbey Glass
So, start browsing KaTom's selection of quality Libbey glassware, in a variety of interesting and unique designs. For any questions regarding Libbey's residential offerings, feel free to contact one of KaTom's friendly customer service representatives at 1-800-541-8683 or info@katom.com.