Libbey Glass Distributes Spiegelau, Nachtmann Glassware


Since the beginning of 2013, Libbey Glass has been the sole distributor for the United States of Spiegelau and Nachtmann glassware. We here at KaTom are proud to offer you this fine beverage service and crystalware through our partnership with Libbey.
Both of these well-established brands came under the umbrella of Austrian glass manufacturer Riedel in 2004, though that doesn't mean anything changed in the process or the product. They both still hold to the high standards that made them famous the world over, and that shows in their remarkable glassware.
Spiegelau Wine Glasses Lead the Industry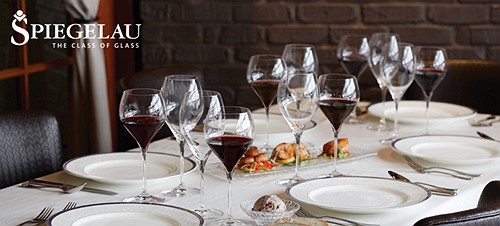 Since 1521, the Spiegelau name has been associated with high-quality glassware in its native Germany and, in time, around the world. Through the centuries and even through two world wars, the company survived by sticking to its high standards and embracing the trends of the day. These days, the company is best-known for its elegant wine, beer, and soft beverage glasses.
For 13 years beginning in 1999, Libbey Glass was known as the North American distributor of Luigi Bormioli glassware from Italy. The company transitioned to being a supplier of Spiegelau at the beginning of 2013 and has enjoyed tremendous success offering these graceful glasses since.
Leading the way for Spiegelau are its wine glasses, which the company designs in collaboration with some of the world's finest sommeliers. The company recognizes there is a growing contingent of wine lovers who are making wine an essential component of a good meal. It's just another example of Spiegelau's history of not only embracing the glass trends of the day, but also working to perfect its own contribution to the category.
Spiegelau wine glasses have ultra-thin bowls and sheer rims that provide a premium appearance and experience. The stems are designed slightly shorter to accommodate an oversized bowl that allows the wine plenty of room to breathe and release its aromas, which enhances the flavor.
The quality of Spiegelau glassware isn't just in the design; it's also in the material used in its construction. The liquid glass for each piece is transferred to the forming machines in tubes lined with platinum, a high-quality metal with few imperfections and a high melting point. That extra step eliminates the potential for contamination from other linings, preventing imperfections and inconsistencies. That produces wine glasses that have been independently verified to resist scratching, marks, loss of brilliance, and color changing, even after 1,500 dishwasher cycles.
Nachtmann is Tops in Crystal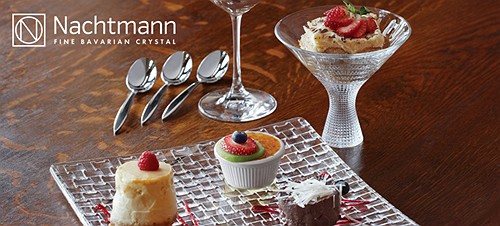 Compared to Spiegelau, Nachtmann is relatively young, with a founding date of 1834 in the German state of Bavaria. Like Spiegelau, it survived the world wars, though its production facilities sustained some significant damage during the World War II. Its lead crystal is formed into everything from plates to wine glasses that are all built to amaze.
Though Nachtmann produces some beautiful decanters, wine glasses, stemmed pilsners, and whiskey glasses, it's really known for its serveware and decorative products. Its Ocean line is composed of glass pieces accented by undulating waves. The Nova collection is characterized by an interwoven appearance that makes it look like a glass basket. Samba pieces have ridges, while those carrying the Mambo name have designs reminiscent of a leaf.
Those lines are available in everything from plates and bowls to square serving platters. They make a beautiful statement from the table to the serving line.
Libbey Glass: The First Name in Glassware
Bringing these two names to American foodservice is a name most commercial operators in America will already recognize. Libbey is the largest manufacturer of glassware in the Western Hemisphere and one of the largest glass tableware manufacturers in the world. Libbey Foodservice companies, including Syracuse China and World Tableware, produce everything from plates to servingware to utensils, making it the leading manufacturer of tabletop products for U.S. eateries.
Like its two new European partners, Libbey really shines when it comes to glassware. Founded in 1818 in Massachusetts as the New England Glass Company, the company moved to Toledo, Ohio, in 1892 and changed its name to Libbey Glass Company. Its pieces come in a long list of designs, styles, and colors to suit any taste. It's designed to stand up to every demand commercial foodservice presents. The company's construction tricks provide a tougher product from rim to foot, with guarantees to stand behind many of its lines.
KaTom has the Glassware You Need
With our extensive selection of glassware from these three premium manufacturers and a long list of others, KaTom has the beverage service and glass items for your foodservice operation. For more information about Spiegelau, Nachtmann, Libbey, or any of our other manufacturers, please contact one of our helpful customer service representatives at 1-800-541-8683 or info@katom.com.