Libbey Buyers' Guide for Bars and Restaurants

Libbey, first founded as the New England Glass Company, has been producing glassware since 1818, and in more recent years has acquired brands like Syracuse China, World Tableware, and Crisal. Additionally, the company has secured exclusive marketing deals for world-renowned glassware brands Spiegelau and Nachtmann. Libbey understands that investing in quality for your tabletop and serving needs can make or break your presentation and even your budget, and the company aims to be the premiere source of glassware for bars and restaurants throughout the industry.
The Advantages of Choosing Libbey
As one of the top glassware manufacturers in the world, Libbey has had decades to create and perfect new techniques that enable it to produce beautiful and reliable glassware for the foodservice industry. By choosing Libbey glassware, you can trust in these advantages to provide you with a long-lasting tabletop or serving item made to stand up to wear-and-tear, clumsy patrons, busy servers, and thermal shock.
Libbey's DuraTuff® treatment is an exclusive thermal process applied to pressed stemware and tumblers, strengthening the upper portion of the glass to prevent breakage.
Glasses manufactured with the company's Finedge rim have a minimum bead, which is the rounded area around the rim of a glass. This greatly lessens the chances of chipping and provides a cleaner flow of liquid from the glass, offering a higher-end presentation.
Some of Libbey's blown glassware is Heat Treated to provide additional resistance to thermal and mechanical shock. This special heating and rapid cooling process is applied to the top portion of the glass, which usually suffers the heaviest abuse, after it is made.
Glasses with the Safedge Guarantee are fortified against chipping at the rim, or at the rim and foot, and can be replaced or refunded if this guarantee fails.
Libbey glassware carrying the Sheer Rim D.T.E. designation include a beadless edge, created by cracking off the original edge and polishing it down again. This produces an even more durable edge that is guaranteed against chipping at the rim.
If you aren't sure which treatments or guarantees your Libbey glasses carry, contact one of our knowledgeable KaTom representatives by calling 1-800-541-8683.
Libbey Glasses Offer More Options
Libbey provides you with dozens of styles and glassware options to ensure that you'll find the perfect serving piece, whether it's a modern cocktail glass or classic pint glass. To help you make an impression and offer a heightened customer experience, Libbey has created a number of unique glassware lines.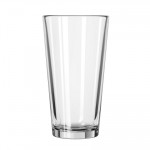 Fizzazz
Any beer aficionado or wine connoisseur can confirm that the aroma and flavor of his or her favorite drink is enhanced by aeration, and for many beers and sparkling wines, having a glass that encourages carbonation will create an enhanced experienced. Fizzazz glasses include nucleation, or laser etching, on the inside bottom of the glass to promote a constant excitement of the carbonation that gives the drink a special effervescence. This increases its presentation value and helps retain the beer's head, preserving the foamy top that patrons love to see. The Fizzazz line of Libbey glassware offers beer, flute, and cider glasses.
Sportsware
For any sports-centric bar or restaurant wanting to capitalize on its theme, look to the Sportsware collection. These 16-ounce glasses feature a decorative bottom with either a football, basketball, golf ball, or baseball emblem, making them perfect for serving beer, water, or soft drinks during the big game. The Sportsware glasses also include a glass modeled after a beer can and a 23-ounce tumbler shaped like a football.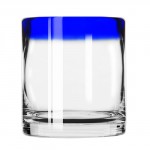 Aruba & Cobalt
If you're looking for a splash of color, consider adding Libbey glassware from the Aruba or Cobalt lines. The Aruba line includes cocktail, cooler, shooter, and rocks glasses with rims and feet colored red or blue, while the Cobalt line features a coffee mug, goblets, and cooler glass made entirely in an attractive cobalt blue. These glasses can provide your establishment with a unique style that patrons will remember, without sacrificing elegance or functionality.
Coca-Cola Glasses
Serving Coke, Diet Coke, and other soft drinks in Libbey glasses from the Coca-Cola collection can add authenticity and nostalgia to your guests' dining experience, particularly if you are running a diner or retro-style restaurant. Choose from a 14.5-ounce genuine mug, a 16.5-ounce straight-sided cooler glass, and 17-ounce curved tumblers featuring the Coca-Cola or Diet Coke logos.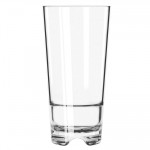 Infinium
If you want the quality product that Libbey provides but cannot use glass (some areas have banned the use of glassware on patios or in bars) or simply prefer the low maintenance that plastic provides, Infinium glasses are an ideal solution. These plastic glasses, made with BPA-free Tritan™ copolyester, are designed to imitate the elegance and transparency of true glass but offer superior durability, reducing the amount of glasses you have to replace. They are incredibly resistant to cracking and shattering, maintain their appearance after going through hundreds of dishwashing cycles, and can also withstand freezing and boiling temperatures. Plus, the tumblers in this line are designed to stack without sticking or collecting water on the bottoms.
Dinnerware & Servingware
Libbey's dinnerware and servingware items are designed to give your tabletop items, from salt and pepper shakers to water pitchers, an added touch of beauty and elegance. For storage, the company offers small and large bell jars, jars with attached clamp lids, and barrel canisters. Decorative items, such as glass votive holders, vases, and ash trays, are sure to add the final touch to your tabletop display.
Plates and bowls, perfect for serving appetizers or salads, are available in clear or patterned glass, while glass coffee mugs can be used for hot drinks, like regular or Irish coffee, and dessert glasses can be used to serve a little something sweet at the end of a meal. Wine decanters, an essential accessory for letting red wine aerate before it is served, are available in a variety of sizes and styles, including classic decanters with gentle curves and more modern decanter styles with capacities up to 66 ounces. To top off your collection of servingware, be sure to look at Libbey's selection of glass pitchers for water and beer.