Updating Your Libbey Glassware

Libbey has been America's Glassmaker™ for 200 years, and it's no surprise that longtime fans of Libbey glass are loyal not only to the company but to a familiar pattern they have used for years: Gibraltar. The Gibraltar pattern has been around for decades, and since its debut, the six-paneled design has become popular in both the commercial and residential markets. Many consumers – including millennials, who continue to be an influential demographic for the foodservice industry – grew up seeing Libbey Gibraltar glasses in restaurants across the country and using them in their homes.
Nostalgia can be a powerful tool, but failing to stay on-trend with drinkware can leave your tabletop feeling more like an outdated relic than a classic comfort. If your current set of Gibraltar glasses is on its way out because it's reached the end of its service life or you're choosing to update your restaurant's glassware with a new selection to refresh your drink service, one of these Libbey glass patterns may be the perfect option for your business.
Replacing Libbey Gibraltar
If you're ready to move on from your Gibraltar drinkware, you can choose your next Libbey glass by identifying what it is you like about the pattern. Gibraltar's paneled design gives it a distinctive appearance, but it is also known for being a durable glass because it's made with the Libbey DuraTuff method, which is a unique thermal after-process applied to pressed glassware patterns. The patterns below will provide your tabletop presentation with a fresh new look while retaining your favorite aspects of the Gibraltar pattern.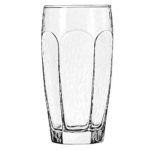 To preserve Gibraltar's paneled design, you can switch to the Chivalry pattern, which offers taller panels that are both rounded and textured. With a similar top and bottom diameter and slightly flared body, these are shaped differently than Gibraltar glasses. However, this pattern includes stemware so your wine and beer glasses can match your beverage glasses; you can also use matching stemware to enhance the appearance of water and tea service during certain dayparts. These are not DuraTuff glasses, but do come with the Libbey Safedge guarantee against chipping at the rim and, in the case of stemware, on the foot.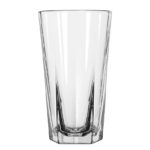 To continue using DuraTuff glasses, choose the more contemporary Inverness pattern. Although the Inverness design does not have panels, the bottom third of the glass features clean lines that offer a similar geometric flair. The design is wider at the rim than at the bottom, so these glasses also have a shape similar to that of Gibraltar glasses. This pattern includes beverage glasses for water, tea, and other non-alcoholic drinks, as well as non-stemmed glasses for serving mixed drinks and alcohol straight up or on the rocks. For complementary wine and cocktail glasses, pair Inverness drinkware with sleek stemware from the Libbey Vina pattern.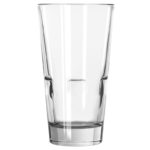 To invest in a modern and functional style, add the Optiva pattern to your tabletop. These DuraTuff glasses have a familiar shape, with a wider top diameter and a body that tapers down, but can be stacked instead of pyramided. This stacking feature is made possible by each glass's rounded base and the series of square indentations made along its midsection. This can save valuable storage space in your back-of-house areas, and can also help busy servers and busboys when they are clearing tables. To complete your drink service, pair your new Optiva glasses with versatile Libbey Embassy stemware.
Updating Libbey Gibraltar
If you can't envision your tabletop without Gibraltar but still want to add a splash of something new, Libbey offers two additional versions of the pattern you already love: Gibraltar Twist and Gibraltar Stackable. The Gibraltar Twist pattern offers the same paneled design, but set at a slight angle; this creates a more elegant Gibraltar glass that can make your tabletop appear more sophisticated. The Gibraltar Stackable pattern also offers a slightly different interpretation of the paneled design, with shortened panels, a segmented body, and rounded octagonal base that allow multiple glasses to be stacked instead of pyramided. While Gibraltar Twist glasses will create a look and feel of added sophistication, Gibraltar Stackable glasses offer a cooler drink service with improved functionality for servers, busboys, and back-of-house staff.
Libbey Glass Features by Pattern