A Guide to Gold Medal Products

Gold Medal may have gotten its start as an ink company in the early 1900s, but it has long been famous for providing delicious concessions like popcorn, cotton candy, and snow cones. The company now offers more than a dozen different types of concession foods and produces everything required for making and serving them, from equipment and carts to flavoring and packaging supplies.
Gold Medal Popcorn
Gold Medal popcorn machines are designed with twin arm kettle suspension systems that prevent oil from accidentally spilling and give each cabinet more working room, making the machines safer and easier for operators to use. Many small- and medium-sized models also come with an EZ Kleen Kettle, which is built with a stainless steel cooking surface that makes the kettle easier to clean, and a unified kettle and heating element, called Uni-Maxx, that helps lower the unit's energy use.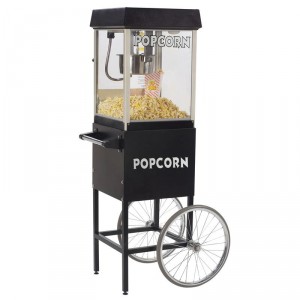 Gold Medal manufactures more than 200 distinct popcorn machines, which can seem like an overwhelming selection if you aren't sure what to look for. Fortunately, you can start narrowing your selection down by considering two important factors: how much popcorn do you need to produce, and how much space do you have available to commit to the unit?
Gold Medal popcorn machines are categorized into three main sizes: small, medium, and large. Small popcorn machines have 4-, 6-, or 8-ounce capacities and are capable of producing 60, 90, or 120 single-ounce servings per hour. Medium popcorn machines have 12-, 14-, or 16-ounce capacities and are capable of producing between 210 and 240 single-ounce servings per hour. Large popcorn machines are intended for high-volume applications and come with single poppers in capacities ranging from 20 to 52 ounces or with twin poppers in capacities up to 48 ounces each.
Once you've decided how much popcorn you'll need to produce, knowing how wide your popcorn machine can be will help you make a final decision. Small popcorn machines can have widths as narrow as 14 inches and as wide as 28 inches, medium popcorn machines have widths ranging from 20 inches to 36 inches, and the largest popcorn machines are wider than 70 inches. Because these machines can be simply designed with glass and stainless steel or accented with bright colors and ornate gold designs, it's also important to consider what style popcorn machine will best fit in with your establishment's theme and décor.
Gold Medal also produces machines made specifically for kettle corn and caramel corn, and they provide the corn, oil, butter, mixes, seasonings, glazes, flavorings, bags, tubs, and boxes needed to make regular or gourmet popcorn and serve it to your hungry customers.
Gold Medal Cotton Candy
Although Gold Medal did not invent cotton candy – or fairy floss, as it is also known – the company is a leading supplier of the sugary treat, with an estimated 90 percent of all cotton candy produced in the United States today made in one of its machines. The basic function of each cotton candy machine is the same: sugar is liquefied by heat, then spun with air to create the final product. However, Gold Medal cotton candy machines are designed to suit the needs of a variety of cotton candy makers, from beginners to experts.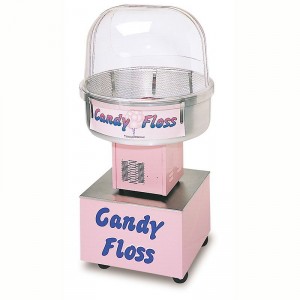 Entry-level Gold Medal cotton candy machines, like the Econo Floss and Floss Boss, are less complicated and less expensive than their more deluxe counterparts, making them perfect for anyone who wants to offer cotton candy with a lower upfront investment or who wants to get the hang of it before investing in a more complicated machine. Advanced models, like the Auto Breeze and Deluxe Whirlwind, include features that help the machine handle high-volume output, including automatic voltage and heat adjustment, cool down cycles, and heavy-duty, oversized motor components.
Several models are available with a whirl grip floss stabilizer, which is a plastic screen that ensures efficient air flow and fluffier product, and a Lock-N-Go handle, which makes transporting the unit easier. Designed to help keep your cotton candy free from dirt and debris, and to keep it from floating away on the breeze, floss bubbles are protective tops that fit onto the floss pan.
For best results, Gold Medal recommends using its ready-to-use Flossugar, but also offers Flossine, which is colored flavoring that can be mixed with your own sugar. If you will be making your own cotton candy mix, be sure to use sugar that does not contain cornstarch, dextrose, or corn syrup, as these ingredients could damage the machine or give you a low-quality product. If you'd like to offer cotton candy but do not want to make your own, Gold Medal Candee Floss is cotton candy that has been pre-made and pre-packaged for retail.
Gold Medal Snow Cones & Shaved Ice
Snow cones surged in popularity in the early-to-mid 1900s, and Gold Medal released its first snow cone machine in 1948. Today, the company offers machines that make two types of ice: the traditional snow cone ice that kids love to crunch, and shaved ice with a fluffier consistency that is often compared to real snow.
Sno-Kone machines, which make the traditional snow cone ice, are available with different designs and features, but their production capacity is usually between 300 and 500 pounds of ice per hour. Once you decide how much ice you'll need to serve per hour, you can look at which features you want your machine to have. Most machines have a square design with or without a motor cover, tempered glass or acrylic windows, an attached cup dispenser, a two- or three-blade shaver head, and aluminum or stainless steel construction. Battery-operated versions of some machines are also available for operators who want a fully-mobile unit or who don't have access to a source of electricity.
Hawaii's Finest shave ice machines produce the finer, fluffier ice that is used in the shaved ice (shave ice for the purists) products aimed at adults. The largest of these machines is designed to shave blocks of ice, but most are smaller units that work with ice cubes. These come in 4- and 8-pound hopper versions and in a single-serve version that is capable of shaving 300 pounds of ice per hour.
In addition to their different ice types, Sno-Kones and shaved ice are distinguished by the flavors commonly associated with them. Sno-Kones, viewed more as a treat for children, are often paired with simple flavors like grape or cherry, while shaved ice is popularly offered with more adult flavors reminiscent of piña coladas and margaritas. Gold Medal provides all of these flavors and more, available as ready-to-use syrups and in concentrates that let you mix your own syrup.
Gold Medal Hot Dogs & Corn Dogs
Hot dogs have remained a popular food in America for generations and can often be found at sporting events and street fairs. Gold Medal hot dog grills are available in four styles, and the style that works best for your foodservice operation will depend on whether you want to serve hot dogs grilled or steamed.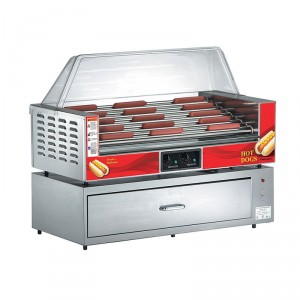 Roller grills and reciprocating grills both roll the hot dogs to prevent burning and ensure thorough heating. A roller grill does this with a roller system that moves under the hot dogs, while a reciprocating grill has a "fence" that contains the dogs and moves them up and down the cooking surface. For steamed hot dogs, investing in a rotisserie cooker will provide an attractive display to entice passersby, and steamers are available in models with or without a glass front. However, if you need a high-volume cooker, steamers without a glass front can have capacities as large as 180 hot dogs. Rotisseries can have the capacity for as many as 84 hot dogs, and while some roller grills and reciprocating grills can cook as many as 60 hot dogs at once, they usually have a capacity for less than 50 hot dogs at a time.
Investing in a sneeze guard for your roller grill or reciprocating grill can help keep the exposed cooking area sanitary. Because sneeze guards are usually sold separately from hot dog cookers, you'll want to make sure there is one that's compatible with your cooker. Grills, rotisseries, and steamers might also come with a bun warmer built-in or sold separately; these can be independently heated or rely on the heat produced from the machine to keep buns warm.
Gold Medal corn dog equipment and supplies are also available. Countertop corn dog fryers can usually cook as many as 12 corn dogs at a time and have oil capacities ranging from 30 to 50 pounds. The company also offers the supplies needed to make corn dogs, including mix, frying oil, skewers, and complete "hot dog on a stick" kits.
Gold Medal Nachos
In order to serve perfect nachos to every customer, you'll need to invest in supplies for your chips and cheese sauce, as well as dispensers for other toppings like jalapeños, chili, and salsa. Gold Medal nacho equipment comes in a variety of styles to best suit your foodservice operation's set up. Some merchandisers only warm chips, but might have a cheese warmer attached to the top. Others are designed with multiple shelves that let you pre-portion servings so that they are ready to serve when customers order them. Dipping-style cheese warmers, for use with the company's canned cheeses, are available, as are warmers for bagged cheese and Gold Medal Portion Paks. Jugs of salsa, bags of chili, jars of peppers, and disposable trays will help you complete your nacho service.
Gold Medal Funnel Cakes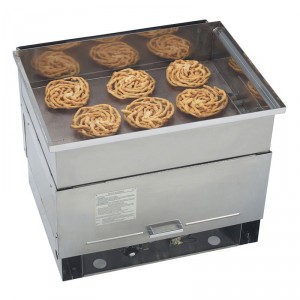 Funnel cakes have become a staple at festivals and fairs because they're easy to make, fun to eat, and can be customized with a variety of toppings like fruit, chocolate, and, of course, powdered sugar. Gold Medal funnel cake fryers come in gas and electric versions, providing you with more flexibility in your setup, and spare power heads are available to ensure you're never without a functioning fryer. These fryers range in size from 17 to 38 inches wide, capable of frying a maximum of eight 8-inch cakes at once. To make perfectly shaped funnel cakes each time, you'll want to pick up a round mold ring, although rectangular molds are also available for making funnel fingers.
You will also need to invest in a batter dispenser, although the type you need will depend on the volume you need to produce. The EZ Flo batter pump has a 4-foot tube and 5-gallon capacity to help you keep up with high-volume production, but vendors who want to keep equipment costs down or who have a lower demand for product will be satisfied with a dispensing pitcher.
Gold Medal Waffle Makers
Gold Medal waffle bakers will help you make a variety of waffle products, such as traditional and mini Belgian-style waffles and delicate rosecake waffles (sometimes called sugar waffles or rosettes), as well as waffle cones, dishes, and boats for serving ice cream and other desserts. The company also provides the mixes needed to make these popular products, with a selection that includes Belgian and French waffle mix and vanilla waffle cone mix. To display and serve your waffle cones, Gold Medal also supplies countertop cone cases and cone jackets.
Gold Medal Pretzels
Whether enjoyed plain or with salt and a flavored dip, pretzels are a popular snack for customers of all ages. Gold Medal pretzel displays and merchandisers use electricity or Sterno heat to keep your pretzels warm and often include attractive graphics or rotating pretzel racks to entice potential buyers. These countertop units come in sizes ranging from 16 to 23 inches wide with capacities for holding as many as 75 jumbo pretzels.
Gold Medal Coffee
Gold Medal makes it easy for you to offer coffee in the mornings or hot chocolate on cold nights. The company offers bags of coffee grounds, as well as airpot coffee brewers and decanters, which can help servers distinguish between caffeinated and decaffeinated coffee with brown or orange lids. You can also pick up a compact cappuccino machine, which is easy to use with the company's regular, mocha, or vanilla cappuccino mix. Hot chocolate mix, racks for airpots, and disposable cups and lids are also available.