Choosing the Right Globe Mixer for Your Commercial Kitchen

Bakeries and restaurants of all sizes depend on Globe mixers every day to keep their products coming. The dependability and quality workmanship of the company's products earned Globe a Best in Class award from Foodservice Equipment and Supply Magazine in 2014 for its floor mixers. Eleven models are available, ranging from 5-quart countertop versions to 80-quart floor models. Keep reading to learn how to choose the best Globe mixer for your applications.
Before you choose one for your kitchen, you'll need to determine what you'll be mixing and how much of it per batch to determine the size and power of the mixer that will work best. Determining the absorption ratio of your toughest dough is a good place to start. This percentage is found by dividing the weight, in pounds, of water by the weight of the flour in your recipe. The higher the resulting number, the more powerful a mixer you'll need. Whole-wheat bread and other dense, high-gluten mixtures can have an absorption ratio of 70 percent of higher, while the rates for cake batters and thinner dough can be much lower. So, while smaller batches of pastry batter and sauce will do fine in a lower-powered mixer, dense dough like pizza crust and whole-wheat bread will necessitate higher-powered mixers.
Mixers with capacities of 5 to 25 quarts are built with motors ranging in power from 1/4 to 3/4 horsepower. Larger models have motors ranging from 1 to 3 horsepower. It's important not to overwork a mixer's motor by trying to mix too high a quantity or too thick a batter than it's rated for. The good news is that Globe mixers are built with thermal overload protection that monitors the motor for overheating, shutting the mixer off to prevent permanent damage to the components. Make sure you choose a motor that's powerful enough to meet your needs and you'll be able to depend on your mixer for years.
Mixer Bowl Capacity
As a general rule, a mixer can efficiently handle batches that are about half of its total capacity. So, a 25-quart mixer can handle about 12.5 quarts of liquid ingredients and up to 18 pounds of potatoes and similar items. Smaller 5, 8, and 10 quart mixers are designed to be used on counters and workbenches. Globe's 20- and 25-quart mixers can be mounted on equipment stands, and those with larger capacities are designed as floor models.
The 60-quart model is specially designed to be a pizza mixer, as it can handle recipes containing up to 50 pounds of flour per batch. Both the 60- and 80-quart models have a power bowl lift to enable your staff to handle large capacities efficiently and safely. Smaller mixers have manual lifts operated by a lever or a wheel. Many of the larger mixers can be fitted with available adapter kits that enable them to handle smaller bowls.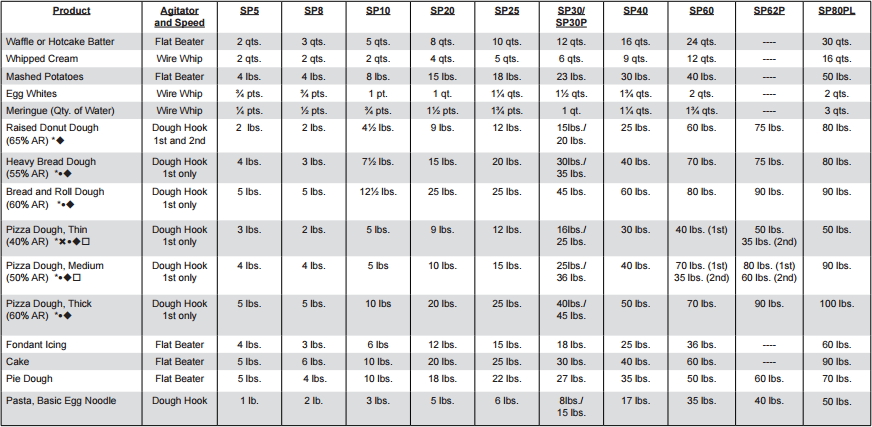 Reasons to Choose a Globe Mixer
The above considerations apply generally to most commercial mixers, but there are a few features and benefits that would make a Globe stand mixer an especially practical addition to your kitchen lineup.
Rugged Construction
Heavy-duty cast iron and cast aluminum construction helps these mixers hold up to years of frequent use, even with the high torque that's produced and the unavoidable abuse that they're subjected to in a busy kitchen. A powder coating and enamel paint provide an easy-to-clean, NSF-approved finish. The stainless steel bowls are secured with spring-loaded clamps to reduce rocking and prevent damage to the agitator and the bowl. All those features lend themselves to a longer mixer life and an overall lower cost of ownership.
Dependable Gear-Driven Transmission
Gear-driven transmissions built with heat-treated steel alloy gears and shafts ensure the longevity of your Globe mixer. Their rigid construction and premium materials will outlast and outperform many of their competitors' models, especially those with belt-driven transmissions. While the smallest unit offers 10 speeds and the pizza mixer offers two, the rest of Globe's models have three-speed transmissions. If a user changes the speed setting while the mixer is in operation, the machine will shut down first to help prevent damage to the transmission and motor. The gears are permanently lubricated to keep all parts moving smoothly.
Versatile Agitators & Attachments
These mixers each come with a selection of agitators so you can mix, beat, or whip any products effectively. Flat beaters are best for blending batters and lighter dough, while wire whips are ideal for meringues and whipped cream. Dough hooks incorporate, knead, and stretch bread, pizza, and pasta dough.
Optional attachments like slicers, shredders, graters, and meat grinders will help you take your mixer to the next level. Consider the benefits of being able to add these capabilities without the need for expensive new equipment. Globe's 5 quart mixers feature a No. 10 attachment hub, while the larger models have a No. 12 hub.
Simple Controls & Timers
Front-mounted controls provide the operator with easy access. Depending on the model, they'll consist of basic on/off switches up to easy-to-read, digital, programmable timers. The timers can be set at 15-, 30-, and 60-minute intervals so staff can walk away from the mixer while it's in operation, freeing up labor. Many models have the capability to recall the last setting used, so you get consistent results when you need to mix multiple batches back to back. Large, digital timer displays make it easy to see how much time remains, even from across the room. If the mixer is stopped while the timer is running, the timer will pause for accurate measurements and consistent results.
Built-In Safety Features
Globe has incorporated a number of safety features into their units to protect staff and keep operations running smoothly. Bowl guards with ingredient chutes help keep hands and clothing out of the bowl and away from the mixing head to help avoid accidents and injuries. Interlocking microswitches on the bowl lift shut the mixer down when the bowl is lowered. Power bowl lifts in the larger models help to prevent strain and sprain injuries from staff trying to lift heavy products. Non-slip rubber feet help ensure the mixer stays put while it's in operation.
2-Year Warranty
Each new Globe mixer is protected a 2-year limited parts and labor warranty to help assure you that you're purchasing a quality product. Activate this warranty by registering your equipment within 30 days of the installation date. Your mixer's agitators and hub accessories are protected by a 1-year warranty, and you can purchase an extended warranty on your equipment when you place your order. Learn more about the Globe warranty from this article.