Globe's G12 Manual Slicer is a Cut Above

Globe's name in the foodservice industry has become nearly synonymous with dependable slicers. The G12 medium-duty slicer is no exception to that standard, offering a 12-in. hollow ground blade that's made with a special steel alloy designed to hold up better between sharpenings.
The Globe G12 is designed for establishments that need to slice for 2-1/2 hours a day or less. A powerful 1/2 HP knife motor can handle denser products, including cheese in moderate amounts. The slicer's simple rotary knob lets users adjust the thickness of products from ultra-thin to 9/16-inches.
Built for Dependability & Ease of Use
The automatic version of the Globe slicer is set to cut at 40 strokes a minute. The automatic operation can be disabled and the equipment used manually. The 35-degree angle food chute feeds products to the blade efficiently for easy slicing and gives operators a clear view of the products as they slice to ensure they're getting the results they want.
The G12 Slicer's belt-drive system makes the slicer dependable and results in simple maintenance and affordable repairs compared to gear-driven equipment. A ball-bearing chute slide system creates smooth and ergonomic operation.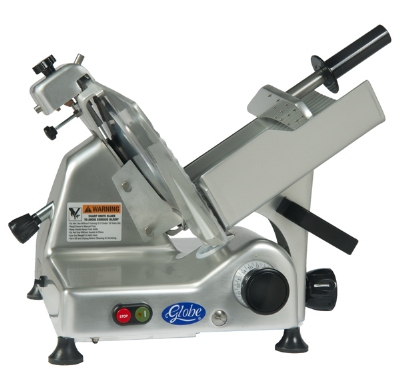 Built for Safety & Sanitation
The G12 is built to minimize the safety risks associated with operating a slicer. Safety features include a knife cover interlock that prevents the motor from running if the knife is exposed. The slicer's meat grip is designed to keep the user's hand safely away from the blade, and non-slip rubber feet keep the slicer firmly in place.
The Globe G12 slicer conforms to NSF International standards for sanitation and cleanability for equipment of this type. Seamless edges and radius corners make the equipment a breeze to wipe clean. A moisture-proof ON/OFF switch and knife hub keep those components sanitary while sealed splash zones help prevent the build-up of food residue, which can harbor bacteria. The slicer's chute, slice deflector, sharpener, and knife cover are all removable for easy cleaning.
A metal cover underneath the Globe slicer protects the electronic and mechanical components from being exposed to food buildup that could damage them and create a sanitation hazard. Motor overload protection shuts the unit off in the event that it is overworked and overheats, preventing damage to critical components. A no-voltage release system prevents the slicer from resuming operation after a power failure, so there's no danger of someone inadvertently being injured by a sudden restart.
Accessories for the G12 Slicer
Globe offers a number of accessories that can be purchased separately to help operators get more from their slicers. To find the right accessories for your slicer, contact Customer Service at 800-541-8683.
Food fences help keep round and rectangular products snugly in place to ensure uniform slices and optimal yield.
Vegetable chutes expand the application of your Globe slicer to include produce.
Slicer covers protect your equipment from collecting dust while it's not being used.
A wall chart that details routine cleaning, sanitizing, and inspection procedures can be posted at the work station where your slicer is used.