Understanding the Four Tiers of G.E.T. Melamine

Armed with more than 30 years of experience, G.E.T. Enterprises offers a wide variety of attractive, durable, and innovative tabletop supplies and accessories, including dozens of melamine dinnerware patterns and shapes. With so many options to choose from, figuring out which G.E.T. dinnerware is best for your foodservice operation may seem like a difficult task. Fortunately, the experts at G.E.T. have distinguished their dinnerware lines into four categories: Bronze, Silver, Gold, and Platinum.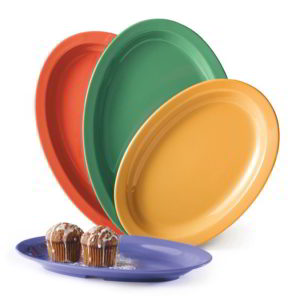 Bronze Melamine Dinnerware
The G.E.T. melamine dinnerware in the Bronze tier is considered a great entry-level option because it is the most economical and the most lightweight of the collections the company offers. This type of melamine is designed for foodservice operations that prioritize dinnerware with long-lasting performance and durability, so these plates generally offer a more basic presentation. However, this tier includes the popular Supermel collection, which contains oval, rectangular, and round plates and bowls in colors ranging from Sandstone to Hunter Green to Peacock Blue. It also includes the Dynasty Series collections like Longevity, Tea Rose, and Water Lily.
About the Bronze tier:
Most economical option
Lightest weight available
Best suited to heavy daily use.
Use the Bronze tier for:
Fast casual and quick-service restaurants
School and healthcare cafeterias
Buffet-style service.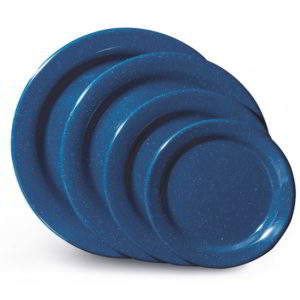 Silver Melamine Dinnerware
Melamine dinnerware in the Silver tier is G.E.T.'s medium-weight option. Like the entry-level collections, silver-tier dinnerware is recommended for use in foodservice operations that serve large numbers of guests each day. Collections in this tier are also a cost-effective option for operators hoping to invest in dinnerware that is slightly above the entry-level category, since they are designed to be more visually impressive without an extreme increase in cost. The Silver tier includes a number of patterns with neutral palettes of tan, blue, and green, including the Tahoe collection and the Texas Blue and Kentucky Green series.
About the Silver tier:
The most flexible option
Medium-weight plates
Best suited to heavy daily use.
Use the Silver tier for:
Fast casual and quick-service restaurants
Healthcare and university cafeterias
Buffet-style service.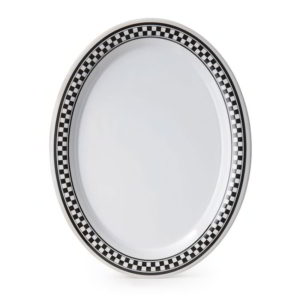 Gold Melamine Dinnerware
G.E.T. melamine dinnerware collections in the Gold tier are best for restaurant dining and operations like hotels, cruise lines, caterers, and buffets. Plates in the Gold tier can still stand up to heavy daily use, but offer elevated presentation with polished or glazed exteriors and heavier weights than those in the Silver and Bronze tiers. This selection includes a wide variety of patterns, from colorful Barcelona and Mardi Gras dinnerware to the classic Diamond White and Ivory series.
About the Gold tier:
Heavier weight than Silver and Bronze tiers
Dinnerware is highly polished or glazed
Suitable for heavy daily use.
Use Gold tier for:
Restaurant dining
Hotel catering, buffets, and room service
Cruise line foodservice.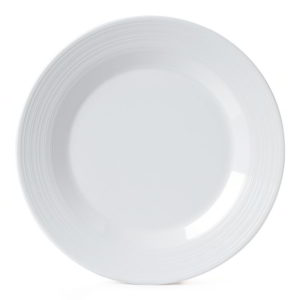 Platinum Melamine Dinnerware
Melamine dinnerware collections in the Platinum tier are premium options for foodservice operators looking to emphasize the presentation of their meals. Premium G.E.T. melamine dinnerware is the heaviest weight available and is designed to imitate the look and feel of china, complete with a high polish or glaze. The Platinum tier includes dinnerware collections like the Minski series, which offers classically white plates and bowls with a subtle design.
About the Platinum tier:
A premium melamine option
Heaviest weight available
Imitates the look and feel of china.
Use Platinum tier for:
Restaurants and hotels
Banquet and catering services
Cruise line foodservice.