Dexter Russell: The Right Knife for Every Occasion

Dexter-Russell, a leader in the cutlery industry for more than 186 years, offers a myriad of knives that are guaranteed to meet any chef's needs. Whether you are creating meals for two at home, or working as a chef in a busy restaurant, a quality knife is important to the preparation of a meal, and Dexter-Russell is proud to offer an extensive line of fine cutlery to help meet your needs.
Dexter-Russell prides themselves on being able to serve you with all of your cutlery needs, however, their huge line can be a bit intimidating if you do not know which knife will need for a specific use. This guide will offer suggestions as to which knife will be best for certain uses.
Paring Knife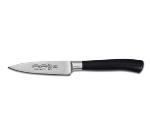 Paring knives are a common knife seen in kitchens, both commercial and residential. There are four types of paring knives that are commonly seen: curved, spear, sharp, and clip point. Each type of paring knife can be used differently. For example, the curved paring knife can be used to slice or sliver delicate rings of pepper, olives, cherries, or other fruits & vegetables. A spear point paring knife can be used to complete tasks such as removing corn from the cob, breaking up heads of lettuce and cabbage, peeling fruits and vegetables, and cutting beans. The clip point paring knife is used for eying potatoes, pitting, peeling, and seeding.
Utility Knife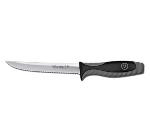 Utility knives are typically very sharp, and are ideal for slicing non-solid fruits and vegetables, such as tomatoes and squash. If you are slicing an acidic fruit, a stainless steel blade is preferred. A utility knife is great for cutting melon rings, wedging lettuce heads, shredding cabbage, and halving fruits such as grapefruits & oranges.
Boning Knife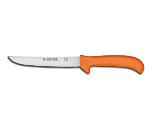 Boning knives have blades that vary in length from 4" to 8". Many cooks use boning knives to simplify carving and get extra servings from a roast while it is partially cooked. A narrow, flexible blade boning knife is best suited for boning roasts, hams, lamb legs, and fish; however, a wide, stiff blade boning knife is ideal for cutting raw meats and trimming meats to create thinner cuts.
Cook's Knife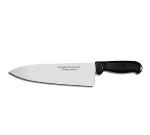 Cook's knives are available with blade lengths ranging from 6" to 12". This is typically the most versatile knife in your kitchen. The blade of the knife is wide and tapers to a point at the end. When properly used, a chef will place the point of the knife on a cutting board and rock the knife to cut the food product, without ever lifting the tip of the knife from the board. This motion will provide a rapid, even cut. These knives can be purchased in either forged or non-forged varieties.
Slicers and Carvers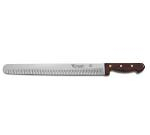 Slicers and carvers come in many different varieties, although perhaps the most common is the roast beef slicer, which can be used to carve rounds, boneless roasts, boiled briskets, pot roasts, butt roasts, and standing rib roasts. Slicers and carvers with a narrow blade are ideal for cold meats, while wide, stiff blades are more suited for hot meats. Regardless of the blade or style of slicer or carver, the knife should have adequate length to permit a smooth slicing action.