Cres Cor brings hybrid technology to heated cabinets with the solar-powered HotCube3
For years car makers have bragged about their hybrid technology. Now, Cres Cor has something else with four wheels (hint: a heated food holding cabinet) that can help you save money, but don't expect it to come with leather seats.
The HotCube3 is the industry's first hybrid heated cabinet, with the ability to go cordless for indoor and outdoor events. With the power of an optional solar panel to charge the battery and a tank of propane to keep the temperature inside up to 200 degrees F, the HotCube3 heated food holding cabinet enables you to roam both near and far with your hot foods. It's perfect for event organizers who host both indoor and outdoor gatherings, and for caterers, who can now cart their culinary creations all over creation.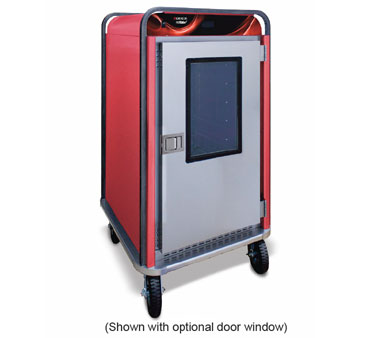 A sporty hybrid (holding cabinet) with room for up to 22 (pans)
This fully-insulated food holding cabinet can accommodate up to 22 pans of multiple sizes at proper serving temperatures for hours, even while going cordless thanks to a powerful, but efficient, 1,500-watt or 8,700-BTU heating system. The battery, which trips the igniter, can draw power from a standard outlet or from the solar panel. Meanwhile, a 1-gallon propane tank can keep the unit hot for up to 8 hours, though an adapter hose enables it to run much longer.
The HotCube3 heated cabinet sits on four heavy-duty, 8-inch semi-pneumatic swivel casters with the type of treads that can power over even tough terrain. The rear casters are fixed to provide mobility indoors and outdoors when fully loaded and a pair of brakes ensures that mobility is limited when it needs to be. Inside the unit, smooth coved corners prevent food particles and grease from building up. Even the magnetic door latch is covered with an anti-microbial coating that keeps your food safe.
On top of the impressive stat sheet of features, Cres Cor offers the opportunity to customize your heated food cabinet with a powder coating that can change the unit's color using your own Pantone hue and even add your logo to it.
Check out Cres Cor's HotCube3 heated food holding cabinet from KaTom to find pricing and technical information. If you have further questions about the HotCube3 or any of our products, please contact one of our helpful customer service representatives at 800.541.8683 or by e-mailing info@katom.com.