Color-coded Sanitation with Carlisle Sparta Brushes

Available in a variety of styles and HACCP-friendly colors, Carlisle Sparta® brushes can help commercial kitchen employees safely prepare food, protect customers from foodborne illnesses, and clean and sanitize their tools and equipment.
About HACCP & Color-coded Products
HACCP, which stands for Hazard Analysis Critical Control Points, is a step-based approach to enhancing food safety through vital procedures like improving staff hygiene, ensuring food is properly cooked and stored, and preventing cross-contamination between surfaces and equipment. Color-coded cutting boards and knives are popular tools to help staff in commercial kitchens prevent cross-contamination during food prep, but operators can take their color-coded system a step further with Carlisle Sparta brushes. These brushes can be used to clean and sanitize tools and equipment used in food prep, as well as countertops and floors in and around work stations.
Which Color-coded Carlisle Sparta Brushes Do You Need?
The most common colors used in a color-coded food safety system are blue, green, red, white, and yellow. Some Carlisle Sparta brushes may also be available in black, brown, orange, and purple, the last of which is associated most often with allergens or allergen-free prep areas. Although the specific color system implemented in each operation will vary, HACCP plans usually pair colors with intuitive products, such as using red products with red meat, green with produce, blue with seafood, white with dairy, yellow with poultry, and so on. However colors are assigned in your kitchen, an effective system will be simple to understand and clearly explained to each employee.
To determine which color-coded brushes from Carlisle are right for your kitchen, learn more about each type of Sparta brush and their recommended applications below.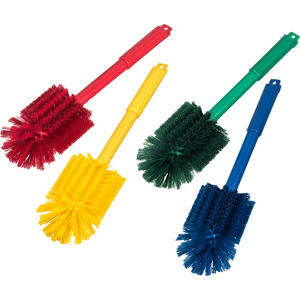 Multi-purpose Brushes
Multi-purpose brushes have crimped polyester bristles that retain cleaning solutions. These round brushes can be used to clean equipment without scratching it.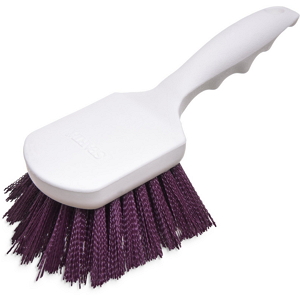 General Clean-up Brushes
Hand scrub brushes may have iron-style handles or long handles, which can both be used to clean pots, pans, and other items. Polyester bristles on these versatile brushes may be crimped with mixed trim angles, which maximize cleaning solution retention and surface contact.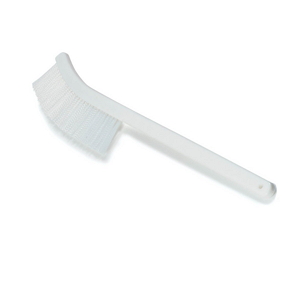 Wand Brushes
Easily identifiable by their narrow, elongated design, wand brushes have durable 24-inch handles and an angled block. These can be used to clean counter tops and equipment, as well as equipment components like refrigerator coils and conveyor belts.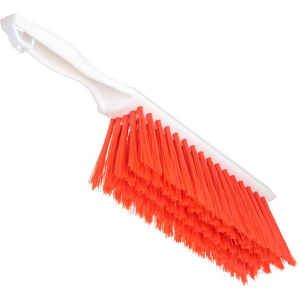 Counter Brushes
Designed especially to clean counters, these brushes have an 8-inch block with soft polyester bristles and 5-inch handles.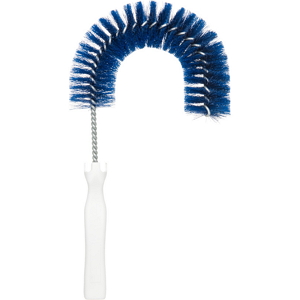 Clean-in-Place Brushes
These hooked brushes are designed to clean drains, pipes, tubes, and other curved equipment components. They are constructed of polyester bristles and galvanized wire.
Omni Sweeps®
Omni Sweeps have short, heavy bristles and long, medium bristles to sweep up everything from debris to fine particles. Handles are sold separately.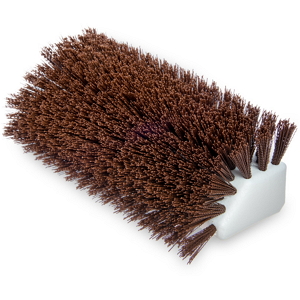 Hi-Lo™ Floor Scrub Brushes
The triple-angled bristles on Hi-Lo floor scrub brushes enable operators to clean at three different angles, making these brushes suitable for cleaning floors and baseboards and scrubbing around equipment.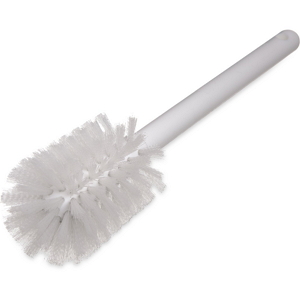 Bottle, Jar, & Jug Brushes
Designed to fit into bottles and other containers with narrow openings, these brushes have rounded heads, soft bristles, and long handles.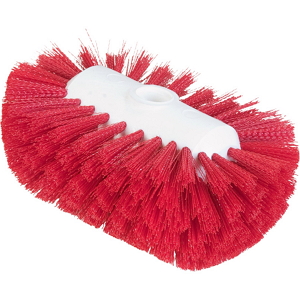 Tank & Kettle Brushes
These flared heads are available in a variety of sizes with handles sold separately, so operators can purchase the one best suited to reach the bottom of their equipment for a thorough cleaning.