Cambro Food Pans Buyers' Guide
Cambro provides plastic food pans for every food holding, cooking, and chilling task you'll likely need to perform, from virtually indestructible polycarbonate cold food pans to high-heat pans that can tolerate temperatures as high as 375 degrees Fahrenheit. The company's half a dozen food pan cover styles let you streamline operations and reduce food waste significantly. Follow this guide to pick the right pans and accessories for your needs.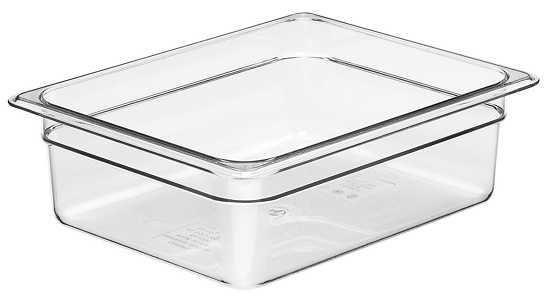 Camwear Polycarbonate food pans
Best for: Refrigerated holding, food prep tables, and cold food displays
Temperature range: -40 to 210 degrees F
Durable, time-tested polycarbonate is one of the longest-lasting plastics on the market. It remains the best choice for holding fresh, chilled food on a buffet line or in a prep table. The crystal clear nature of polycarbonate food pans makes their contents easy to identify.
The classic polycarbonate food pan is one of Cambro's most popular items because of its versatility. It can hold sliced tomatoes and extend their shelf life in the reach-in, be used to serve salad greens on a prep table, and keep dry ingredients safely sealed with one of Cambro's tight-fitting lids.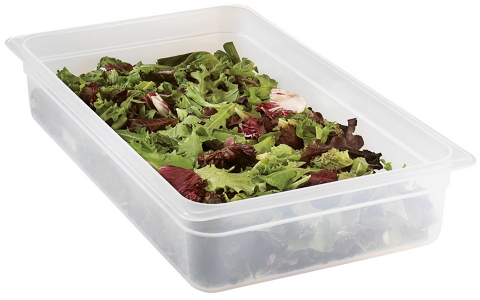 Polypropylene Food Pans
Best for: Refrigerated and room-temperature holding
Temperature range: -40 to 160 degrees F
Cambro polypropylene food pans are the first containers cooks often reach for when they need to store a batch of freshly-prepared ingredients in the reach-in or hold a few pounds of flour handy at the work table. Polypropylene is a durable, low-cost, and BPA-free plastic that withstands temperatures between -40 and 160 degrees Fahrenheit. Operators on a budget may opt to use polypropylene food pans instead of polycarbonate pieces in their prep tables or cold food displays.
Polypropylene food pans are translucent and easy to stack, making them an obvious choice for organizing ingredients in a walk-in cooler. Available tight-fitting lids can extend the shelf lives of your ingredients by as much as three days, and they're available to fit each size of Cambro polypropylene food pan.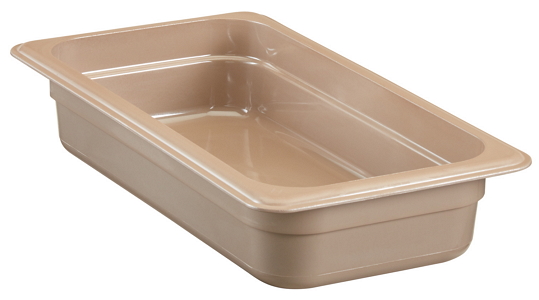 Cambro X-Pan High Heat Pans
Best for: Holding and reheating
Temperature range: -40 to 375 degrees F
Cambro's high-heat X-pans are the ones you'll need if you're looking for plastic pans to use in your steamtables or heated food warmers. These pans are safe in applications as hot as 375 degrees Fahrenheit, so they're perfect for going straight from the microwave to the steamtable, offering a degree of versatility that stainless steel pans don't have. These pans are made with a durable resin similar to polycarbonate and offer similar break- and scratch-resistant properties.
Cambro's high-heat pans are now available in two colors: black and sandstone. These options give buffet operators the ability to choose hot food pans that best match the aesthetics of their front-of-house setups. Pair these with notched lids to accommodate serving utensils while keeping held foods at the right temperatures.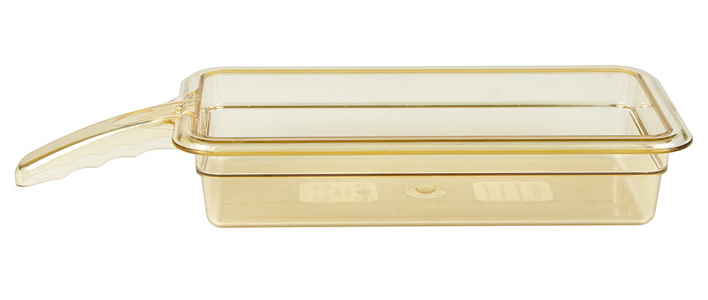 High-Temperature Pans with Handles
Best for: Modular food holding
Temperature range: -40 to 375 degrees F
Operators who have come to rely on classic Cambro amber food pans can still order high-heat food pans with handles. These are designed for use in the modular holding cabinets that are essential in quick-service restaurants and other high-volume concepts that need to keep a quantity of proteins and fried food fresh and ready.
Cambro Food Pan Accessories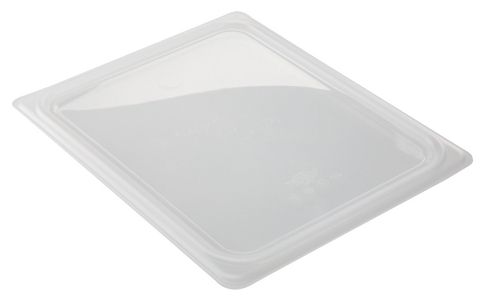 Seal Covers
Cambro seal covers form a tight seal to keep your products fresh and safe from the effects of air and contaminants. Food protected with these lids can be held fresh as much as three days longer than food that's covered with plastic wrap or foil.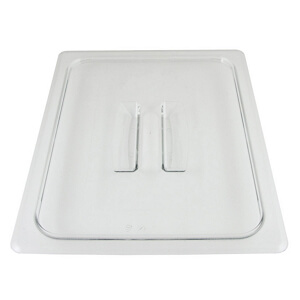 Cover with Handle
Cambro's plastic covers with handles are ideal for situations when you need to give members of staff quick, frequent access to held items - think prep tables and serving lines. Durable handles help keep employees' hands clean and eliminate the frustration of removing and replacing food lids. That convenience means the lids are less likely to be removed and more likely to keep your foods safe and fresh.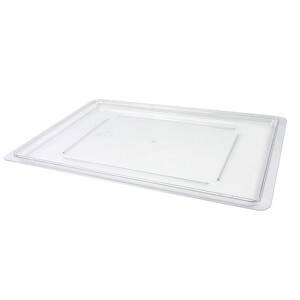 Flat Cover
Flat covers are an economical solution for holding pans that don't need to be accessed frequently. Use these to stage backup pans of food prep ingredients that are stored in reach-ins or refrigerated drawers.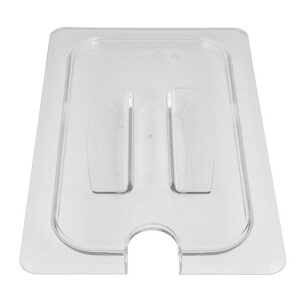 Notched Cover with Handle
Use notched covers with handles wherever you need to keep utensils inside food pans while providing easy access for frequently used items. These lids keep utensils handy while still maintaining the temperature and quality of food held in the pan.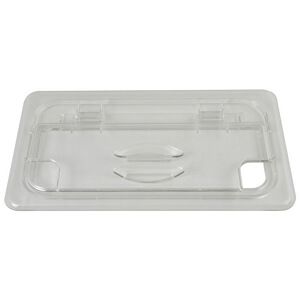 FlipLid®
A FlipLid is a great alternative to a cover with a handle when you need to cover food but maintain frequent access. The flip lid eliminates the need for an employee to remove the lid for access. Instead, he can flip open the hinged cover with a flick of the wrist and retrieve what he needs. This method all but guarantees that food stays covered and your lid doesn't get lost.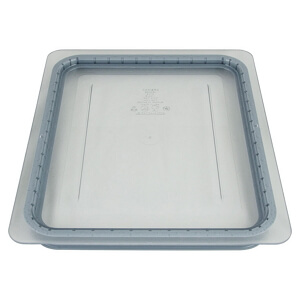 GripLid
Rely on GripLids when you need to transport food containers offsite or across your facility. These lids grip the inside edge of the food pan to keep containers tightly sealed, even when they're wheeled on carts across bumpy terrain.