Cambro Food Pans Buyers' Guide

Cambro provides plastic food pans for every food holding, cooking, and chilling task you'll likely need to perform. From insulated cold food pans and high-heat pans to a variety of food pan cover styles that help you streamline operations and significantly reduce food waste, Cambro food pans are designed to optimize your workflow and food safety. Before you purchase pans and accessories for your kitchen, learn more about the options available.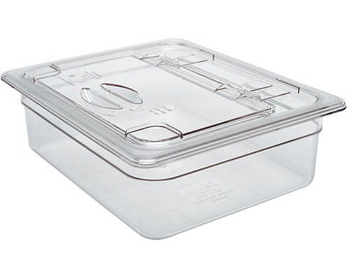 Camwear Food Pans
Material: Polycarbonate
Best for: Refrigerated holding, food prep tables, and cold food displays
Temperature range: -40 to 210 degrees F
Camwear® polycarbonate food pans are some of Cambro's most popular items thanks to their versatility. They can hold sliced tomatoes and extend their shelf life in a reach-in, be used to serve salad greens on a prep table, and safely store dry ingredients. Camwear is made of polycarbonate, one of the longest-lasting plastics on the market because it will not bend or dent and resists cracking. When it comes to keeping food cold, these provide a more cost-effective option than metal pans, so they remain popular for holding chilled food on buffet lines and in prep tables.
Camwear pans are also popular because the crystal clear nature of polycarbonate makes contents inside easy to identify. However, polycarbonate does contain BPA, so operators looking to steer clear of that compound will need to consider other food pans.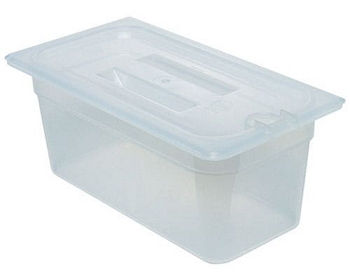 Translucent Food Pans
Material: Polypropylene
Best for: Refrigerated and room-temperature holding
Temperature range: -40 to 160 degrees F
Cambro polypropylene food pans are the first containers cooks often reach for when they need to store freshly prepared vegetables in a reach-in or keep a few pounds of flour handy at a work table. Polypropylene is a durable, low-cost, and BPA-free plastic that can withstand temperatures between -40 and 160 degrees Fahrenheit. Because they're even more affordable than polycarbonate, polypropylene food pans may be the best choice for the operator on a budget.
These food pans are translucent and stackable, making them an obvious choice for organizing ingredients in a walk-in cooler or freezer. However, translucent polypropylene is not as easy to see through as polycarbonate, so it may take employees a bit longer to identify what's inside.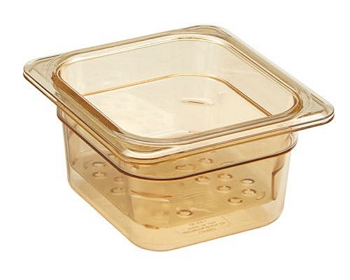 H-Pan Series
Material: Amber resin
Best for: Cold-to-hot prep, storage, and serving applications
Temperature range: -40 to 375 degrees F
The Cambro H-Pan™ series consists of the amber pans operators have relied on for years, though the line has expanded to include a black pan made of the same material. It offers operators with customer-facing applications like serving lines and buffets a sleeker aesthetic.
H-Pans allow operators to use the same pans for prep, storage, and service, as they are capable of resisting temperatures in the reach-in, microwave, oven, and steam table. Amber pans are also transparent, making their contents easy to identify. This series includes high-heat pans with handles, which are designed for safely moving pans into and out of holding equipment.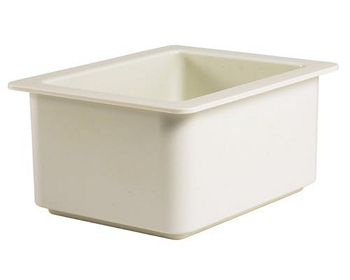 Coldfest Insulated Pans
Material: ABS plastic
Best for: Cold food bars and buffets, chilling condiments
Temperature range: Below 41 degrees F
If you're searching for a food pan solution for your cold bar or buffet, you might consider Cambro's Coldfest® pans, which can be used to create cold displays without ice or electricity. These insulated half-, third-, and sixth-size pans can be used to hold foods below the temperature "danger zone," the name given to temperatures between 41 and 140 degrees Fahrenheit at which bacteria grows the most, for six to eight hours, depending on the size of the pan.
These pans should be frozen for at least eight hours before use, and should only be filled with pre-chilled items. Coldfest pans are available in black and white, and have a layer of non-toxic eutectic gel between inner and outer walls of high-impact ABS plastic.
Pair Your Cambro Food Pan with a Lid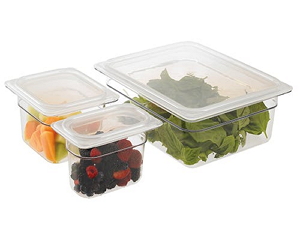 Seal Covers
Thanks to an inner seal, these polypropylene seal covers help prevent spills and keep your products fresh and safe from the negative effects of air and potential contaminants. Food protected with these lids can stay fresh for up to three days longer than food that's only covered with plastic wrap or foil.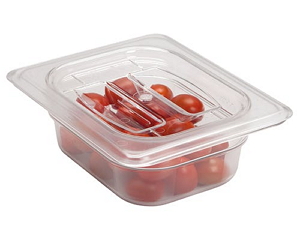 Covers with Handles
Plastic covers with handles are ideal for situations where staff members need quick and frequent access to held items, such as at prep tables and serving lines. Durable handles make removing and replacing food lids easier and more efficient. That convenience means the lids are less likely to be left off, helping keep your foods safe and fresh.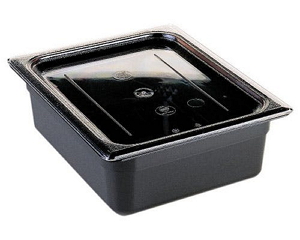 Flat Covers
For Cambro food pans that don't need to be accessed frequently, flat covers are an economical option. They can be used to cover backup pans of food prep ingredients stored in reach-ins or refrigerated drawers. Their shape also makes it easy to stack pans, so you can maximize your storage space.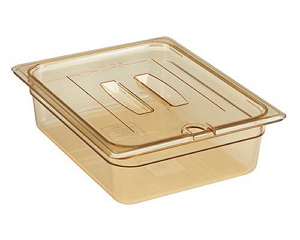 Notched Covers with Handles
Use notched covers with handles to keep utensils inside food pans while providing easy access for frequently used ingredients or menu items. These lids keep utensils handy while protecting the temperature and quality of foods held in the pans.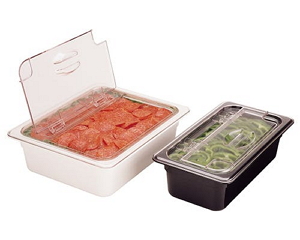 FlipLids
A FlipLid® is a great alternative to a cover with a handle, allowing for frequent access without the need for an employee to remove the lid. Instead, employees can easily flip open the hinged covers with a flick of their wrists to retrieve product. This method helps ensure food stays covered and the lid doesn't get lost.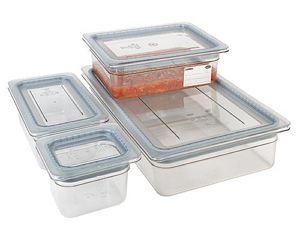 GripLids
Rely on a Cambro GripLid® when you need to transport food containers offsite or across your facility. These lids grip the inside edges of the food pan to keep containers tightly sealed, even when they're wheeled on carts across bumpy terrain.