Browne Thermalloy Buyers' Guide

Browne Foodservice has been providing the restaurant industry with quality supplies for more than 50 years. The Thermalloy line of cookware offers a wide range of durable options, from economy pans all the way up to the most heavy-duty models. Available in aluminum, stainless steel, and cast iron, with a wide range of design options, there's a Thermalloy pot or pan to meet every kitchen's need.
Thermalloy Cookware
Thermalloy cookware includes sauce pots, sauté pans, braziers, paella pans, pasta cookers, double boilers, and stock pots. The cookware types use a number of metals in varying thicknesses and combinations to achieve different price points and levels of conductivity and durability. Below are some of the options available from Browne Foodservice.
Aluminum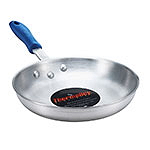 Aluminum cookware is the most economical option available from Browne. These pots and pans are available in 6-, 2-, and 1-gauge thickness that allow you to find the durability and price point that works for you. Aluminum is known for its fast heating properties, and these models have a satin finish. These pots will not rust, but can pit or discolor if used with acidic ingredients. However, you may be able to avoid that by seasoning the pan before using it.
2-Ply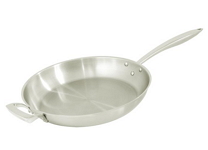 Fry pans are available with 2-ply construction, allowing them to benefit from the properties of both aluminum and stainless steel. The exteriors of these pans are aluminum, making use of the material's ability to heat up quickly, while the interiors of the pans are made of stainless steel for its durability and ease of cleaning. These pans have non-drip edges to help prevent messes.
Tri-ply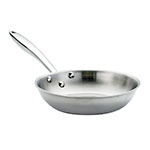 Tri-ply stainless steel cookware consists of three layers of metal bonded together to create Browne's premium cookware line. Each Tri-ply pan has two layers of stainless steel enclosing a single layer of aluminum. The outer layer of stainless steel is induction ready, the inside layer of aluminum helps the vessel heat quickly, and the inner layer of stainless steel is an alloy that improves the pan's conductivity, all while offering easy maintenance.
Cast Iron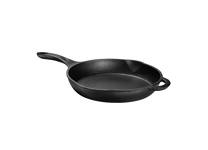 Cast iron cookware is valued for its heat retention and durability, but can be difficult to handle due to its weight. Some cast iron can be used for both cooking and serving, with wooden underliners protecting tables from the hot pans. Browne offers fry pans in multiple sizes and shapes with and without handles. The fry pans have pour spouts on both sides for easy serving, and the larger pans have two handles to make handling simple. These pans come pre-seasoned so they can be used immediately.
Cookware Options
In addition different methods of construction, Browne Foodservice cookware has various handle and finish options. After you decide which type of pan you need, you can determine which handles, finishes, and lids will provide the greatest benefit to your kitchen.
The handles on Browne cookware are fully riveted for durability, with several types available. Tri-ply pans all have handles that stay cool. The premium option is an ergonomic stay-cool handle, while a tubular handle is also offered. Two-ply and aluminum pans have flat metal handles. Some include silicone handles, which are available with heat resistance of 410 or 572 degrees Fahrenheit. For fry pans that do not have silicone handles, silicone sleeves are available.
Another option to consider is the interior coating. Browne offers two different non-stick coatings. Eclipse® is a non-stick coating used on aluminum pans that employs three layers to promote improved cohesion to the pan's surface. Excaliber® non-stick coating is used on the 2-ply and tri-ply pans. This coating contains stainless steel to improve wear resistance. Standard stainless steel and aluminum pans without coatings are also available, but should be seasoned before use.