Beverage-Air Innovations Eliminate Need for Protection on Chef Bases


Throughout recorded history, it has been understood that when you decide to buy a refrigerated chef base, you were really committing to buying two things. Chances are you planned to use that unit as a stand for commercial cooking equipment like a griddle, hot plate, or charbroiler. And, to do that, you had to have a heat shield, an insulated buffer between the hot appliances and the refrigerated interior of the chef base.
But Beverage-Air chef bases are rewriting history at this very moment. With some innovations in construction, the company has eliminated the need for a heat shield, meaning there's less for you to worry about and buying a chef base can be a little cheaper than it used to be.
The difference is in the top of the unit, that area closest to the heat-producing appliances people typically use on a chef base. Beverage-Air has found a more efficient way of keeping heat produced by that cooking equipment and it all starts with the units' all-stainless steel construction.
Thick Insulation Protects Cold Products
From top to the bottom, Beverage-Air's heavy-duty refrigerated chef bases are built of stainless steel, including the 12-gauge drawer frames and slides that resist the dings that typically appear on those much-abused areas. But the real story is the 16-gauge stainless steel on the tops of these units. That's some of the strongest, heaviest steel used in construction of commercial products.
Beneath that steel in a Beverage-Air refrigerated chef base are reinforcing supports that ensure the unit will faithfully support all the equipment you put on top of it. There's also a layer of thick insulation that is factor No. 2 in eliminating the need for a heat shield. It's such a protective combination that these Beverage-Air chef bases have been proven to be able to maintain the holding temperatures at or below 40 degrees required by food safety standards without that extra covering.
A Long List of Benefits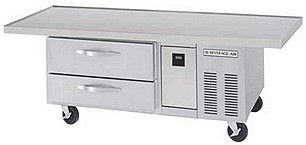 The industry standard in chef bases is performance for certification in areas with an ambient temperature of 75 degrees. Given how hot the typical commercial kitchen gets, particularly during busy times when every piece of cooking equipment is firing at full-blast, 75 degrees seemed pretty low for the folks at Beverage-Air.
That's why they went the extra mile, testing their units in rooms with an ambient temperature of 100 degrees. Their challenge was met by their chef bases, which kept the required 40 degrees or lower interior temperature, even with door openings every few minutes.
These units also come with a long list of features and benefits, including:
A lifetime guarantee on construction, including the drawers.
A three-year parts and labor warranty on refrigeration systems; two extra years of parts coverage for condensers.
Front-breathing refrigeration systems, so no need to leave space from wall for airflow.
Widths ranging from 36 inches to 120 inches, all at 26.75-inch height perfect for hosting cooking equipment.
Top drawers accommodate two 6-inch deep, 12-inch by 20-inch food pans, while bottom drawers fit a pair of 4-inch deep pans of those dimensions.
Refrigerated interior constructed of corrosion-resistant 300-series stainless steel.
Available with marine edge top to catch spills or with flat top.
Top can be ordered to extend up to 6 inches beyond sides to accommodate more equipment.
Foamed-in-place, CFC-free polyurethane insulation.
Workflow handles designed for easy grip and cleaning are also anti-microbial to prevent growth of germs.
Easy-to-read digital thermometer external readout displays temperature in large digits.
If you want more details or you're ready to order, please contact one of KaTom's helpful customer service representatives from 8 a.m. to 8 p.m. Eastern, Monday-Friday at 1-800-541-8683 or info@katom.com.