Bettcher Batter & Breading Machines Save Time & Effort!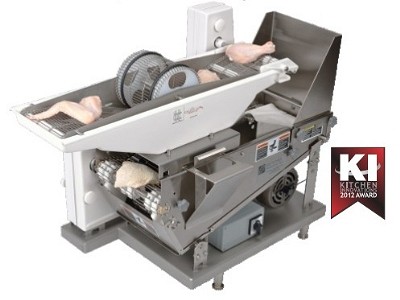 Breaded food is always a popular item at restaurants. We humans simply seem to have an affinity for chicken, onion rings, or anything else that is fried with an expertly seasoned bread covering. Many of the restaurants that serve these dishes purchase them pre-breaded in brown bags, not saying that there aren't restaurants and fast food locations that still use the hand breading method (Hardees' hand-breaded chicken campaign is a fantastic example of this).
I used to earn my money as a carhop for a local drive-in. Every single day one poor chef was chosen to do onion ring duty. The cook would then spend hours upon hours single handedly breading hundreds of onion rings alone in the back, away from where he could be helping out with the incoming rush of lunch. There were definitely times where having an extra cook in the kitchen would have been wiser than not but running out of our signature onion rings wasn't an option.
We're very excited to announce the addition of Bettcher breading machines to the KaTom Restaurant Supply website (fry cooks rejoice)! Now your restaurant can easily bread as many onion rings as needed without the use of extra man power. Bettcher breading machines save time, effort, and reduce mess. Don't just take our word for it though; watch it in action!
The Bettcher Optimax uses a batter conveyor that constantly rotates and keeps the batter well mixed. A batter wheel then moistens what you are choosing to bread (ex: onion rings, chicken tenders, oysters). The breading belt goes around to the top of the conveyor where a "wave" of the breading evenly coats the food. The excess breading is then shaken off using the Bettcher Optimax vibrator springs.
Extend oil life, save time, and reduce the amount of man power used by adding a Bettcher breading machine to your kitchen. As always, you can Bettcher bottom dollar that KaTom has the competitive pricing and great customer service you need. Order today!