About American Metalcraft

American Metalcraft, founded by Archer Kahn in 1947, remains a family-owned and operated business currently in its third generation of ownership. Although the company got its start in a warehouse in Chicago, in 2013 it moved to Franklin Park, Ill., where it now operates out of a building measuring more than 250,000 square feet. A product line that was once comprised mostly of pizza supplies has been expanded to include kitchen and bar supplies, tabletop and buffet items, servingware, and signage and crowd control. The company still manufactures more than 1,000 pizza pans and plate covers in America, while also focusing on importing thousands of innovative and unique items to provide the foodservice industry with products that look great and last in hectic commercial environments.
American Metalcraft offers products made with a variety of attractive and durable materials to ensure you're able to find items for your business that complement existing pieces or achieve a cohesive new design plan. These materials include metals like stainless steel, cast iron, and tin; non-metals like melamine and ceramic; and woods like bamboo, ash, mahogany, and walnut. Because the company aims to provide a comprehensive catalog to suit the needs of caterers and restaurants alike, its product list is as extensive as its materials.
American Metalcraft Tabletop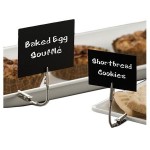 The folks at American Metalcraft understand that no item is too small to be important and offers many basic service items that might be forgotten in the day-to-day planning and operation of a business. Check holders might seem inconsequential, but every customer will use them and many will notice if yours are damaged or in poor shape. Menu holders, another necessity for proper service, are available in traditional styles with cursive lettering and colors like black and red or in modern styles with block lettering and bolder colors like green and orange. Card holders will be required if your service style uses table numbers to bring food to customers or for catering businesses and buffets that need to identify entrees. These come in several different styles, from traditional rings on a straight base to handwritten chalkboard signs.
Many other American Metalcraft tabletop items that are usually utilitarian, like shakers and dispensers for spices and toppings, instead come with stainless steel bodies and lids for a sleek look or in interesting shapes. Investing in condiment racks for shakers, dispensers, and bottles will help keep them organized on your table, and most have a ring at the top that can hold a table number or an advertisement for daily specials to increase impulse orders of desserts or drinks. Decorative touches, from vases to votive holders, also can't be forgotten.
American Metalcraft Servingware
Adding wooden serving pieces to your lineup can help your restaurant or catering business capitalize on the farm-to-table concept that continues to appeal to customers. Serving boards are made in an array of wood types, including light maple and dark ash, and can be used for bringing appetizers, bread, and even entrees to the table. These are mostly rectangular in shape with a handle to make transporting them easier. Wooden items made out of bamboo and keyaki include risers for buffet displays, bowls for salads and pastas, and platters and trays for appetizers and sides. As most of these pieces are recommended for hand-washing only, they might be considered unsuitable for high-volume establishments that rely on a dishwasher to keep up with demand. If hand-washing requirements are a concern, servingware made out of metal, ceramic, or melamine might be a more durable option for your establishment.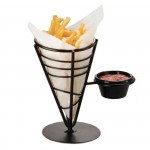 Serving baskets are must-have items for offering appetizers and starters. Square, round, and oval baskets will give your restaurant a classic feel, but can have a decorative pattern on the sides or a thatched design that gives the baskets a geometric style. Conical baskets, also called fry cone holders, are often paired with fried favorites like french fries or pickles. Those can be an elegant way to enhance your presentation, while fried food baskets designed to look like an actual fry basket might be more at home in a casual eatery or bar. Establishments that want to add a sense of whimsy to their service might also have use for serving pails, commonly used with peanuts, or serving baskets that look like miniature trash cans. Many of these serving baskets include built-in sauce holders so that ramekins can be easily transported and won't take up space in the basket.
American Metalcraft servingware for appetizers, entrees, and sides can also be made from ceramic or melamine. These pieces are available in white, a crisp and traditional color that can coordinate with virtually any style, and can be designed with classic lines or with more unusual shapes like a bowl that has wavy sides or an extra-wide rim. The company also offers mirrored or hammered stainless steel servingware, including bowls, trays, and water pitchers, as well as more whimsical items like taco holders and martini glasses for appetizers. For serving pieces that can go from the oven to the table, cast iron baking dishes are a great option for baked pasta, cornbread, and desserts, while cast iron frying pans are a popular way to serve fajitas and other sizzling meals.
American Metalcraft Pizza Supplies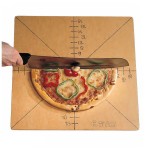 Staying true to its roots, American Metalcraft offers a wide selection of pizza supplies that will benefit not only pizzerias, but also restaurants with only a few pies on the menu. If your dough is made in-house, you'll want to have dough boxes and pans on hand, while dough dockers and bubble poppers will help chefs make flawless pizza each time. Aluminum pizza pans are available with or without perforations for small to large pizzas and in deep dish or thin crust styles, but you may want to use pizza stones to recreate the crispy crust that brick-oven-baking creates. Pizza peels, with blades made out of either aluminum or wood, are a time-honored method of transferring pizzas into and out of the oven because the wooden handles do not get hot and keep employees' hands further away from the oven. Using American Metalcraft's popular pizza slicing board, which includes slicing guidelines and diameter measurements, will help your restaurant serve correctly sized pies and slices every time.