Cart Buyers' Guide

Carts are some of the most helpful and versatile pieces of equipment you can purchase for your business. They can help move products and equipment, and enable employees to accomplish more in less time. While some carts offer incredible versatility, others are designed for very specific uses. Consider how each of the carts below might help improve efficiency and profits for your business.
Foodservice Carts
Use these convenient carts to serve customers quickly and improve impulse sales by bringing add-on items like beverages and desserts tableside.
Meal Delivery Carts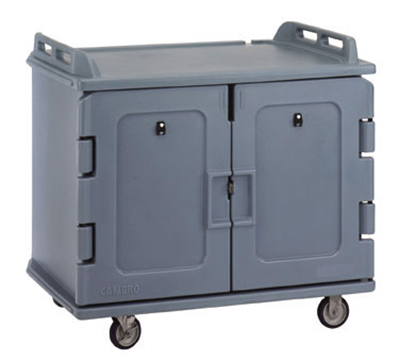 Meal delivery carts are capable of delivering anywhere from a few to a few hundred meals at a time. They are rated by the number of plates or trays they can hold, and may be made of stainless steel, aluminum, or plastic. Economy carts provide no heating or cooling, but are often insulated to help maintain the temperatures of the meals inside. Heated and refrigerated carts provide a step up to maintaining the freshness of food, and some have programmable controls that ensure precise holding. Be sure to keep the width of your hallways and doors in mind when selecting the size of meal delivery cart that will work best for you.
Cooking Carts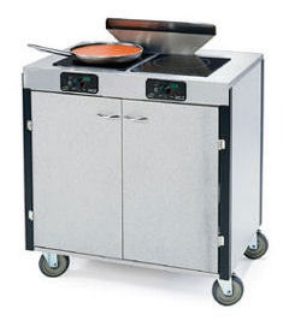 Cooking carts allow you to bring the kitchen to your customers, giving chefs the mobility they need to present a show and serve food fresh from the pan. These carts may be powered by electricity or gas; electric carts usually have more storage room due to not requiring a fuel can, but will be tethered to the wall by a power cord. Because these are customer-facing units, cooking carts often have attractive resin, laminate, or stone tops. Find the cart you need by considering the number of burners you need, as well as the type of burner. Infrared burners are available, but many operators prefer induction cooking carts to limit the ambient heat around the unit.
Concession Carts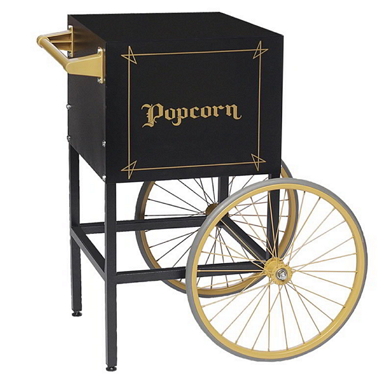 Concession carts are made for selling food on the go, whether at events or on street corners. Popcorn and hot dog carts are common, but some manufacturers offer customizable carts that can make other food products, such as cotton candy or candied nuts, portable. Most concession carts are small and can easily be moved around by a single person. Larger carts, typically called concession kiosks, can serve multiple types of food and drink, and are often highly customized to meet customer needs. Manufacturers like Vollrath and Lakeside can provide these specialized food stands, complete with utility connections and the logo of your team or business.
Room Service Carts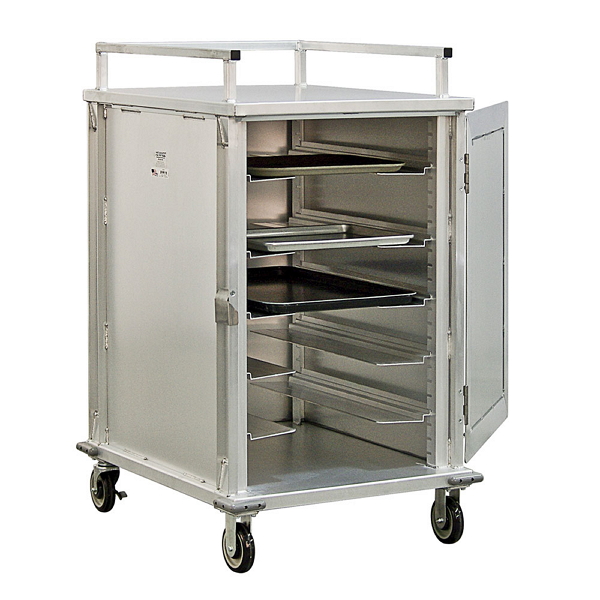 Room service carts are designed to equip staff to deliver meals in hotels. Standard configurations include cabinets similar to meal delivery carts and mobile tables. Table carts are made to fold down for transportation, then open once in the room, allowing guests room to eat without the need for a permanent table taking up valuable space. Cabinet carts may hold as few as six to as many as 32 trays, and some are insulated to help keep food at appropriate temperatures. These carts are commonly made of aluminum or stainless steel, and many have attractive laminate finishes.
Queen Mary Carts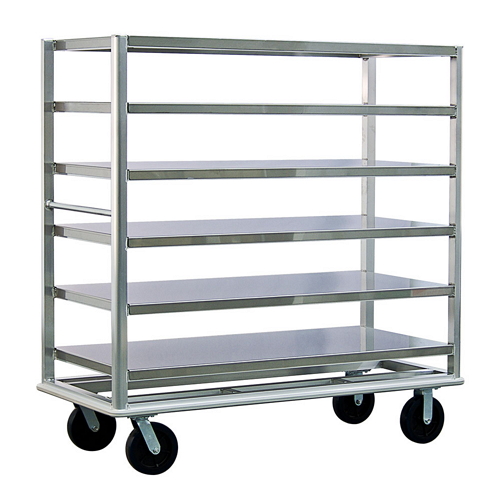 Queen Mary carts are narrow metal carts, usually tall with five or more levels. They are designed to be workhorses, with capacities ranging from 1,200 to 3,000 pounds. Queen Mary carts can be made of aluminum or stainless steel. Aluminum is cheaper and lighter weight, but stainless steel is more durable and corrosion-resistant. The shelves may be enclosed and have raised ledges for keeping products in place or slanted shelves so it is easy to see what's on each shelf.
Beverage Service Carts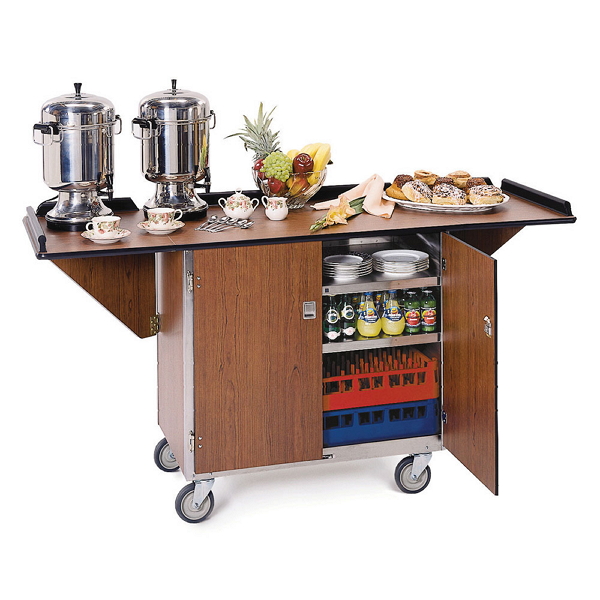 A beverage service cart allows you to serve hot or cold drinks to customers by bringing the drinks to them instead of them coming to you. Plastic carts are available, but because these are customer-facing, there are also more attractive options with painted stainless steel bases and laminate top surfaces. The bases can be open or enclosed for storage and transportation, and the top is often recessed to help prevent spills.
Cheese & Dessert Carts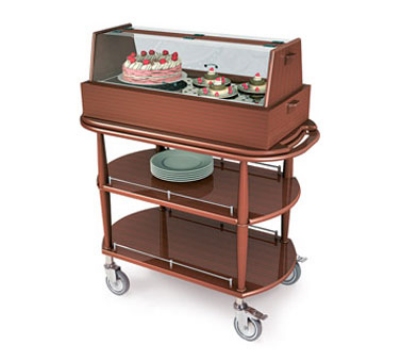 Cheese and dessert carts, sometimes called service carts, allow you to bring desserts, cheese, and wine around to tables in your dining room. These are available in circular, ovate, and rectangular designs with a minimum of two tiers. Options include protective acrylic domes, storage drawers, pullout shelves, cooling wells, and wine bottle storage. Because these are most commonly used in upscale restaurants, they are made to be attractive, with wood and solid-color finishes and brass or gold-tone hardware.
General Use Carts
Use these carts to transport just about anything, from technology to bulk ingredients.
Computer Carts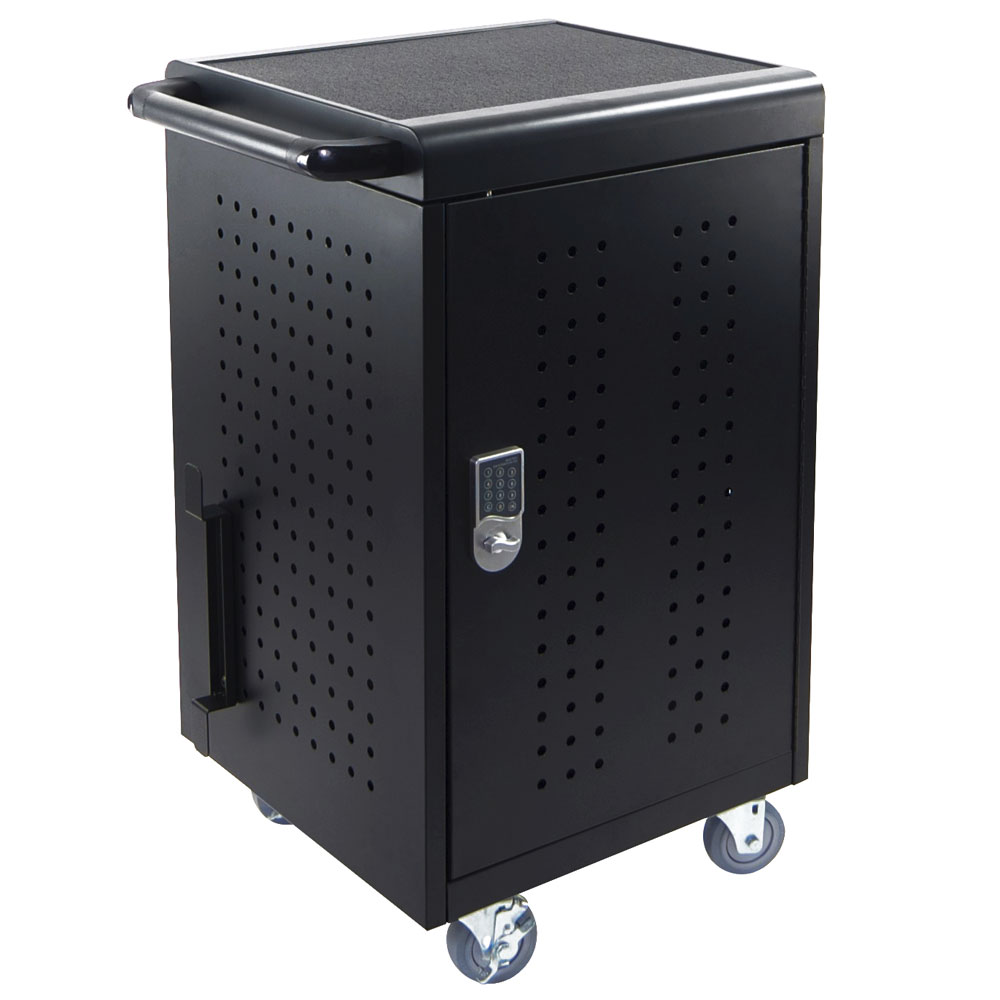 Computer carts are made for transporting laptop and tablet computers, usually in locked cabinets. These often have built-in power strips that allow for powering and charging the stored technology. Some models can hold as many as 32 tablets, so they're perfect for overnight charging of tablets used in classrooms or those used for taking customer orders.
Media Carts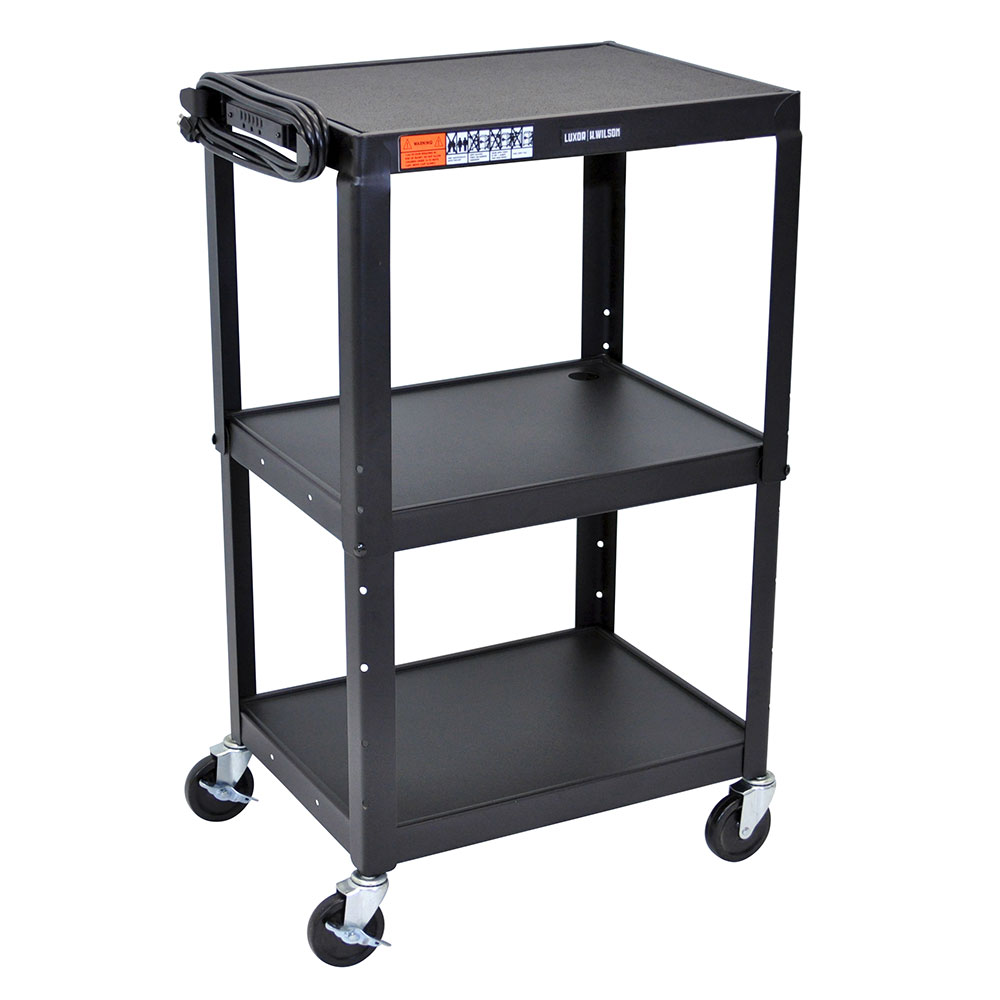 Media carts transport computers that are set up to be in use on the carts, allowing you to take training programs, slideshows, and other presentations on the move. This type of cart generally has three tiers, and the bottom one is sometimes enclosed. A slide-out keyboard tray that hangs below the top level is common. Some models have additional features such as storage drawers and locking cabinets. Media carts commonly have power strips, which are powered by 10- to 15-foot power cords.
Utility Carts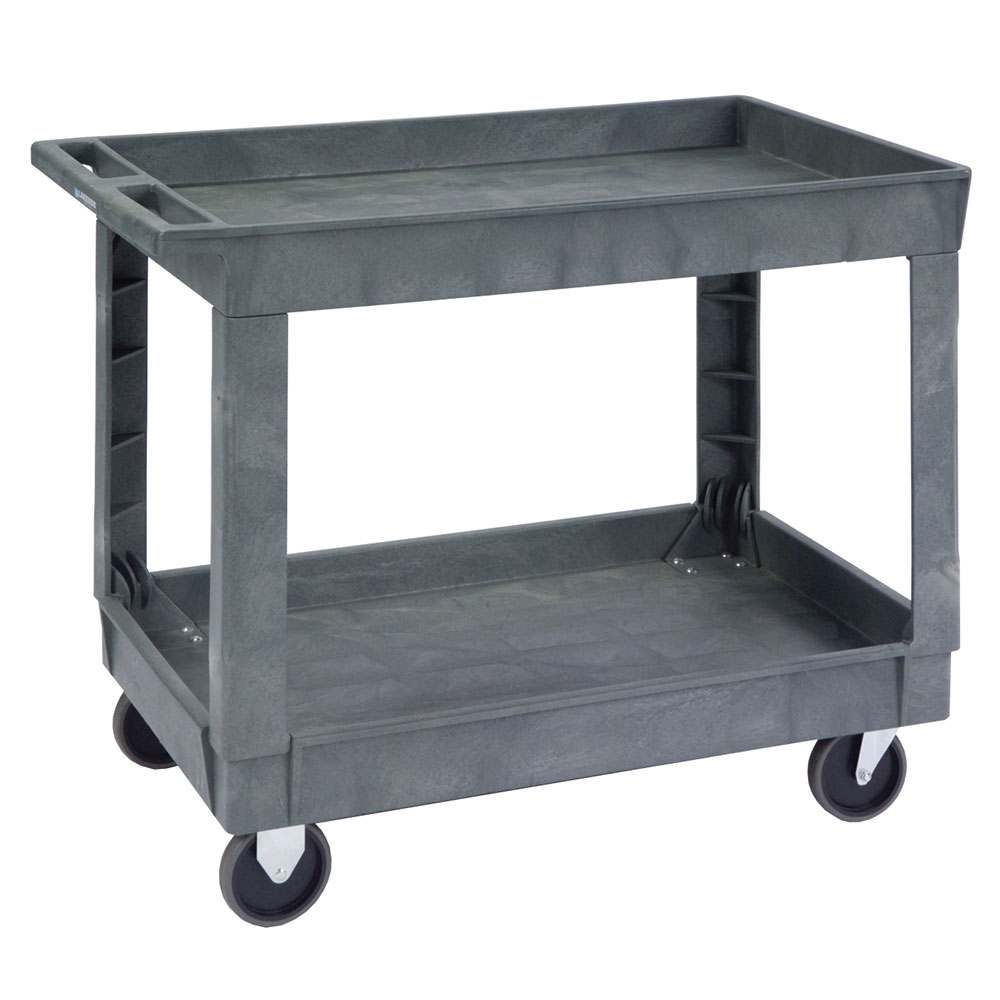 A utility cart can transport any number of items, with options ranging from light to heavy duty depending on your needs. They can be made of aluminum, steel, or plastic, and the caster type will determine what terrain the cart can traverse. The top level of the cart will have handles on one or both ends. The shelves can have flat edges to make moving product on and off the shelves simple, while raised and marine edges can help contain products and spills.
Hospitality Carts
Use these carts to maintain clean and attractive facilities and grounds.
Bus Carts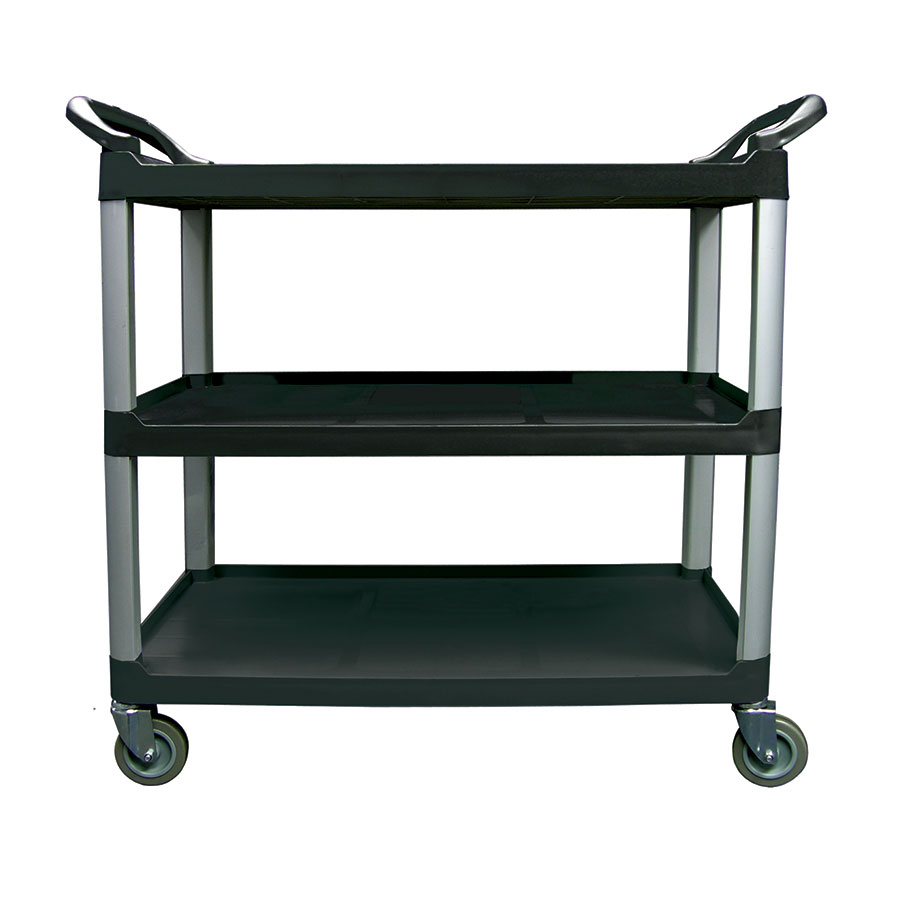 Bus carts are made to carry bus tubs, and some have shelves to accommodate those, while others have slides. Those with shelves may have fixed or adjustable levels. Such units are generally more versatile, since they can hold items other than bus tubs. Bus carts are made of stainless steel, aluminum, or polymer, and can be open or enclosed. Some bus carts have hangers on their ends that allow for hanging receptacles for silverware and other small items.
Trash Carts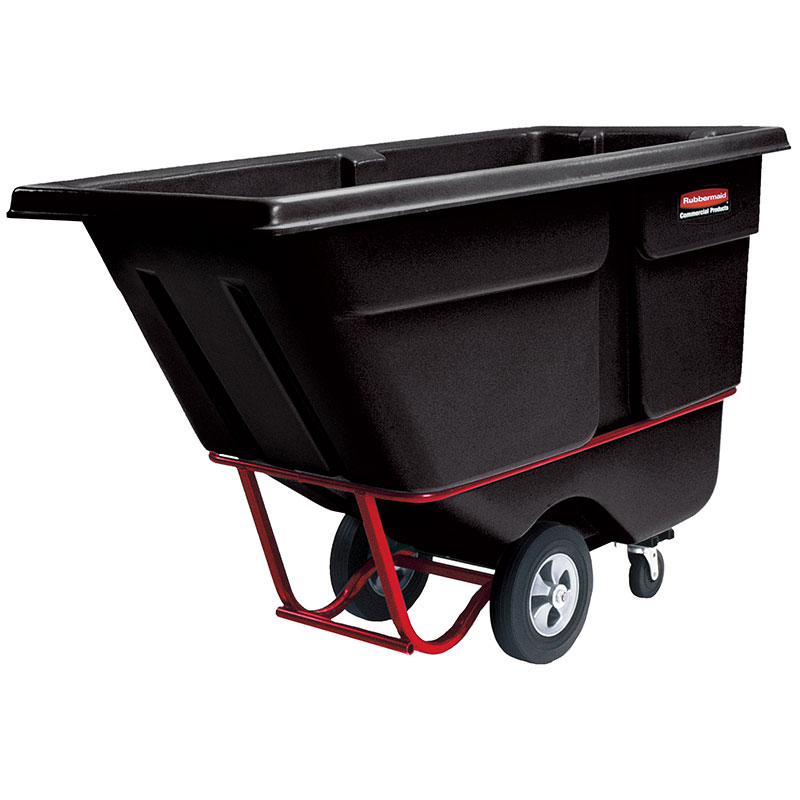 Trash carts help you keep your business neat and clean. Two-wheeled, wheelbarrow-like carts are available for smaller loads, though there are also two-wheeled heavy-duty models designed to be towed by a piece of motorized equipment like a forklift. Larger four-wheeled carts, sometimes called tilt trucks, help you move large amounts of trash at once. Most four-wheeled carts are angled on one side to make it easier to tip them for emptying, but straight-sided models offer higher capacity ratings.
Janitor Carts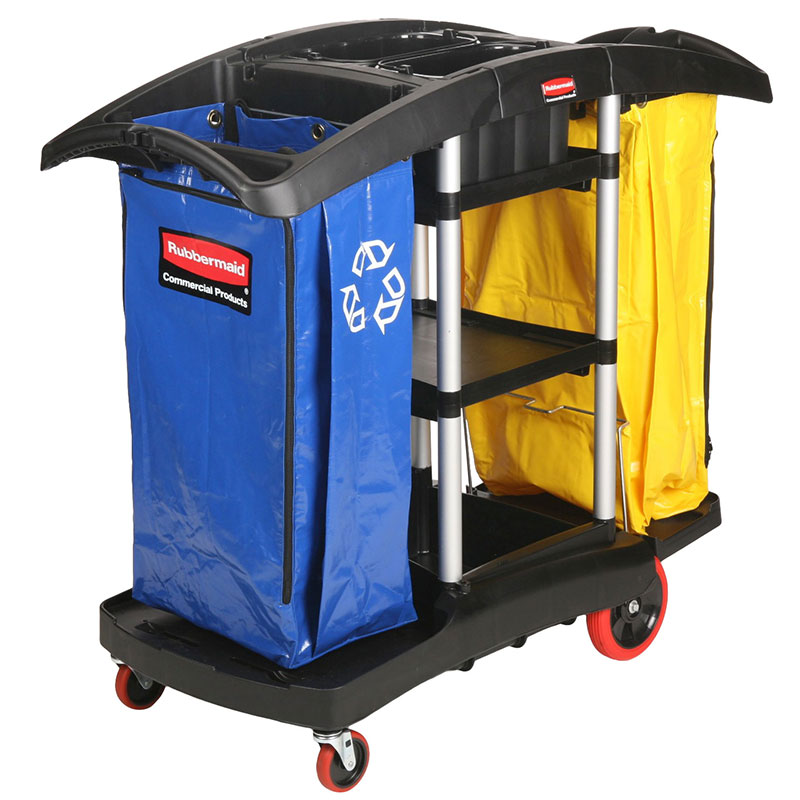 Janitor carts equip staff to keep your business clean. These generally have at least one waste hamper, but many models have one on each end, which allows you to separate recycling from trash or use one for collecting soiled laundry. Janitor carts have assorted combinations of shelves, bins, hooks, and drawers to help you keep cleaning supplies organized and easy to access. Some have platforms for transporting mop buckets and other large pieces of equipment.
Laundry Carts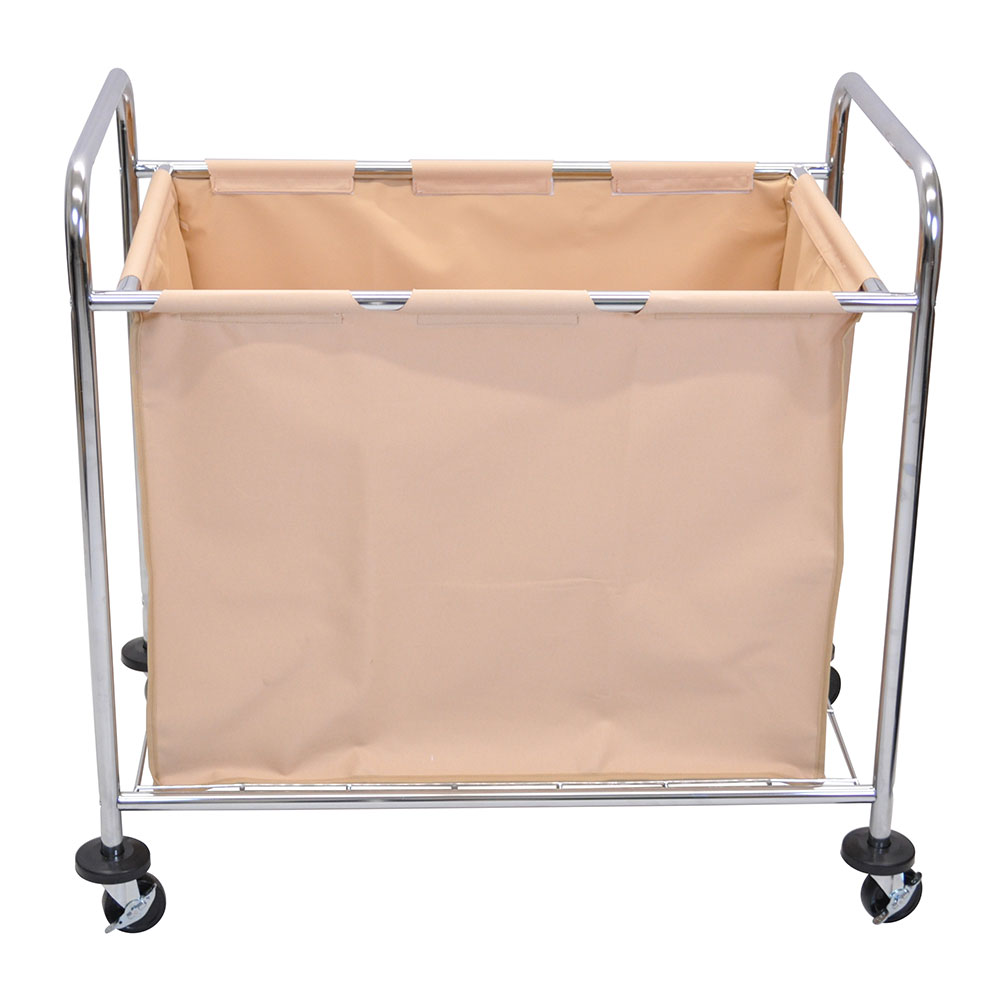 Laundry carts help you transport soiled linens. They are commonly used in banquet facilities for collecting cloth napkins and tablecloths, in hotels for transporting bed linens and towels from rooms to the laundry, and spas for robes and towels. The frames are constructed of metal and sometimes plastic, with bags made of vinyl or linen that can be removed for cleaning. Some of those bags have multiple compartments that allow for sorting by linen type or color. Some models feature brakes on the casters to secure them for loading and unloading, and some are collapsible for easy storage.
Housekeeping Carts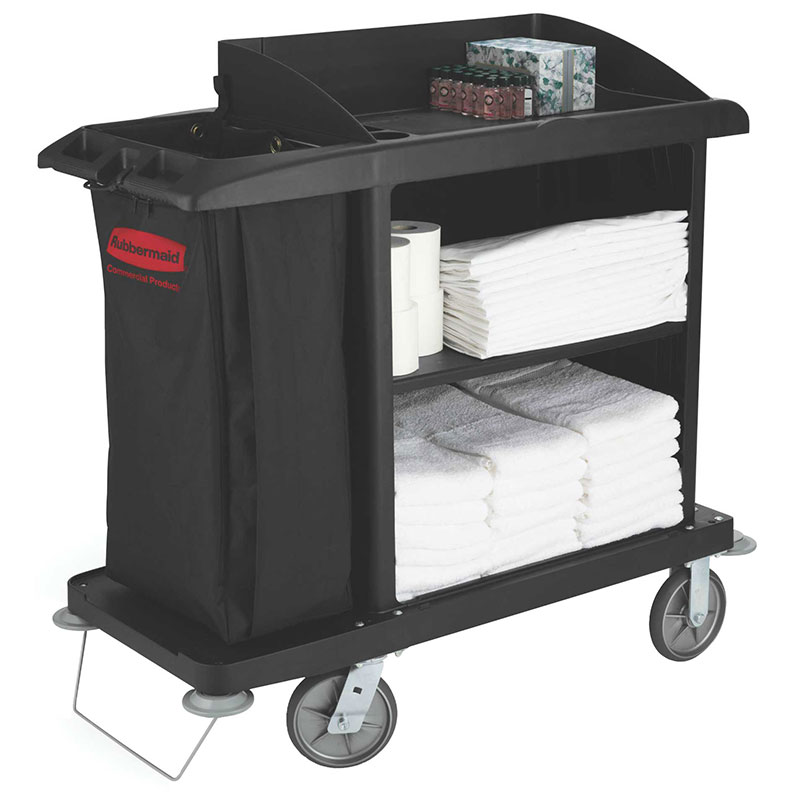 Housekeeping carts are most commonly used in hotels and have shelves or cabinets underneath made for holding stacks of linens. These carts typically have one or two built-in bins for trash or laundry, and are sometimes outfitted to hold vacuum cleaners. Housekeeping carts have top shelves for storing cleaning supplies and replenishing toiletries. Some models are equipped with dome covers that provide a cleaner look for use in customer-facing areas and can be locked to help protect inventory.
Hotel Luggage Carts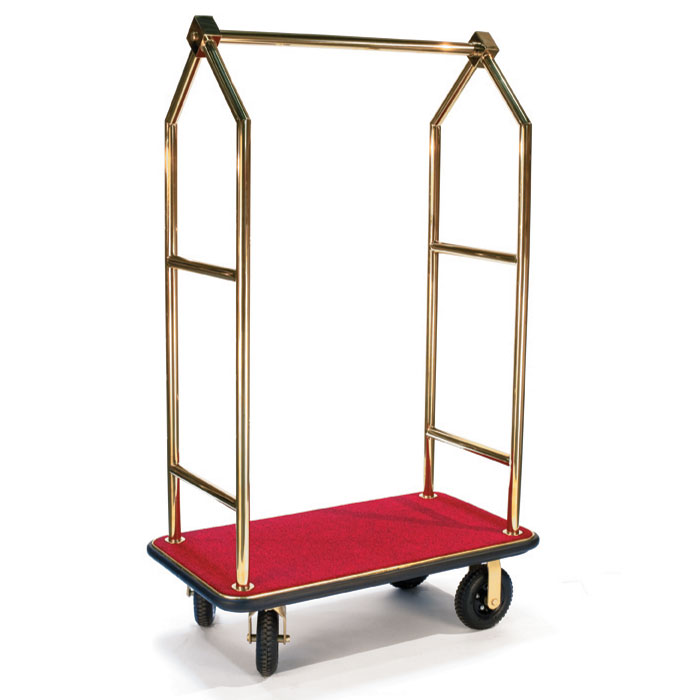 These carts allow your guests or bellhops to easily transport luggage and bulky items from vehicles to rooms. Hotel luggage carts are often purchased to match the facility's décor, with color combinations made with black, gray, and red carpet, and metal uprights finished with silver and gold colors. Most of these carts have hooks or poles across their tops for hanging clothing. Economical polyurethane casters are available, but if your carts will be used outside or over pronounced thresholds, you might consider pneumatic casters that do better over varied terrains.