The Commercial Slicer Buyer's Guide!
If your food establishment needs a slicer, but you have no idea which one to buy, then you've come to the right place.
To make this decision-making process a little easier, KaTom has compiled a helpful buyer's guide to point out the features of some of the top brands in slicers. Armed with this valuable information, you will be able to pick the slicer that will work best for your establishment.
Large 12 to 14 Inch Knife Slicers
The Large 12 to 14 Inch Knife Slicers are the big boys. If you have a busy deli or restaurant that calls for heavy duty slicing, this one will do the job! You can choose between automatic, semi-automatic, or manual feed, and you can easily select the desired thickness of the product to suit your needs.
This heavy duty slicer is strong enough to handle meats or cheeses, and you never have to worry about dull blades with the handy built-in sharpener. The large slicers have a compact, space-saving design that is easy to disassemble and clean. If you have to slice lots of meats and cheeses, and you need a sturdy, reliable machine, the Large 12 to 14 Inch Slicer is the one for you.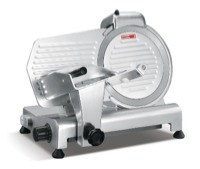 10 Inch Knife Slicers
The 10 Inch Knife Slicer is perfect for medium duty use in a restaurant or catering business. Designed for either coarse or fine cutting or blending of ingredients, this slicer is a labor-saving workhorse. Products ranging from parsley and root vegetables to meats, soft cheeses, and breads can be processed by this slicer with no problem!
You can choose between automatic or manual feed, and with this built-in blade sharpener, you will always have a fine cut! This slicer is also compact and easy to clean. For a medium-duty smaller restaurant or catering service, this 10 Inch Knife Slicer is the perfect solution.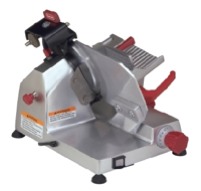 9 Inch Knife Slicers
Do you need a quality slicer for light duty applications? Then the 9 Inch Knife Slicer would be a fantastic fit for your restaurant. You can set the blade for thickness with an easily adjustable slide, and this unit disassembles quickly without tools for easy cleaning.
For any light slicing needs, such as vegetables, meats, and soft cheeses, this slicer is the ideal solution. Like the other two, it also comes in automatic or manual feed options, but it's smaller size makes it easier to move. This 9 Inch Knife Slicer would be perfect for small delis or sandwich shops.
Here at KaTom Restaurant Supply , we not only sell several brands and types of slicers, we also carry any equipment or supplies that you could need for your business. We aim to provide you with all the quality products required to run your restaurant or food establishment effectively. So you know you can find the perfect solution by shopping with your friends at KaTom!