Make Tax Day a Bit Easier to Stomach with Filing-related Dining Deals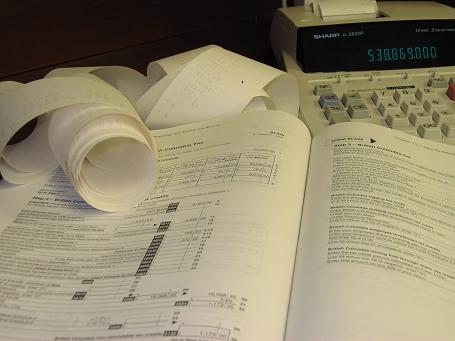 It's April 15, which means the tax man cometh today for those in the United States. Well, the tax man doesn't so much "cometh" as he does threaten to cometh if you don't "sendeth" him your paperwork for 2012 and any money you may owe him.
Anyway, Tax Day is enough to make anyone's ulcers flare and hemorrhoids pucker. So, we figured it might help some of you out if we found some ways to make this date for doing your civic duty a little easier to stomach. Since our focus here at KaTom is food, we figured it made sense to keep our eyes on that today.
For a chance to chuckle, chortle, or at least shake your head at some of the silly specifications in taxes on food throughout the country, check out this HuffPost Taste blog: http://goo.gl/ZE13S. As a little sample of some of the inane ways we Americans have come up with to levy our lunches, did you know that in Iowa, you'll pay taxes on a Milky Way candy bar, but not on the Milky Way Midnight bar? It's all in the flour or lack thereof.
Take Your Deductions with Your Dinner: 10 Great Tax Day Food Deals
There are a lot of opportunities for special discounts connected to the 2013 filing deadline, including:
AMC Theaters

The Deal: Free small popcorn per person with coupon. Valid: April 12-15



Arby's

The Deal: Free value-sized curly fries or small potato cakes with coupon. Valid: April 15



Boston Market

The Deal: There are two, actually. Get a Tax Day rib-bate, with two rib meals for $10.40 (as in Form 1040). No coupon needed. Valid: April 15

The (Second) Deal: The restaurant chain is also giving away 1,040 ribs meals in a random selection among those who fill out an entry form. Those folks also get a $1 off coupon. Valid: April 8-30



Bruegger's Bagels

The Deal: Get 13 bagels and two tubs of cream cheese for $10.40 (there it is again) with a coupon at participating locations. Valid: April 15



Cinnabon

The Deal: Two free Cinnabon Bites at participating locations. Valid: 6-8 p.m. April 15



Great American Cookies

The Deal: Free birthday cake cookie at participating locations. Valid: April 15



Panda Express

The Deal: Free Samurai Surf & Turf with coupon. Valid: April 17



Sonic Drive-In

The Deal: Happy Hour is all day as the eatery expands its half-price drink specials throughout Tax Day. Valid: April 15



White Castle

The Deal: 15 percent off your order. Valid: April 15