Stoelting Frozen Dessert Equipment Now Available!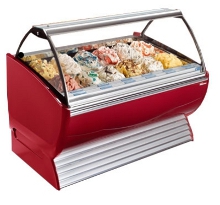 Gelato is becoming increasingly more popular in the USA...and for good reason. If you've ever had a taste of this delicious Italian treat, you'll know why. Gelato has a richer flavor than regular ice cream, partially due to slow churning process it goes through as well as its lower fat content. Since gelato is traditionally stored at a higher temperature than ice cream, a regular ice cream cabinet just won't do. Thankfully, KaTom has added a fantastic new brand to the website: Stoelting!
Stoelting manufactures beautiful gelato display cabinets with eye catching colors. Stoelting's selection of gelato display cabinets come in 3 different lines: the BRIO line, SPRINT line, and NEW DINAMICA line.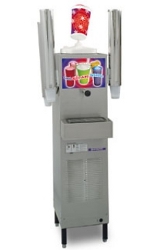 Brio gelato cases come in compact sizes that make them perfect for smaller operations without a lot of space and are easy to move due to their standard inclusion of casters. The Sprint line features larger gelato display case models with heated, curved front glass that helps to prevent frost or condensation build up. Sprint gelato cases come in silver, white, or red colors. The last gelato display case line from Stoelting, New Dinamica, also features a heated front glass as well as a twin evaporator system for creating a uniform temperature throughout the cabinet.
Stoelting makes a lot more than gelato cases though! When it comes to frozen treats, Stoelting has everyone's sweet tooth covered this summer with frozen lemonade machines, soft serve ice cream machines, and even high quality milkshake freezers. Start cooling off and selling more with Stoelting frozen dessert equipment from KaTom Restaurant Supply! Simply contact us at 1-800-541-8683 for more information about these high quality Stoelting products.