KaTom is honored to be tabbed for growing staff by 46 percent in recent years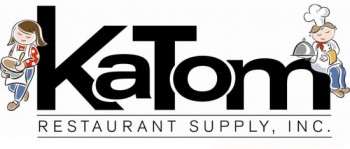 KaTom Restaurant Supply has been recognized as one of the top job creators among private businesses in Tennessee with its inclusion on Inc.'s Hire Power Awards list.
According to Inc.'s statistics, KaTom created two dozen jobs in recent years, placing it ninth in the state and making it one of only two businesses in East Tennessee to receive the recognition. Those new hires represent growth of 46 percent from 2008 to 2011.
This is the first time Inc., the magazine and online resource for business, has produced the list, but it's the sixth time in four years KaTom has been recognized by the publication. For each of those years, KaTom has been recognized as part of the Inc. 5000, a slate of the fastest growing private companies in America based on annual sales increases. Most recently, KaTom jumped more than 1,000 spots in the 2011 list as it continued its annual trek toward the top, pushed upward on the strength of sales increases of 176 percent between 2008 and 2011. Inc. also hailed KaTom as a "Next Economy Hero" during 2011.
"We are delighted and humbled to have received this wonderful recognition from Inc.," KaTom founder and CEO Patricia Bible said. "We're delighted because it's just one more sign that our dedication to the mantra that, 'It's about you,' that everything we do every day is about serving each customer the best we can, is building us from the little restaurant supply company that could into a powerhouse in our industry. We're humbled because this is an honor we know we only achieved by the hard work of our amazing team, with the support of our East Tennessee community, and thanks to the loyal backing of our customers."
Looking to continue expanding, KaTom recently moved into a former log home manufacturing facility near the interstate in Sevier County. Construction crews worked day and night to get it ready for the big Labor Day move-in and remain on the job now, transforming the metal structure into Bible's dream home for her growing company. In the coming months, they will add a new façade, renovate an empty space into a beautiful new showroom for both residential and commercial customers, and create a demonstration kitchen that will serve as an educational center. They have also begun work remaking part of the 80,000-square-foot warehouse into a concept area that will feature working mock-ups for convenience stores, restaurant kitchens, buffets, and other foodservice operations, all stocked with products sold by KaTom.
Since the tally ended with 2011, the numbers from Inc. don't tell the full story. Since moving into its new home, KaTom has already hired several new employees from several East Tennessee counties, including Sevier and Knox. And there are plans to add potentially dozens more in the near future as the full operation comes online and KaTom continues to push for even more phenomenal growth.
"We're thrilled KaTom chose to locate in Sevier County for exactly this reason," said Sevier County Economic Development Council Executive Director Allen Newton, who helped recruit Bible and KaTom to the county. "I'm in the business of recruiting industry that will create jobs here. This award shows what a great company KaTom is and what a great victory it was for Sevier County to convince them to move here. They're already hiring our local people and we are excited to see that happening.
"I offer congratulations to KaTom on behalf of Sevier County for this outstanding recognition."
Inc. Editor-in-Chief Eric Schurenberg said it's small but growing companies like KaTom that are driving the American economy right now.
"The top 100 companies on the list have created 73,032 American jobs in the three-year period from 2008 to 2011 – an amazing feat, given that much of that job growth came during the heart of the recession," Schurenberg explained. "And it isn't just the big guys that are adding jobs. Companies with less than $50 million in annual revenue make up nearly one-third of the Hire Power list."
For more information on the Hire Power Awards, which were sponsored by Bank of America Merrill Lynch, visit the Inc. website. You can also see the list of the top job creators in Tennessee and view KaTom's profile there.