KaTom's new, lower pricing means big savings on this countertop steamer
You already know the amazing benefits of having a commercial food steamer into your kitchen, but if you're waiting for more incentive to invest in one, we've got good news for you! Actually, this is good news for anyone in the market for restaurant equipment.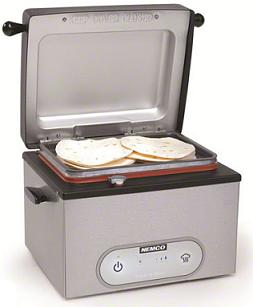 The Fresh-O-Matic commercial food steamer offers the power of steam in a compact countertop unit that is easy to control. It's great for cooking, retherming, and finishing. Just plug the unit in, fill the water reservoir, and push the button. It's that easy to provide your customers with moist and flavorful vegetables, breads, and other foods.
This Nemco countertop steamer has a stainless steel exterior, cast aluminum well, and a 30 minute preheat cycle. This type of commercial food steamer, often called boilerless, is easy to use because the water reservoir is easily accessible, meaning it's easy to keep it clean. Since the Fresh-O-Matic is also not directly connected to a water line, it doesn't require the water supply that connected units do, meaning utility savings for you.
KaTom's price for this handy little piece of restaurant equipment has just dropped from $975 each to $897. That's a savings of nearly $80!
For more information about the Nemco Fresh-O-Matic Countertop Steamer, please contact one of our helpful customer service representatives by calling 800.541.8683 or by e-mail at info@katom.com.