Reach-In Refrigerators 3 Section Buyer's Guide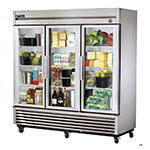 Reach-in refrigeration is one of the most integral parts of any commercial kitchen. A reach-in refrigerator offers functionality and dependability to your kitchen by storing food and maintaining proper temperatures to ensure food safety and preservation. This section of KaTom Restaurant Supply's website features 3 section reach-in refrigeration units from True, Beverage Air and our other premier manufacturers.
Three section reach-in refrigerators are very large; therefore consideration of available space should be taken before purchasing one of these units. These refrigerators work best in a large scale business or organization with ample kitchen area and can hold a considerable amount of food on the 9 adjustable shelves, with three per section.
Three section reach-in refrigerators can be purchased in either top or bottom mounted units, each with their own benefits. Top-mounted units allow maximum storage because the refrigeration system is located on the exterior top of the unit. These units also run cooler because there are no ventilation problems and will keep your kitchen cooler because warm air rises to the top of the room. Bottom mounted refrigerators offer the added bonus of "no stoop" storage to minimize strain from bending down to get the product. Bottom mounted reach-in refrigerators also give you additional non-refrigerated storage on top of the unit.
These large, three door refrigerators run on a powerful 1/2 HP motor and are pre-wired. The units should be plugged into a 15 amp outlet to ensure proper functioning. The size of the units vary between 69 cubic feet and 85 cubic feet. In general, the dimensions of a three section reach-in refrigerator are around 78 1/8" L x 29 5/8" D x 79 1/8" H.