Reach-In Freezers 3 Section Buyer's Guide
3 Section Reach-In Freezers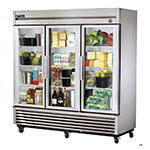 Commercial reach-in freezers are a must-have for food service business or organization and any area where food storage is needed. Reach-in freezers guarantee that each product is protected by providing cold enough temperatures to maintain food safety. This section of KaTom Restaurant Supply's website features 3 section reach-in freezers from True, Beverage Air and our other premier manufacturers
Three section reach-in freezers come with either three large, whole doors or six smaller half doors, often called dutch doors, or any combination of the the two styles, depending on the exact model you purchase. Each freezer comes standard with three adjustable shelves per section, totaling nine shelves for a three section model.
These three door freezers are available in either top or bottom mounted units. A top mounted unit is excellent if you kitchen has less ventilation because of the location of the refrigeration system. Top mounted units also provide an increase in storage area inside the freezer. Top mounted units can even help to keep your kitchen area cooler because the warm air will rise to the top of the room where the refrigeration system is located.
Bottom mounted units provide quick and easy access to the product without having to stoop down to get it. These units feature additional non-refrigerated storage on the top of the freezer since the refrigeration system is located at the bottom.
These pre-wired units offer between 69-85 cubic feet of storage area and should be plugged into a 15 amp outlet to ensure maximum functionality. The three section units can be purchased with dimensions between 76 1/2" L x 34 3/4" D x 78 1/4" H up to 78 1/8" L x 29 5/8" D x 78 1/4" H.