Open Up Your Kitchen With Rosie!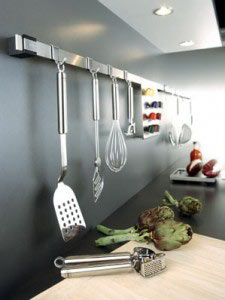 I'm constantly collecting cool new kitchen tools, utensils, and gadgets. I'm not going to blame the beautiful displays in our KaTom show room...or at least not entirely. I'm about as curious as a cat when it comes to our new products so understandably I tend to invest in a few. It goes without saying that with a lot of kitchen gadgets comes (you guessed it) limited cabinet and drawer space. Cue dramatic music now.
Finding some of the tools I use can be more than a pain when it comes to my kitchen drawers. Not a one is easy to look in. I'm slowly beginning to believe that my kitchen utensils have proclaimed war against me due to cramped space. That's why I've been looking into the "open kitchen solution via Rosle. I'll explain.
Many commercial kitchens (or at least the ones I've had the pleasure of working in) utilize wall hanging rails, shelves, and hooks for storage instead of drawers. Rosle has taken this way of organizing kitchen tools and made it an attractive option for the home. They've come out with a quite charming series of kitchen rails and hooks that make it possible to have your utensils hanging in sight and ready for use. You mean no more digging through my kitchen drawers? OH YES!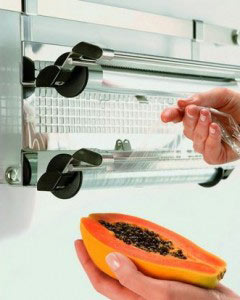 Not only do these kitchen rails allow for better organization of cooking utensils but they've also allowed Rosle to make more pretty awesome products that go hand in hand with the system. My favorite so far is the foil holder/wrap dispenser. Because of this cool open kitchen product I can easily grab foil when I need it without going through my cabinets for the roll. Oh, and I don't ever have to struggle with the cling film anymore. The retracting blades on this product neatly cut without crumpling!
Did I mention that the open kitchen can take care of your entire collection of spices too? My spice cabinets are full to the brim so the addition of an open kitchen spice rack makes the spice hunting quite a bit easier.
Now that I have a war plan on how to attack my rebellious cook's tools collection I feel relieved. Not only will I be making my kitchen a safer place for my gadgets but it will be more organized. Plus this is pretty much my excuse to get more awesome products!
-
Heather ;)