Morristown's Citizen Tribune Covers the KaTom Move!
Everyone has been very interested in KaTom Restaurant Supply's move! We're flattered by all of the attention we've been getting throughout the process of finding the new KaTom location. While leaving our small Russellville Tennessee home is a little bitter sweet, we know that this move will only help us to evolve and grow as a company.
There have been some wonderful articles written about this process, one of them being from Morristown Tennessee's local newspaper, the Citizens Tribune.
"KaTom to Leave County

Kitchen supply company commits to Sevier County
From Staff & Wire Reports
A new headquarters and distribution center for KaTom Restaurant Supply will locate in Sevier County, the winner of a three-way battle including Hamblen, Knox and Sevier counties, according to AP reports.
KaTom had expressed interest in developing a 55,000-square-foot office and distribution center at a site in Knoxville. Phase one of the project would have represented a $6.25 million investment and increased thecompany's workforce from 63 to 135 employees within five years.
The company's Hamblen County facility will close.
"It's certainly a loss and we're sorry to lose them, said 2012 Morristown Area Chamber of Commerce chair Sam Grigsby. "They're a good corporate citizen, employ a lot of people and a fast growing company and those are the kind of companies that we want in our community, he added.
Grigsby said Morristown's Industrial Board had offered KaTom space in the East Tennessee Progress Center.
However, KaTom required something closer to the interstate.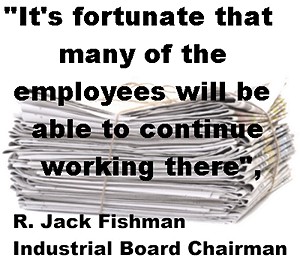 "We were very hopeful that was going to happen, Grigsby said. "We are sorry to hear the news. We wish them the best but wish we could have kept them.
Interim chamber president and CEO John Stroud said that the ETPC location was nine acres of property and did not include an existing building.
"We feel like it was a very, very competitive site, he said. But 'we didn't have an existing building.'
Last month, the Knox County Commission approved a four-year payment in lieu of tax, or PILOT, incentive aimed at luring KaTom to a site near the Midway Road exit off Interstate 40.
The PILOT would essentially have kept the property off the tax rolls for four years, and meant the county would have lost out on a combined $198,000 in taxes during that time.
However the announcement was made Thursday that the company is set to take over the leasehold on the former Heritage Log Homes facility in Smith Thomas Industrial Park.
Ron Sharp, attorney for the Sevier County Industrial Development Board, said that entity on Thursday approved a multi-year PILOT incentive according to the AP, but that the company must meet certain job and payroll thresholds to qualify. When asked about the value of that PILOT, he said it would depend on certain performance factors.
Under the proposal, he said the company would lease the property from the IDB.
KaTom Restaurant Supply owner Patricia Bible and her late husband Tim, co-founded the company in 1985 out of their garage under the name B and B (Bible and Bible) Equipment.
With growth they started a catalog company and then followed Tim's vision and took the business to the internet before internet business was the norm.
The website launched in December 2001. Clientele includes Rachel Ray, Jimmy Kimmel and the company hasbeen featured in Martha Stewart Magazine.
KaTom has been active in the Morristown community sponsoring many Encore productions including "Noises Off and "Annie and also helped donate to the War Memorial, sponsors the Morristown Business Expo and sponsors many nonprofit organization's charity events.
Those included HC*Excell, Boys and Girls Club, United Way, Younglife, Project Graduation and the Make-a-Wish Foundation, among other things.
KaTom has been a part of Inc. Magazine's 5000 Fastest Growing Companies for the last three years.
The company also won the Chamber Small Business of the Year Award in 2011.
KaTom has averaged double digit growth since 2001, staying well above the industry average during the recent recession.
It was recently named a top five finalist in Inc. Magazine's "The Next Economy Hero.
"We certainly wish her success and certainly regret that she wasn't able to choose our site, said Interim chamber president and CEO John Stroud. "We did everything in our power to keep her here but of course it was her decision.
"Naturally we're upset that KaTom saw fit to relocate, but we didn't have a building that was suitable near the interstate, said R. Jack Fishman, chair of Morristown's Industrial Board. "It's fortunate that many of the employees will be able to continue working there.
"The way the economics worked out, it was better for KaTom to move down the road, he said."
Article courtesy of Citizens Tribune