July Newsletter: Summer Maintenance School Specials
Hopefully everyone is enjoying those lazy, hazy, crazy days of summer.
While it should be restful, I know how very busy those summer days can get. There is so much to be done before school starts again in August and a limited amount of time to do it all in.
During this time "off", we do routine maintenance such as changing out clogged filters to extend the life of our equipment as well as deep cleaning of those hard to reach spots we miss throughout the year. At the same time we all need to renew and recharge ourselves with some rest and relaxation. Let's not forget the human body and mind also need to be refreshed, just like our equipment! Rest helps to reduce the need for extensive maintenance and aids in longevity.
The KaTom booth at the Tennessee School Nutrition Conference in Chattanooga was visited by a large number of attendees. It was great to see so many old friends and colleagues as well as make new acquaintances. The booth featured several items of equipment that will assist in the preparation of fruits and vegetables.
Establishing Your Equipment Priorities
If money was not an object when designing and outfitting a functional, state-of-the-art kitchen in a vast and competitive market, life would be a lot easier. However, budgets decide what kitchen equipment can be purchased...and that can be limited. Therefore, priorities must be set and choices must be made. The following deserve major consideration when deciding what is important:
The saying of "the menu dictates everything" certainly is true and should be in the forefront of your mind when purchasing any equipment. Buying only equipment that is needed in the day-to-day operation makes good financial sense. However, if down the line there are extra funds available then consideration can be given to purchasing those "just nice to have" items.
As stated before, money does play an important role when choosing equipment. Since you must look for the best possible deal, you should determine a price range before entering the market; otherwise you may end up spending a lot more than you bargained for. Search the market for the best price, discounts, rebates and specials. Also consider getting quotes and bids for more competitive pricing.
Total cost of operation is important. Keep this in mind when making your purchases. You may spend a few more dollars up front, but the overall cost can skyrocket due to energy and water inefficiency. As important as this is, many times the total cost of operation is overlooked completely.
Quality should certainly be a priority. Buying "junk" will only cost you more in lost time and repairs. Quality should match your requirements. Sometimes Directors, Supervisors or Managers may opt for the top-of-the-line unit when a good standard unit without all the bells and whistles will meet their needs. On the other hand, they may choose the cheapest model when a mid-grade version would cost a little more, but would prove to be a better investment in the long run due to durability.>


Function of the equipment should definitely be taken into account. It will be much more cost efficient if the piece of equipment has more than one use. As an example, a piece of equipment that operates as an oven, steamer and pressure cooker will definitely have more uses than one with a single use function. Also, it will take less space in the kitchen than two or more pieces of equipment doing the same job.
Finally, size and space are considerations that can cost or save you money. For instance, an ice machine that has a much bigger bin and capacity for producing ice than is needed will also cost more to run and take up more space in the kitchen. The same is true for most equipment, such as dish machines, refrigerators, ovens, etc. It is important to have adequate sized equipment; bigger is not always better as it can result in additional costs.
Recipes of the Month
Triple Berry Crisp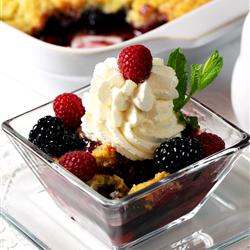 Yields 18 Servings
Ingredients
1-1/2 cups fresh blackberries
1-1/2 cups fresh raspberries
1-1/2 cups fresh blueberries
4 tablespoons white sugar
2cups all-purpose flour
2 cups rolled oats
1-1/2 cups packed brown sugar
1 teaspoon ground cinnamon
1/2 teaspoon ground nutmeg
1-1/2 cups butter
Directions
Preheat oven to 350 degrees F (175 degrees C)
In a large bowl, gently toss together blackberries, raspberries, blueberries, and white sugar; set aside
In a separate large bowl, combine flour, oats, brown sugar, cinnamon, and nutmeg. Cut in butter until crumbly. Press half of mixture in the bottom of a 9x13 inch pan. Cover with berries. Sprinkle remaining crumble mixture over the berries
Bake in the preheated oven for 30 to 40 minutes, or until fruit is bubbly and topping is golden brown
Baked Italian Squash
Yields 4-6 Servings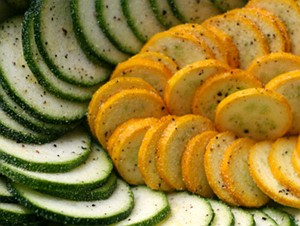 2 medium sized yellow squash
2 medium sized zucchini squash
2 tablespoons olive oil
½ teaspoon oregano
½ teaspoon garlic salt
1/3 cup shredded parmesan cheese
Salt & Pepper to taste
Directions
Preheat oven to 450 degrees F
Wash, dry and cut squash into ¼ inch rounds
Place squash, olive oil, oregano and garlic salt in a large zip lock bag, close and shake well to coat squash
Place in a large ovenproof casserole dish (or I use a large iron skillet ) sprayed with pan spray
Salt and pepper to taste
Sprinkle ½ of the parmesan cheese on top and place in preheated oven for 15- 20 minutes
Remove from oven turning squash and sprinkle with remaining parmesan cheese and return to oven for an additional 15-20 minutes
Squash should be lightly browned and somewhat crisp. If need be you can place under the broiler for an additional 2-3 minutes for a browner, crisper look.
Footnote
Yellow squash is exceptionally low in calories, with approximately 20 calories in a small-sized vegetable and 30 calories in a medium-sized vegetable. The few calories in yellow squash come primarily from the carbohydrate content, which is also low. A cup of sliced, yellow squash contains approximately 4 g of carbohydrates. Yellow squash is a good option to replace high-calorie vegetables, such as potatoes and corn, in your nutrition plan, especially if you are trying to reduce your daily caloric intake.
Anyone building or renovating schools that involve kitchens, serving areas or dining areas; please contact me at MaryLou@KaTom.com or 865-223-1150; or KaTom direct at (800-541-8683 or 423-586-5839). We would be grateful for the opportunity to provide quotes or respond to bids or RFP's on any and all items needed.
Thank You,
Mary Lou Henry