Miss Marys K-12 February Newsletter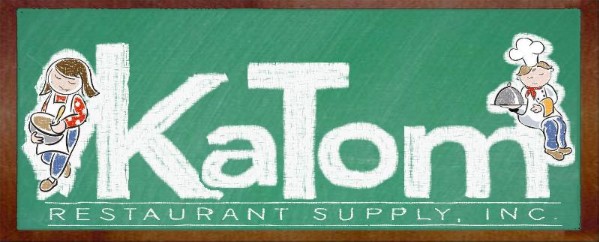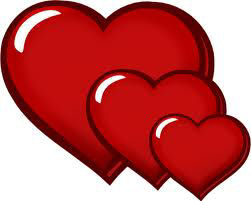 Welcome to February, a month with lots to commemorate, and lots of fun ways to decorate the serving lines and dining areas in the school cafeterias. We have President's Day, Valentine's Day, the Super Bowl, this being leap year with 29 days in February (do something fun and special for the students on that extra day that we only have every four years); and then of course winter sports and activities are in full swing. So enjoy February even with the extra day, it is still a short month and will be gone soon!
Also, I hope you are making plans to attend the School Seminar on February 21 and 22; we will have many educational and fun activities to share. If you have not already responded with your plans to attend, please do so by February 6.
School Seminar Learning Experience
KaTom is proud to announce a very educational (and very fun) seminar later this month. We are partnering up with Reps South, Kolpak Inc, Delfield Inc, and Cleveland Manufacturing to bring you a great School Seminar learning experience. School Supervisors and Directors of School Nutrition are all invited to attend this exciting 2 day event. You're sure to learn a lot about quality food service equipment and sharing with a little bit of fun added to the mix. You can also count on taking a magnificent tour of both the Delfield and Kolpak factories, ending with training by the equally fantastic Cleveland Manufacturing company chef.
Tentative Schedule:
February 21, 2012
1:00 pm
Arrive at Kolpak factory
1:15 - 3:15 pm
Tour and training at Kolpak
3:30 pm
Depart for Jackson, TN
4:15 - 5:15 pm
KaTom training at the Jackson Courtyard
6:30 - 9:00 pm
DinnerFebruary 22, 2012
7:45 am
Depart hotel for Delfield
8:30 am
Arrive at Delfield
8:45 - 9:45 am
Breakfast and training by Cleveland Manufacturing
10:00 am - 12:00 pm
Delfield factory tour and training
12:15 pm
Box lunch and depart
If you are a Supervisor or Director of School Nutrition and wish to attend this seminar (or if you have any travel/boarding questions) please email marylou@katom.com by February 6th, 2012.
Steamers for the School Cafeterias
This month, I would like to bring you pros and cons relating to steamers and their use in the School Cafeterias, as well as points to consider when purchasing a steamer and the features available... Commercial steamers are used to prepare all manner of food items, most notably steamed vegetables. Since steam is water in its gas form, rather than drying out foods while cooking, the foods retain their moisture, color and nutrients. Since the cabinet air is so high in humidity, the heat does not draw moisture out of the food. The food simply maintains its own moisture content while cooking; nothing is added or subtracted.
Just like an oven, a steamer can use convection (which is a fancy way of saying that it uses a fan) to help evenly distribute the heat for more even cooking throughout. The convection steamers, go beyond simply filling a cabinet with pressurized steam, but also, utilize convection technology to further improve cooking efficiency. Smaller models are available, too, that fit on a countertop for operations with limited space. Large kettles that utilize steam are also available for cafeterias that may produce soups, stews, etc. for their own school as well as prepare for other schools.
In the past, commercial steamers were of a generator (or boiler) type. These units tended to be harder to clean (de-lime), but provided the most productivity. Today you can find boilerless models which use an element as the heat source. Because you pour the water right into the chamber with the element, these units are easier to clean and tend to have a longer lifespan as a commercial appliance. These models do not require a water or drain line. The main drawback is productivity as boilerless steamers take longer to steam. Your vegetable cooking needs will dictate which model is right for your cafeteria.
Steam is super-heated gaseous water, containing more heat energy than regular hot air and thus produces a higher quality food product.

Cooking with a steamer is fast and the food retains its nutrients and vibrant color more so with steaming rather than boiling.

The texture and taste of steamed food is generally superior to foods boiled or cooked for longer periods of time.

The need for oil and butter for added flavor and seasoning while cooking is less when using steam, resulting in food with less fat and calories.

Commercial steamers come in electric, gas, direct steam and steam coil models.

Steamers come in a variety of sizes to fit your particular needs.
Purchasing a Steamer
Buying a steamer can seem somewhat overwhelming, whether you are considering purchasing a gas or electric steamer.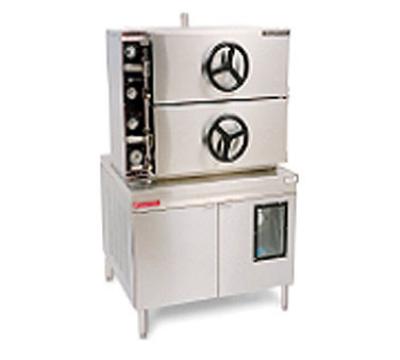 Gas Steamers: There are two categories of gas steamers, over-fired & under-fired. Over fired gas steamers have the gas heating elements 'over' the food and under-fired gas steamers have the elements 'under' the food. Gas steamers can run on natural or propane gas and most require a 120 volt, 1 phase dedicated outlet. Be sure to specify the steamer to be UL and CSA approved. It should also have a minimum of one year warranty on parts and labor. Remember, when purchasing, most require a water line and a single drain connection for easy cleaning. Also, you will need to allow for a six inch rear clearance from combustible materials.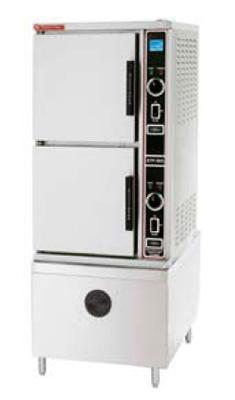 Electric Steamers: In general, electric steamers have a faster pre-heat and recovery time, which is perfect for high-volume cooking, such as in the school cafeterias. Also, if you find you are running short on an item, small batches of food can be brought from the frozen state to the serving line in a reasonably short period of time. The electric steamer comes in many sizes ranging from the countertop convection steamer to the large floor models. The electrical requirements can vary from a 240 volt, 1 or 3 phase to a 480 volt, 3 phase; all should have a dedicated outlet. As with the gas steamer, the electric should also have a six inch rear equipment clearance. Depending on the model and source of steam, some require water and drain connections, others do not.
It is important when purchasing a steamer (as with most all kitchen equipment), that you match the size of the unit/units purchased to your volume of production.

Check the dimensions before purchasing (for both counter top and floor models) to make sure it will fit into the available space.

If floor model make sure the unit is made of heavy gauge stainless steel (such as 304 series) on the exterior and frame and the cabinet is water resistant.

Heavy duty doors and latch mechanism will add to the stability of the steamer.

It is important (necessary) that you also purchase and maintain a good water filter system to go with the steamer, if you do not already have a whole kitchen water filtration system. The filtered water will greatly extend the life of the steamer.
Options Available
There are many options available to you when considering a steamer, but perhaps the two most useful in my options would be:
60 minute timer with a buzzer

a second year warranty on parts and labor
In summary steam equipment is becoming more and more popular as people look for healthier ways of preparing food and increasing productivity.
Mary Lou Henry's Recipes of the Month
With Valentine's Day this month, I wanted to share some simple, easy-to-prepare-the-evening-before recipes. It is sometimes nice to go out for a special Valentine's Day dinner but due to circumstances such as family, work schedules, crowded restaurants, etc. it is often more enjoyable to share a less hectic, more relaxed dinner at home with that special someone or our families we love. The three recipes I have chosen can all be prepared the day before with less than one hour of finishing time required prior to serving. Add some warm bread and a side of your favorite green vegetable such as roasted asparagus or green beans and you have a simply delightful dinner that looks and tastes like you have spent hours to prepare.
Raspberry Rhubarb Salad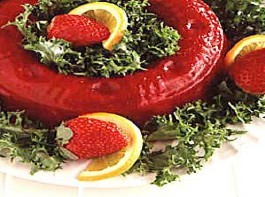 1 lb. pkg. frozen rhubarb or 3 cups chopped fresh rhubarb
1/3 c. sugar
1 (6 oz) pkg. raspberry Jello
1 pkg. Knox gelatin
1 c. chopped pecans
1 lg. can (sweetened) crushed pineapple (do not drain)
1/2 c. diced celery
1 Tbs. fresh orange zest
Cook rhubarb in 1 cup water until mushy. Add sugar and stir until dissolved. Add raspberry Jello and Knox gelatin to hot rhubarb, stirring until dissolved. Add large can undrained crushed pineapple and remove from heat. Add remaining ingredients, mix well.
Spray large baking dish (9X13) with pan spray and pour mixture into baking dish; put in refrigerator until set, preferably overnight. Cut salad into squares and serve with a tablespoon sour cream per serving. Looks pretty with lettuce under salad and sour cream on top. Yield 12 servings or more.
Chicken Casserole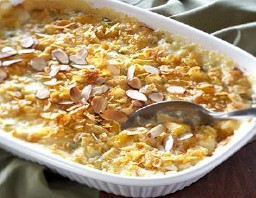 4 large chicken breasts, cooked, deboned and chopped
1 c. milk
1 box Stove Top Stuffing (chicken flavored) prepared
1 Tbs. minced onion (optional)
1 can cream of celery soup
1 tsp. dried parsley
1 small pkg. almond slices
Spray medium size casserole dish with pan spray. Place prepared Stove Top dressing in dish, top with chopped chicken. Wisk together milk and cream of celery soup and pour over chicken. Sprinkle with minced onion (optional) and parsley. Place in preheated 350 degree oven for 30 minutes. Five minutes before finished baking, remove from oven and sprinkle sliced almonds on top, return to oven. This can be made the day before and refrigerated, if so allow to stand at room temperature while preheating oven and bake for 5 additional minutes.
Chocolate Mousse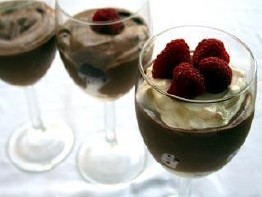 4 1/2 ounces bittersweet chocolate, finely chopped (I use Ghirardelli chocolate)
2 tablespoons (1 ounce) unsalted butter, diced
2 tablespoons espresso or very strong coffee (I used Starbucks decaf espresso)
1 cup cold heavy cream
3 large eggs, separated
1 tablespoon sugar
(Optional) strawberries and extra whipped cream
Whip the cream to soft peaks, then refrigerate. Combine the chocolate, butter, and espresso in the top of a double boiler over hot, but not simmering, water, stirring frequently until smooth. Remove from the heat and let cool until the chocolate is just slightly warm to touch, but not hot. While the melted chocolate is cooling, whip the egg whites in a medium bowl until they are foamy and beginning to hold a shape. Sprinkle in the sugar and beat until soft peaks form. When the chocolate has reached the proper temperature, briskly whisk in the yolks. Gently stir in about one-third of the whipped cream. Fold in half the whites just until incorporated, then fold in the remaining whites, and finally the remaining whipped cream. Spoon or pipe the mousse into individual serving bowls. If you wish, top with fresh strawberries and whipped cream before serving. Refrigerate for at least 8 hours. (The mousse can be refrigerated for up to two days.) Serves 5-8, depending on the size of the servings.
Special Interest
Updating of the serving trays seems to be a continuous process, especially as we are in the second half of the school year. I know many of you will be looking to order trays for the beginning of the next school year. Carlisle FoodService Products announces a promotion you won't want to miss.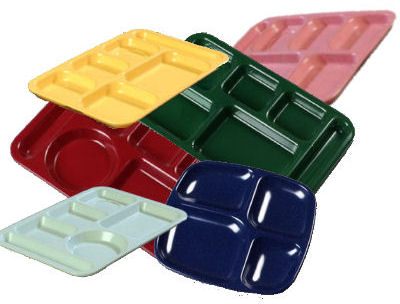 KaTom is proud to introduce the 2012 Cafeteria Savings Plan! From February 1st to December 31 of this year there will be special low pricing on Carlisle compartment trays, something your school budget can look forward to! Saving money on your cafeteria trays means your budget will be able to better accommodate the purchases your school, hospital, or correctional facility kitchen can't do without!
The best thing is there are several great tray varieties for your school to choose from, depending on your cafeteria preferences. Each material has its own perks and temperature range:
Melamine Trays:
Heavy, rigid material with the look and feel of china

Scratch and break-resistant

Highly resistant to chemicals and food acids

Temperature range: 0 to 212 degrees F, dishwasher safe
ABS Trays:
Break and scratch resistant

Excellent choice for general use

Temperature range: 0 to 180 degrees F, dishwasher safe
Polypropylene Trays:
Economical and durable

Chemical resistant

Temperature range: 30 to 180 degrees F
Polycarbonate Trays:
Highly break resistant

Chemical and scratch resistant

Great for correctional facilities

Five-year warranty against breakage

Temperature range: -40 to 212 degrees F, dishwasher safe
Don't forget about the wonderful array of colors you can choose from to match your school colors! What shade would you choose?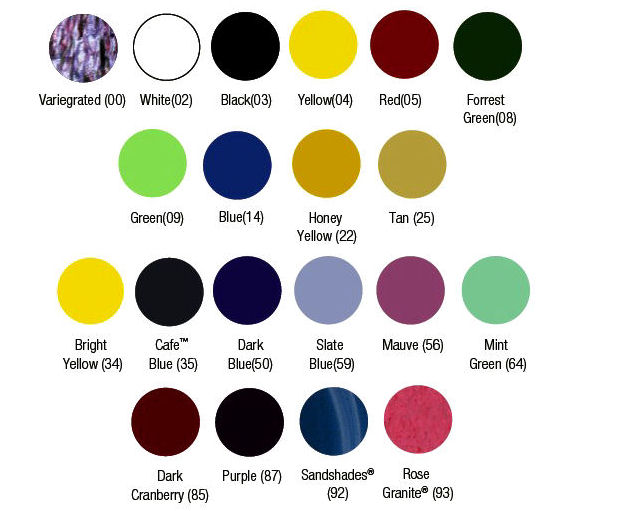 CONDITIONS
1. Orders MUST be identified as "Cafeteria Savings Plan at the time order is submitted in order to receive the special savings/discounts on the products listed in this promotion.
2. Special savings/discounts valid only in the U.S and cannot be used in conjunction with bids, custom products, or any other special promotions.
3. Promotion applies to full case packs only.
4. Prices subject to change without notice.