Miss Mary's K-12 April Newsletter: Spring Cleaning!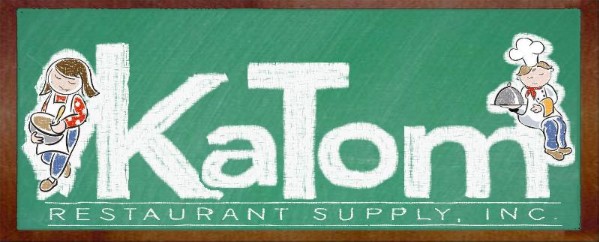 April has arrived and has brought along a beautiful spring, the flowers in bloom, the smell of freshly moved grass and the birds singing. I know that you are very busy with the activities of the school year, spring breaks and making preparation for closing out another year, but taking time to enjoy the beauty of a Tennessee Spring will rejuvenate and enhance your life.

Fruit & Vegetable School Seminar in Knoxville Announced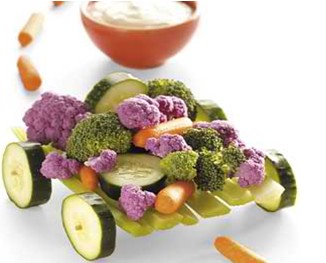 You should have received your email invitation to attend the KaTom Fruit & Vegetable Preparation Seminar by now. I have had several inquiries about products that are available to assist the cafeteria staff with ease of preparation and clean-up of fruits and vegetables. We have planned a fun, hands-on seminar with you in mind. This seminar will be on April 25 from 9am to 2pm at the Gettysvue Country Club. Please plan to join us.

Spring Cleaning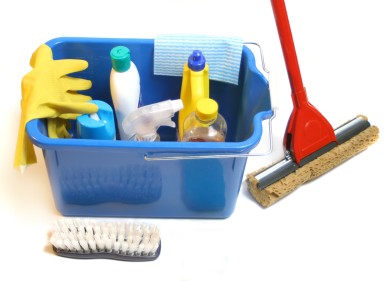 When we think of spring, we also think of spring cleaning. The old adage of "It's easier to keep it clean than to get it clean is true in many areas especially when it applies to commercial kitchen equipment. Most school systems however have a day or so each spring referred to as a cleaning day, mostly to do more in-depth cleaning than is done on a day to day basis. Keeping the equipment clean not only is necessary for food safety, but also helps to extend the life of the equipment. Using the wrong cleaning method or incorrect chemicals for the job can result in damage to the equipment. Here are a few pointers:
Cleaning
Cleaning is the process of removing food and other types of soil from a surface. Cleaning is done with a cleaning agent that removes food, soil, or other substances. The right cleaning agent must be selected because not all cleaning agents can be used on food-contact surfaces. (A food-contact surface is the surface of equipment or utensil that food normally comes into contact.) The label should indicate if the product can be used on a food-contact surface. The right cleaning agent must also be selected to make cleaning easy and not cause damage to the equipment. Cleaning agents are divided into four categories:
Detergents - Use detergents to routinely wash tableware, surfaces, and equipment. Detergents can penetrate soil quickly and soften it. Examples include dish washing detergent and automatic dishwasher detergents.


Solvent cleaners – Use periodically on surfaces where grease has burned on. Solvent cleaners are often called degreasers.


Acid cleaners -- Use periodically on mineral deposits and other soils that detergents cannot remove. These cleaners are often used to remove scale in ware washing machines and steam tables.


Abrasive cleaners -- Use these cleaners to remove heavy accumulations of soil that are difficult to remove with detergents. Some abrasive cleaners also disinfect. Clean food-contact surfaces that are used to prepare potentially hazardous foods as needed throughout the day but no less than every four hours. If they are not properly cleaned, food that comes into contact with these surfaces could become contaminated.
Sanitizing
Sanitizing is done using heat, radiation, or chemicals. Heat and chemicals are commonly used as a method for sanitizing in a food service establishment; radiation rarely is. The item to be sanitized must first be washed properly before it can be properly sanitized. Some chemical sanitizers, such as chlorine and iodine, react with food and soil and so will be less effective on a surface that has not been properly cleaned.
Sanitizing MethodsHeat
. There are three methods of using heat to sanitize surfaces – steam, hot water, and hot air. Hot water is the most common method used in food service establishments. If hot water is used in the third compartment of a three-compartment sink, it must be at least 171 degrees F (77 degrees C). If a high-temperature ware washing machine is used to sanitize cleaned dishes, the final sanitizing rinse must be at least 180 degrees F (82 degrees C). For stationary rack, single temperature machines, it must be at least 165 degrees F (74 degrees C). Cleaned items must be exposed to these temperatures for at least 30 seconds.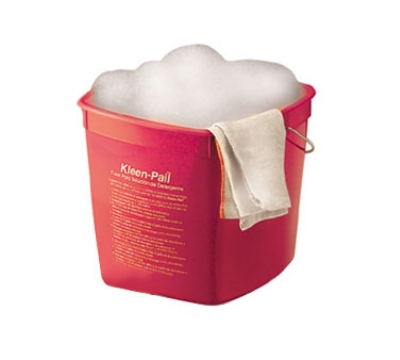 Chemicals
. Chemicals that are approved sanitizers are chlorine, iodine, and quaternary ammonium.
Chemical Sanitizers
Different factors influence the effectiveness of chemical sanitizers. The three factors that must be considered are:
Concentration -- The presence of too little sanitizer will result in an inadequate reduction of harmful microorganisms. Too much can be toxic.

Temperature -- Generally chemical sanitizers work best in water that is between 55 degrees F (13 degrees C) and 120 degrees F (49 degrees C).


Contact time -- In order for the sanitizer to kill harmful microorganisms, the cleaned item must be in contact with the sanitizer (either heat or approved chemical) for the recommended length of time.
Every kitchen must have the appropriate testing kit to measure chemical sanitizer concentrations. To accurately test the strength of a sanitizing solution, one must first determine which chemical is being used -- chlorine, iodine, or quaternary ammonium. Test kits are not interchangeable so check with your chemical supplier to be certain that you are using the correct kit. The appropriate test kit must then be used throughout the day to measure chemical sanitizer concentrations.
Writing Bid Specifications
Writing specifications is the process of putting your equipment expectations on paper. The process is challenging and time consuming but essential for the new equipment to meet your needs. Writing clear and complete specifications is the only way to assure the supplier of what you want and need.
Specifications should:
identify minimum requirements
allow for a competitive bid
provide for an equitable award at the lowest possible cost
To assure that specifications meet these criteria, the following may be used as a check list.
A specification should be:
simple but exact
identified with terms used in the marketplace
reasonable in its tolerances (unnecessary precision is expensive and restrictive)
capable of being met by several bidders for the sake of competition
clear and understandable
Developing specifications is an important responsibility for you and your program. The Federal regulations clearly state that the Child Nutrition Program director must develop the actual specifications used in the invitation for bid.
A Guide for Purchasing Foodservice Equipment, chapter 7 "Specification Development is a valuable resource put out by the Food Service Management Institute and is available on their webpage.
Often, language used is not clear, for example, a supplier receives a specification (verbatim) from a company's spec sheets with the only other information being, "I want a price on this, delivered and set-up. So what exactly does one mean with a specification like this? Do they want it to be delivered and set in place? Fully installed with final connections? Or somewhere in between? If indeed the purchaser wants a turn-key job (fully installed with final connections), the specification should read:
"Delivered, uncrated, debris removed, assembled and electrical fully connected to junction box and made ready for start-up. If they do not want the electrical connection then it should state "set in place ready for final connections by others."
With this language there is no room for doubt as to what level of installation is desired. On the other hand, the supplier may quote the job with a line item for installation, with installation being at the level specified. As you can see, simple, but exact language can certainly result in better communication between the customer and the supplier.
Mary Lou Henry's Recipes of the Month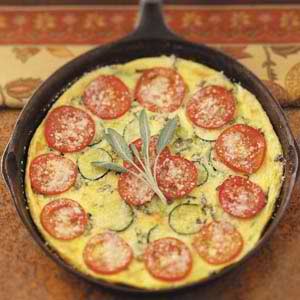 With Easter just around the corner, you may be planning to do an Easter Brunch or Luncheon; I have chosen two recipes to share with you this month that you may want to try.
Italian Garden Frittata
Ingredients
6 egg whites
4 eggs
1/2 cup grated Romano cheese, divided
1 teaspoon oregano
1/2 teaspoon salt
1/4 teaspoon pepper
1 small zucchini, sliced
2 green onions, sliced
1 teaspoon olive oil
2 plum tomatoes, thinly sliced
Directions
Pre-heat oven to 350 degrees
In a large bowl, whisk the egg whites, eggs, 1/4 cup Romano cheese, oregano, salt and pepper; set aside.
In a 10-inch ovenproof skillet coated with cooking spray, sauté zucchini and onions in oil for 2 minutes. Add egg mixture; cover and place in pre-heated oven cook for 6 to 8 minutes or until eggs are nearly set.
Uncover; top with tomato slices and remaining cheese. Turn oven to broil. Broil 3-4 in. from the heat for 2-3 minutes or until eggs are completely set. Let stand for 5 minutes. Cut into wedges.
Yield:
4 servings.
Strawberry Shortcake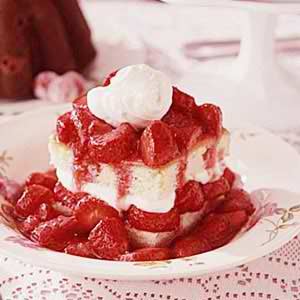 Ingredients
2/3 cup sugar
1/4 cup shortening
1 egg
1 teaspoon vanilla extract
1/4 teaspoon salt
1-1/2 cups all-purpose flour
1/2 cup milk
whipped cream
1-1/2 quarts fresh or frozen strawberries, sliced
Directions
Pre-heat oven to 350 degrees.


In a bowl, cream sugar and shortening. Add egg and vanilla; beat well. Combine dry ingredients and add alternately with milk to the creamed mixture. Spread in a greased 9-inch square baking pan. Bake at 350° for 20-25 minutes. Cool on wire cooling rack.
Cut into nine servings. Split each serving horizontally and fill with whipped cream and strawberries. Replace top of cake; garnish with more berries and a dollop of whipped cream. Serve immediately.
Yield:
9 servings.
Anyone building or renovating schools that involve kitchens, serving areas or dining areas; please contact me at MaryLou@KaTom.com or 865-223-1150; or KaTom direct at (800-541-8683 or 423-586-5839). We would be grateful for the opportunity to provide quotes or respond to bids or RFP's on any and all items needed.
Thank You,
Mary Lou Henry