Mary Lou Henry's K-12 Steamer Wisdom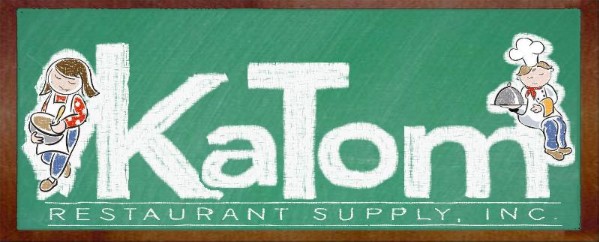 Steamers for the School Cafeterias
This month, I would like to bring you pros and cons relating to steamers and their use in the School Cafeterias, as well as points to consider when purchasing a steamer and the features available... Commercial steamers are used to prepare all manner of food items, most notably steamed vegetables. Since steam is water in its gas form, rather than drying out foods while cooking, the foods retain their moisture, color and nutrients. Since the cabinet air is so high in humidity, the heat does not draw moisture out of the food. The food simply maintains its own moisture content while cooking; nothing is added or subtracted.
Just like an oven, a steamer can use convection (which is a fancy way of saying that it uses a fan) to help evenly distribute the heat for more even cooking throughout. The convection steamers, go beyond simply filling a cabinet with pressurized steam, but also, utilize convection technology to further improve cooking efficiency. Smaller models are available, too, that fit on a countertop for operations with limited space. Large kettles that utilize steam are also available for cafeterias that may produce soups, stews, etc. for their own school as well as prepare for other schools.
In the past, commercial steamers were of a generator (or boiler) type. These units tended to be harder to clean (de-lime), but provided the most productivity. Today you can find boilerless models which use an element as the heat source. Because you pour the water right into the chamber with the element, these units are easier to clean and tend to have a longer lifespan as a commercial appliance. These models do not require a water or drain line. The main drawback is productivity as boilerless steamers take longer to steam. Your vegetable cooking needs will dictate which model is right for your cafeteria.
Steam is super-heated gaseous water, containing more heat energy than regular hot air and thus produces a higher quality food product.

Cooking with a steamer is fast and the food retains its nutrients and vibrant color more so with steaming rather than boiling.

The texture and taste of steamed food is generally superior to foods boiled or cooked for longer periods of time.

The need for oil and butter for added flavor and seasoning while cooking is less when using steam, resulting in food with less fat and calories.

Commercial steamers come in electric, gas, direct steam and steam coil models.

Steamers come in a variety of sizes to fit your particular needs.
Purchasing a Steamer
Buying a steamer can seem somewhat overwhelming, whether you are considering purchasing a gas or electric steamer.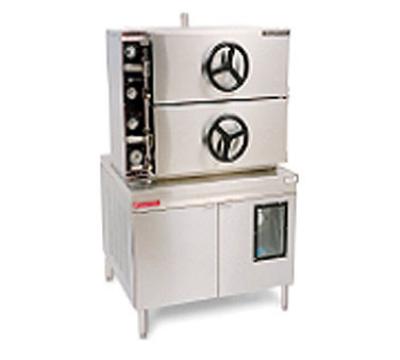 Gas Steamers: There are two categories of gas steamers, over-fired & under-fired. Over fired gas steamers have the gas heating elements 'over' the food and under-fired gas steamers have the elements 'under' the food. Gas steamers can run on natural or propane gas and most require a 120 volt, 1 phase dedicated outlet. Be sure to specify the steamer to be UL and CSA approved. It should also have a minimum of one year warranty on parts and labor. Remember, when purchasing, most require a water line and a single drain connection for easy cleaning. Also, you will need to allow for a six inch rear clearance from combustible materials.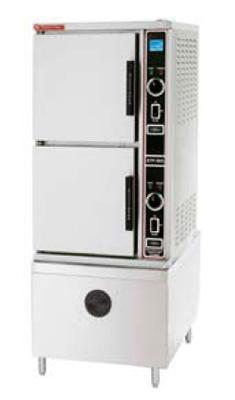 Electric Steamers: In general, electric steamers have a faster pre-heat and recovery time, which is perfect for high-volume cooking, such as in the school cafeterias. Also, if you find you are running short on an item, small batches of food can be brought from the frozen state to the serving line in a reasonably short period of time. The electric steamer comes in many sizes ranging from the countertop convection steamer to the large floor models. The electrical requirements can vary from a 240 volt, 1 or 3 phase to a 480 volt, 3 phase; all should have a dedicated outlet. As with the gas steamer, the electric should also have a six inch rear equipment clearance. Depending on the model and source of steam, some require water and drain connections, others do not.
It is important when purchasing a steamer (as with most all kitchen equipment), that you match the size of the unit/units purchased to your volume of production.

Check the dimensions before purchasing (for both counter top and floor models) to make sure it will fit into the available space.

If floor model make sure the unit is made of heavy gauge stainless steel (such as 304 series) on the exterior and frame and the cabinet is water resistant.

Heavy duty doors and latch mechanism will add to the stability of the steamer.

It is important (necessary) that you also purchase and maintain a good water filter system to go with the steamer, if you do not already have a whole kitchen water filtration system. The filtered water will greatly extend the life of the steamer.
Options Available
There are many options available to you when considering a steamer, but perhaps the two most useful in my options would be:
60 minute timer with a buzzer

a second year warranty on parts and labor
In summary steam equipment is becoming more and more popular as people look for healthier ways of preparing food and increasing productivity.